Angie had the wonderful idea of going for a ride this past Sunday, she and John asked if Karla and I would pick a route. Angie was hoping to see the last vestiges of fall color and agreed some million dollar home touring wouldn't be a bad idea either. Evergreen was the obvious choice!
Karla and I met John and Angie at their place in Castle Rock at 8:30, making our way north and west into the foothills. Here's a map of the route we ended up taking (cut a bit short due to weather from the original plan):
Weather was definitely not warm, but manageable with the right gear and the radar was clear for where we would be riding. It was obvious we would see some snow clouds and would have to be wary of how the front was moving as the day went on. All are thrills of riding in the Rockies in the fall
Ride was nice and easy at a relative slow to moderate pace. Evergreen is notorious for sand, so we had to watch for that. All in all, made the ride really pleasant! It's not all about scraping pegs.
Plenty of these guys... Don't get me started...
This tree was staggeringly beautiful. Come around a corner and BAM!
The Evergreen area is like the roller coaster ride closest to Denver. I still can't find my way around there with my eyes closed, but I'm working on it!!
Awesome scenery on this barely two lane rode with no striping
This picture doesn't do these trees justice... Bright, skinny leaves with black bark.
Clouds were very dramatic and the wind was picking up as we came around the lake in Evergreen. Temperatures in the 40s.
Did some million dollar home touring.... There are quite a few up here.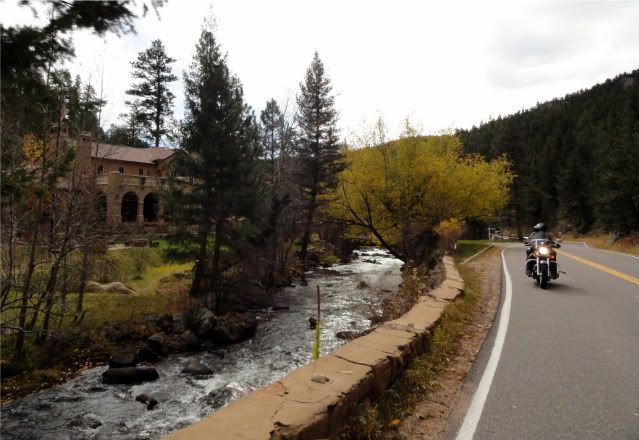 I swear... This smiley was MADE to describe Karla when this happens:
She threw a fit for atleast a few minutes. "That was an awesome shot! [insert slew of cusswords] car!"
I can just hear John.... "weeeeeeeeeeeeeeeeeee" He had a big smile on his face at about every stop pulling up next to me.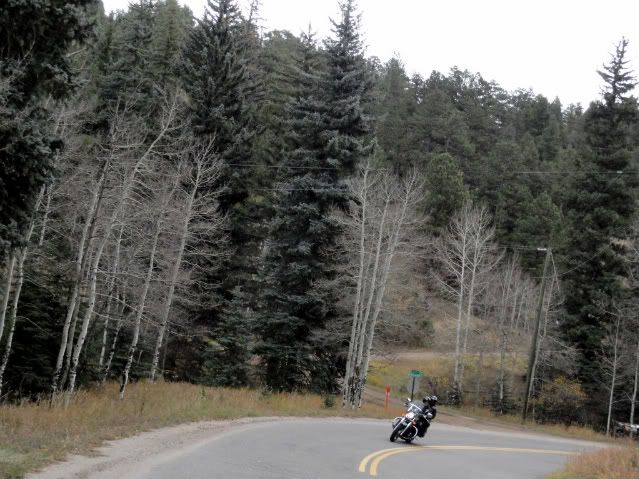 I made a quick decision and confirmed with John that those clouds to the west were not very happy looking and the wind was getting worse... So I altered the course to take us down to Lookout Mountain where we stopped to plan our next move. Was getting seriously windy which is no fun, so we decided to head down to the Buffalo Rose in Golden for lunch!
Lookout Mountain can be a very fun road. The usual problem is it's often over run with bicyclists who seem to believe the "ride single file" signs don't apply to them. I almost took out a few groups and I never left second gear (aka, kept the speed down for safety). Came around one corner and two of them were stopped facing the other direction, side by side IN MY LANE just chatting.
And here I said I wasn't gonna get started on bicyclists... Moving on!
Arrived safely at the Buffalo Rose for lunch!
21 photo slideshow
Some video of John and Angie outside Evergreen:
Then Karla turned the camera forward... Nice easy pace, you can see some of the gravel too. No outside-inside-outside lines on these roads!
Again, thank you to Angie for suggesting this, and thank you to both John and Angie for lunch!!
After lunch we both retreated to the warmth of our homes. John and Angie spoke of heated blankets while Karla and I couldn't wait to crash on the futon with a good movie.
Really was a most excellent day!