Saturday, July 9th our friend Ditch led his first ride! He told a hilarious story about waffles a while back, it's been a catch phrase on the forum since. We managed to get him to tell the story again (he didn't know we were recording), so here's the joke:
So.... Seemed rational that his first ride should lead us to waffles! We met up at the Conoco in Morrison.
A quick recap of hand signals to ensure we were all on the same page
The temperature cooled off quickly as soon as we got up through Evergreen! Felt great!
Ditch pulled over to make sure everyone had enough layers... A few grabbed warmer gloves or a sweatshirt!
Hard to beat this
Even though the road is in a bad state of repair and has been for years and years, the views are fantastic heading up to Mt. Evans from Evergreen.
Lots of bicycle traffic. There was a rally going on where the riders top three peaks in one day!!
Here's a rest/medical stop for the rally.
Pulled into the parking lot of the Mt. Evans entrance and welcome center for a break and discussion of a summit attempt
Even though it was July, it was still pretty brisk and windy at the base. Ditch's girlfriend Candy ran up to speak with the ranger at the entry gate for weather conditions. High winds, possible precipitation, 13 degree wind chill. I was thankful the group decided to skip the summit! Plenty more things to see.
The Central City Parkway is a 4 lane, 45mph road, a great chance for individual photos! Take a look at some of the folks we ride with:
Darlene, aka BlondeBikerBabe
Murph (after getting crap from all of us about not wearing gloves AND sunburning the heck out of the back of his hands, he picked up some gloves after he got home)
Michael and Betty, aka Swivel and Babs
John, aka Outlaw
New members Drew and DeeDee
Our leaders for the day, Pete and Amy aka Ditch and Candy
It was a great group! Just the right size.
Through Central City and Blackhawk
Onto the Peak to Peak scenic byway
Through Nederland, then east to Boulder
Clear creek was overflowing from all the snow melt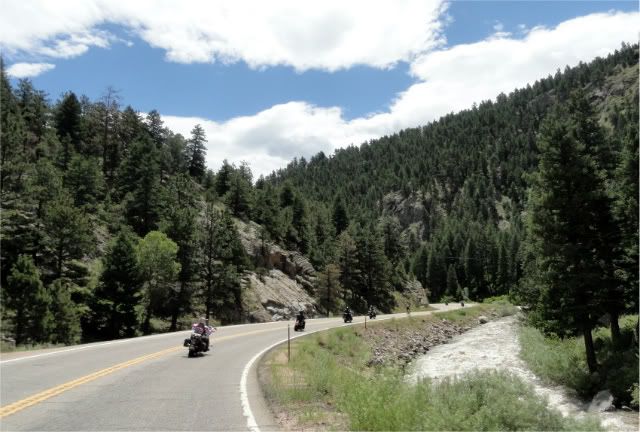 Into Boulder
WAFFLES!!!
Outlaw's wife Cricket drove up from Castle Rock to meet us!
Well done Ditch!
I dunno how it happened, but I had some idiots follow me home from Boulder. LOL!
It was such a nice ride! I find myself enjoying these shorter rides recently, more time to socialize.
Full slideshow:
http://s419.photobucket.com/albums/pp278/coloradosmash81/WAFFLES%20ride%20July%209%202011/?albumview=slideshow