On Saturday, May 8th to honor our lost brother Heavy, Outlaw, Ditch, Karla and I went on a beautiful sight-seeing ride of the snow capped mountains along the Peak to Peak scenic byway, hit some fun twisties outside of Estes Park, ran the edge of Horsetooth Reservoir (6.5 mile long reservoir outside of Fort Collins) and had some awesome wings. We saw plenty of elk, picked up a stray Ducati S2 (friend of Ditch's), stopped for some photo ops and once again found Ditch's comfort zone in the twisties.
Nice ride, everyone kept it at their own pace, and after stuffing ourselves with wings (well, besides Outlaw) Ditched headed to 85 to Ft Morgan to his folks' place while Outlaw, Karla and I buzzed back on 25.

125 miles from start to lunch, took us just over 4 hours with stops.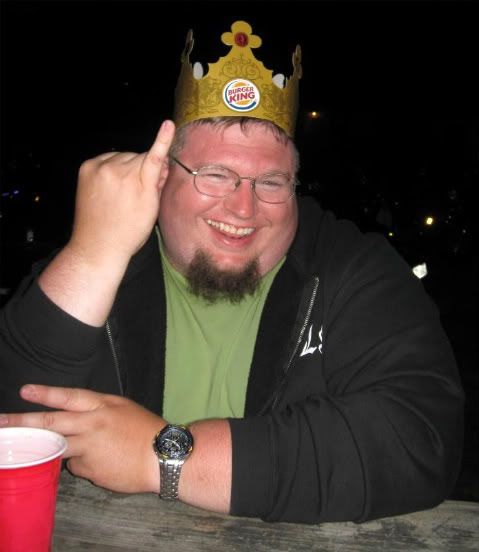 Highway 6 heading up to Black Hawk and Central City is always busy with a few officers here and there and plenty of slow (under the speed limit) drivers, but the tunnels and running along Clear Creek makes it totally worth it. Take a deep breath, pop it into cruising gear and enjoy the view.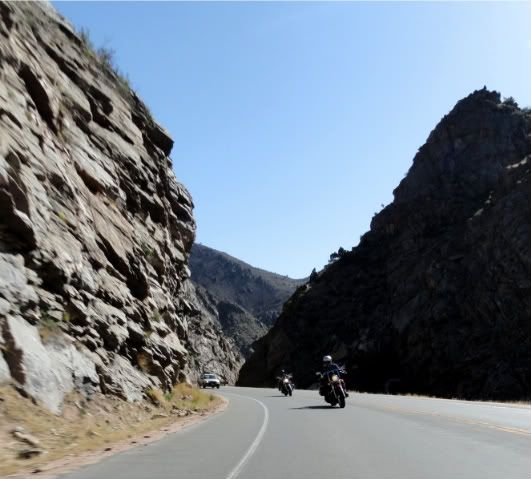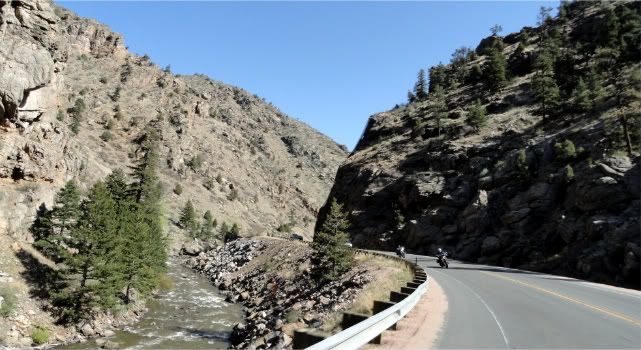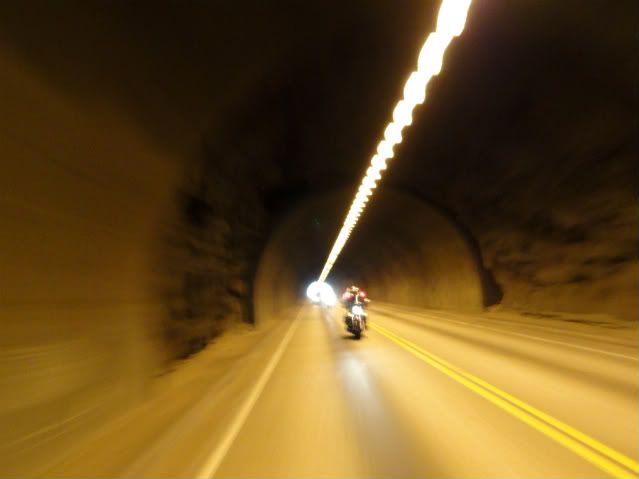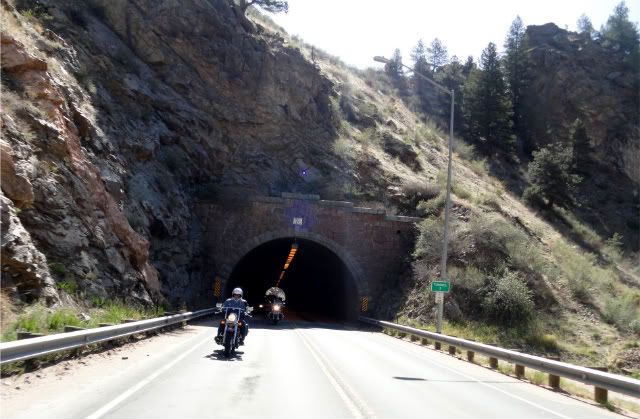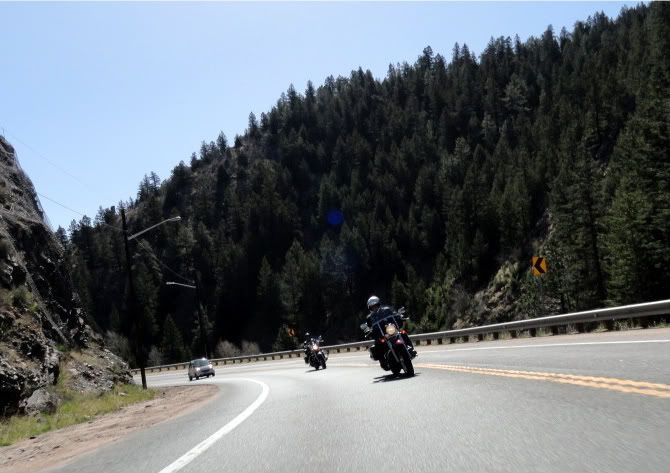 Passing by Black Hawk, an old mining and still a gambling town.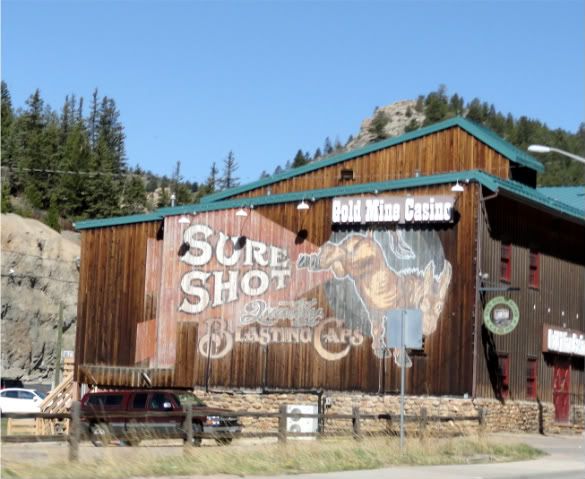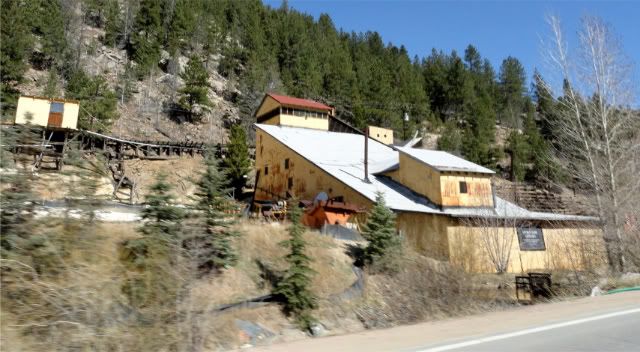 We break free of the tourists and get out of dodge.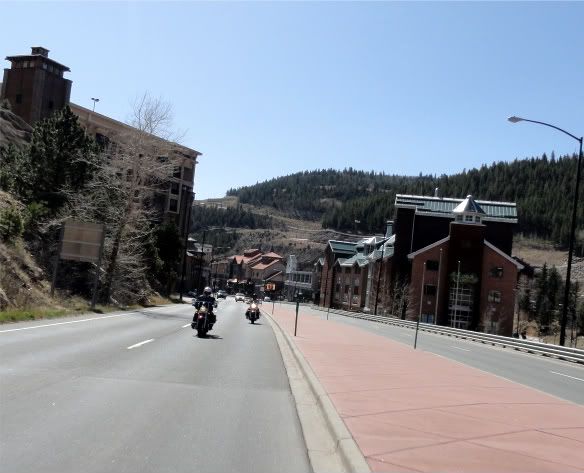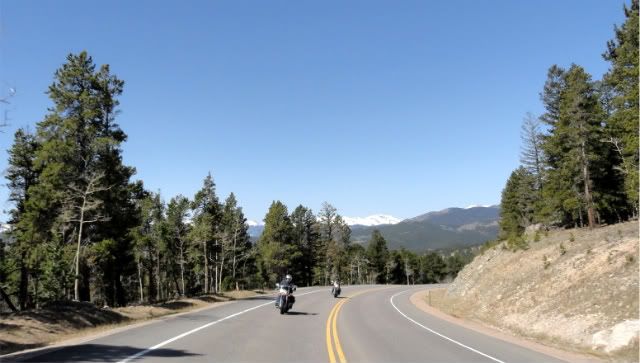 We find what we were looking for, get to look at views like these for the next 2 hours or so.


Plenty of these thrown in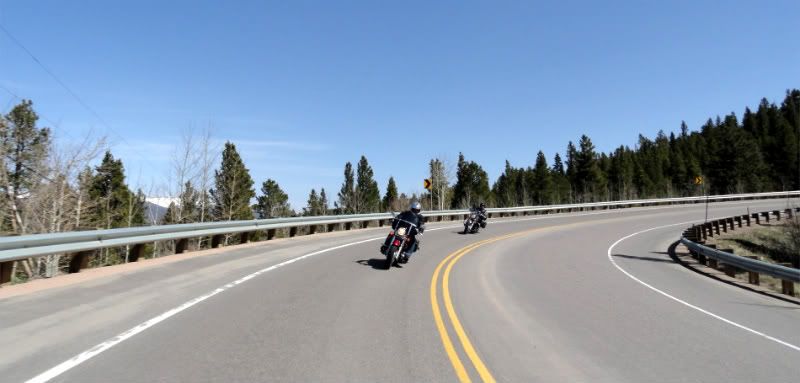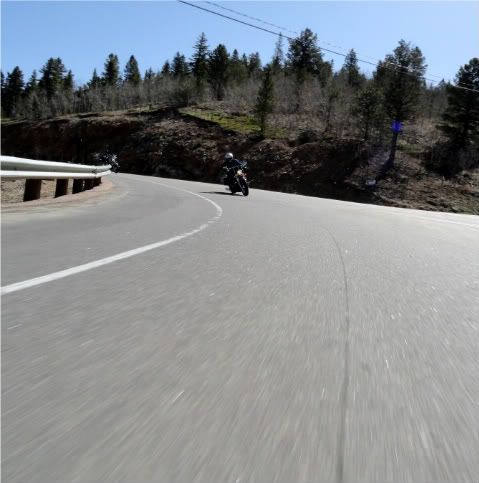 Ditch had let us know his friend Dan on his Ducati ST2 would be joining us, probably heading the other way then flipping a u turn. Sure thing, he zoomed past us which had Ditch waving like some sort of mental patient and Outlaw laughing not realizing who he was waiving at!

You can see Dan has caught up behind Outlaw.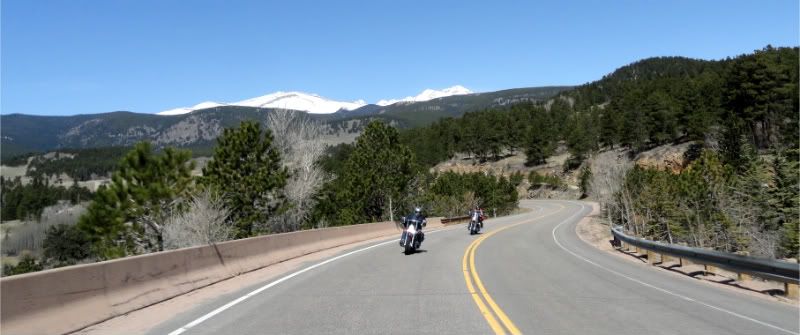 Karla's working out how to take pictures off the Ninja. She says the platform isn't as stable, especially without the hard bags to brace herself against. No more standing up on the pegs for long periods. But, she still gets some neat shots!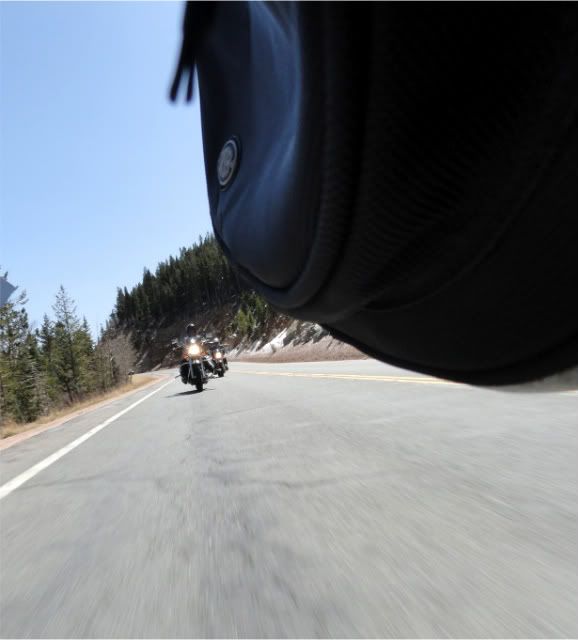 Still snow in the shade.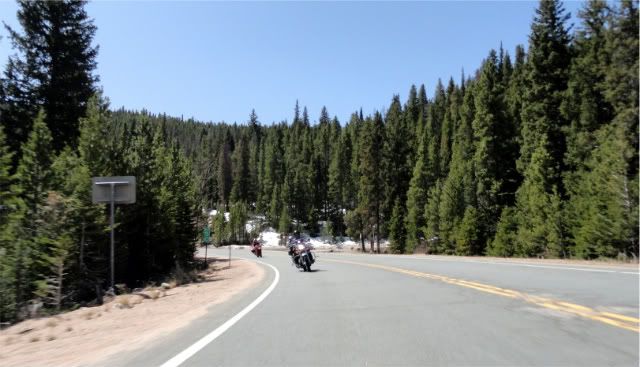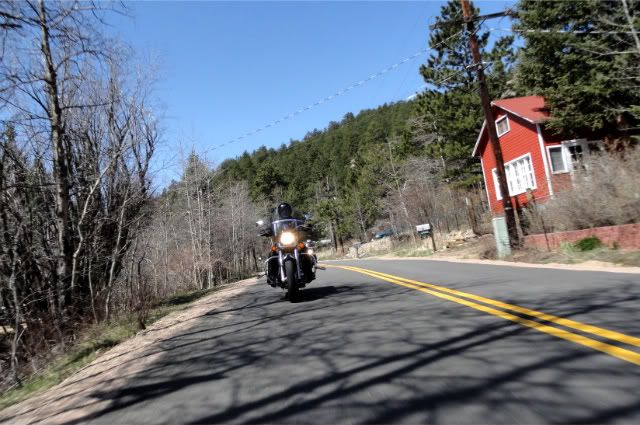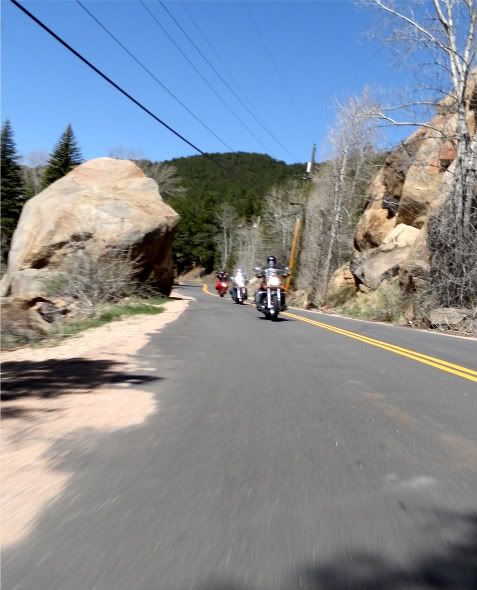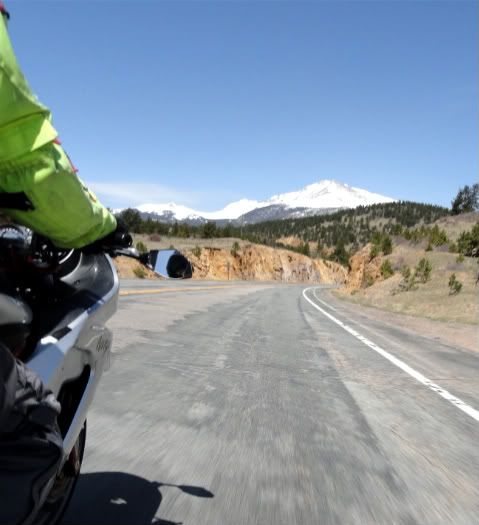 A stop at the stone church is always a good one. Mt. Meeker (14,000ft) in the background.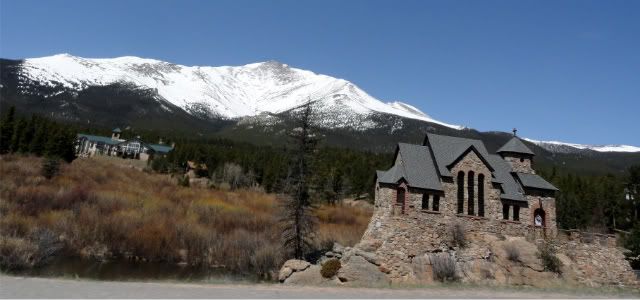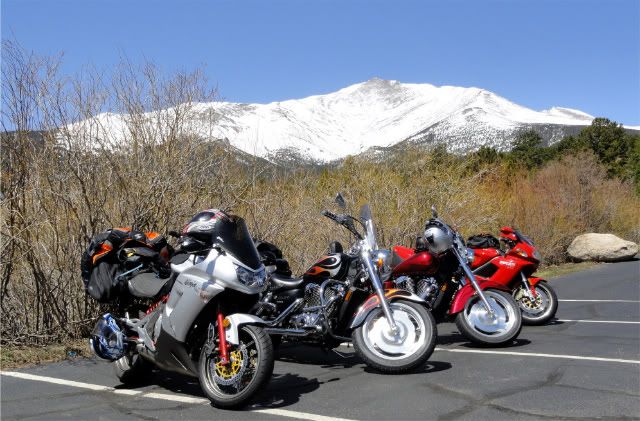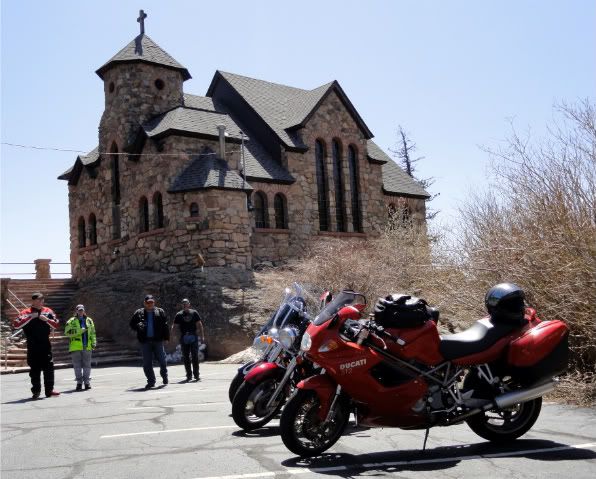 After a few folks watered the bushes (Karla included), next stop was 10 miles up the road to Estes Park for a gas/snack break.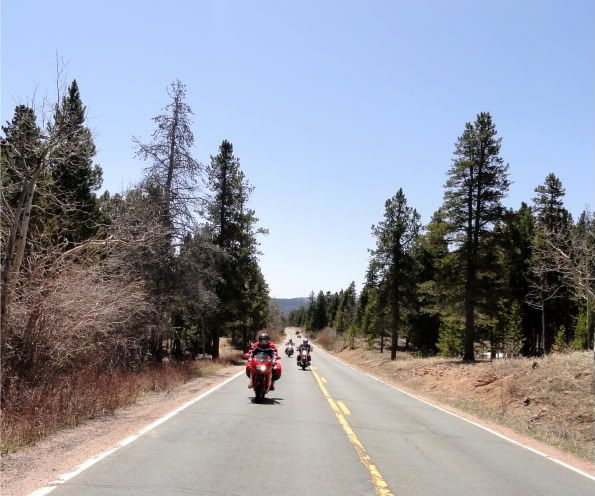 More views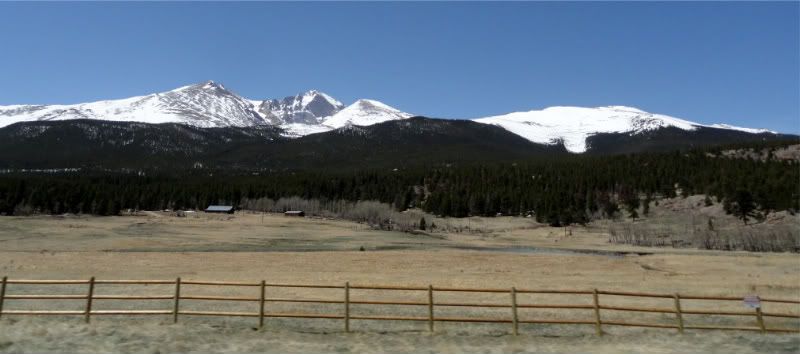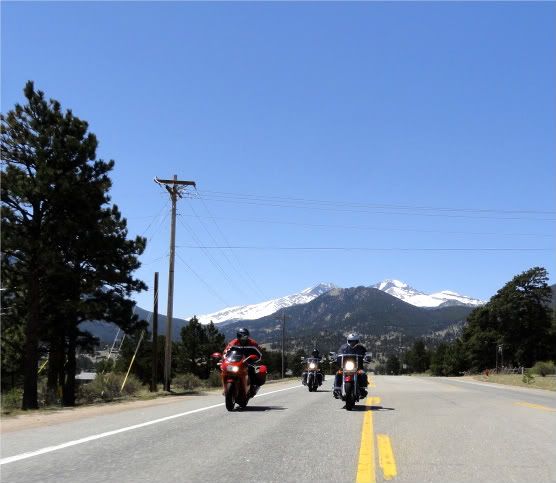 Big heard of elk just on the south edge of Estes. Not 5min later we were riding RIGHT NEXT TO three huge elk grazing in a yard right next to the road. They are so gigantic...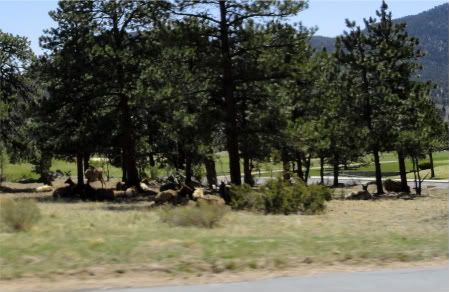 Gas/snack break and Outlaw...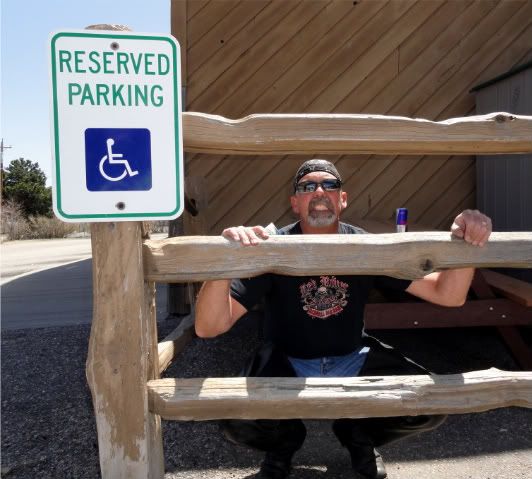 Refreshed, we head past the Stanley, the inspiration and spot where Stephen King wrote The Shining. Yes, it is creepy inside. Haven't visited the inside in two years as now they are charging $5+ just to park...

Cut through a fun little residential area, then head north east towards Glen Haven putting the views in our rear mirror and some excellent twisties ahead of us.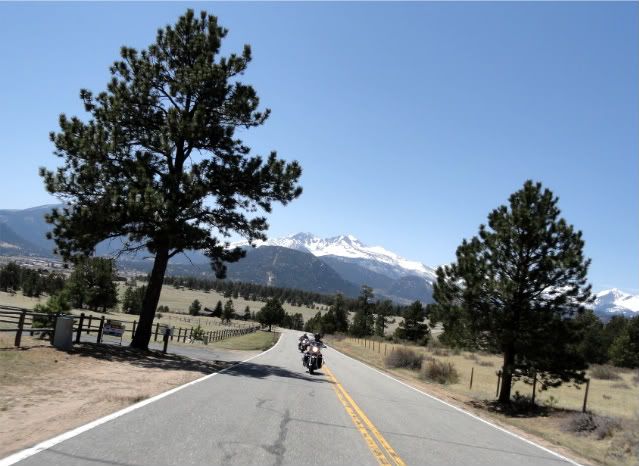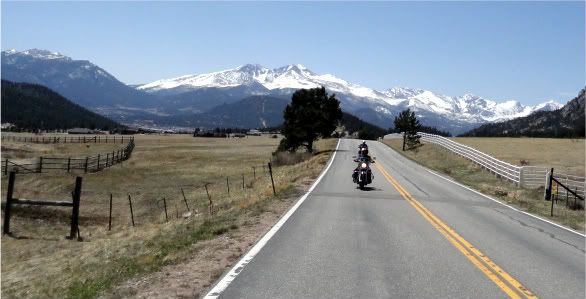 Haha, talk about your roller coaster switchbacks. Never done these downhill before. Karla did her best to video, but I think she was holding on!! (of course the video doesn't show really how steep these are) I did not edit the wind/engine noise out, so might want to mute.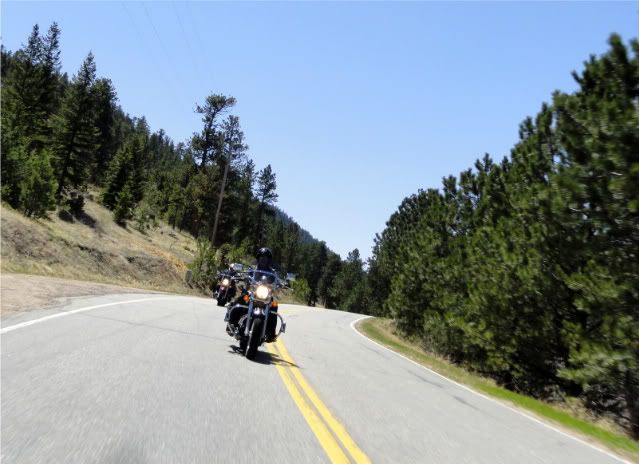 Karla was drooling over the general store cinnamon rolls... Unfortunately they don't open for the season until the following weekend.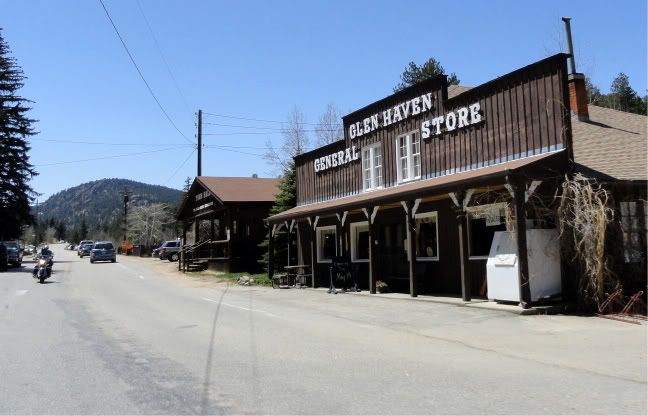 The twisties from the Glen Haven General Store back down to Highway 34 really are nice if almost always a little sandy.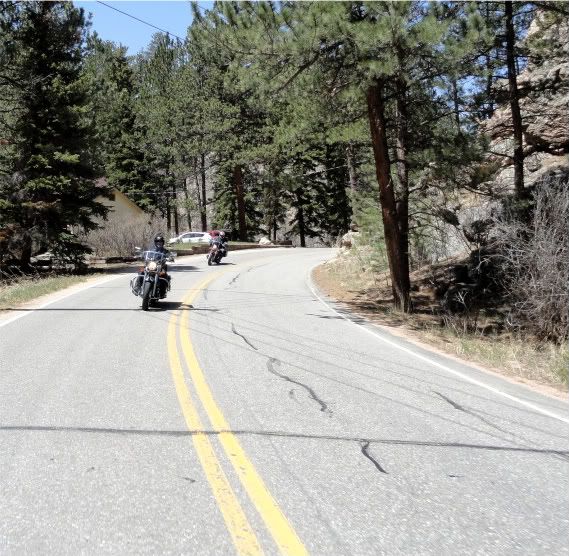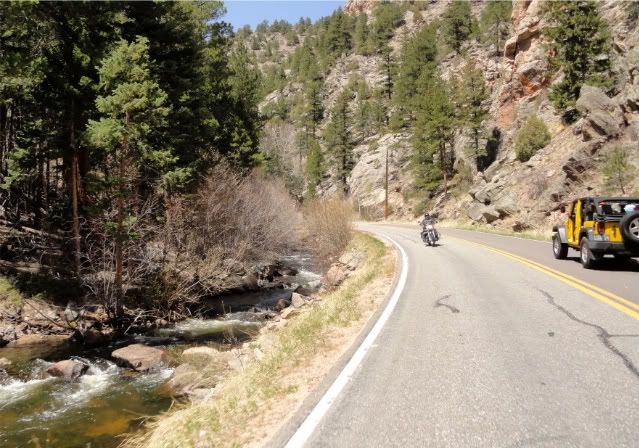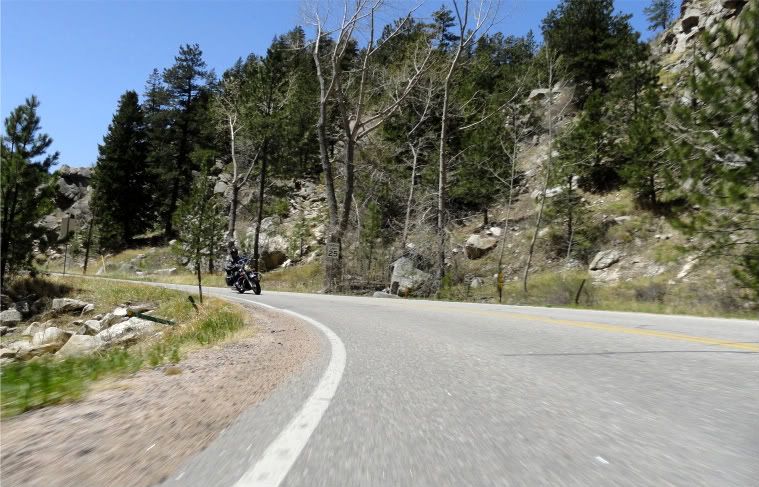 Look, wildlife.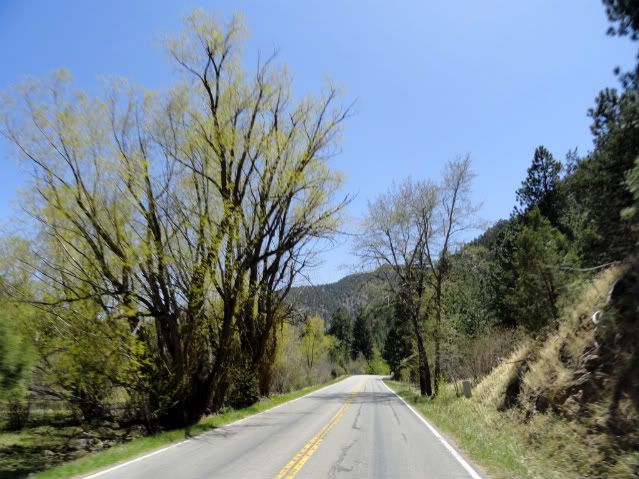 More wildlife!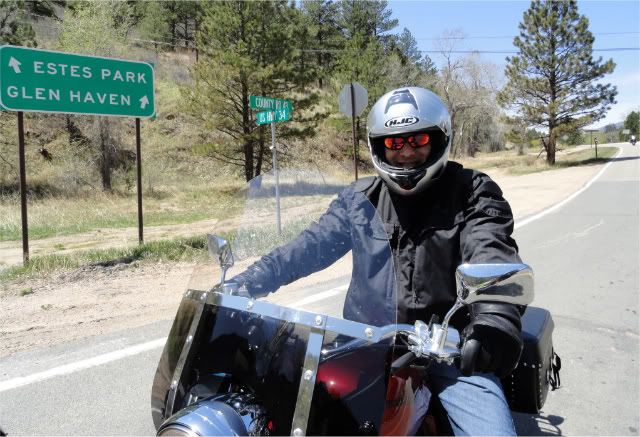 Ditch: "I just found my comfort zone again"
From the look on his face, this doesn't seem to be a bad thing!

Onto 34 we go heading east. Plenty of weekend traffic and other bikers, but again just switch back to cruising mode and enjoy the ride.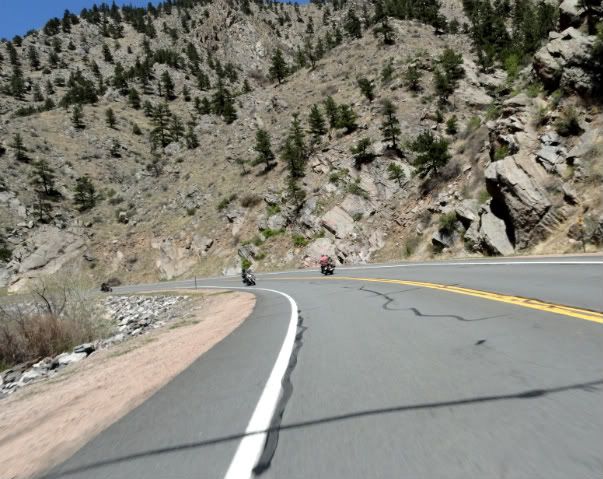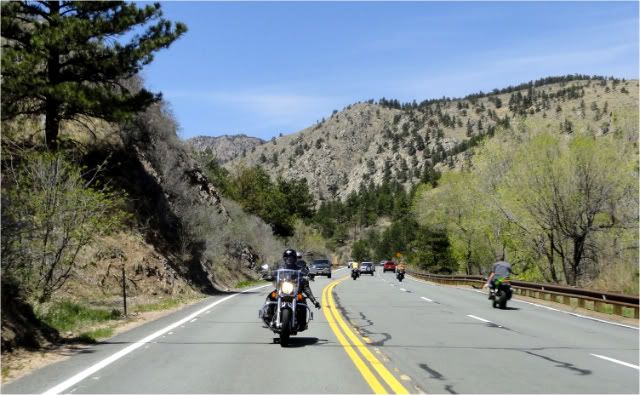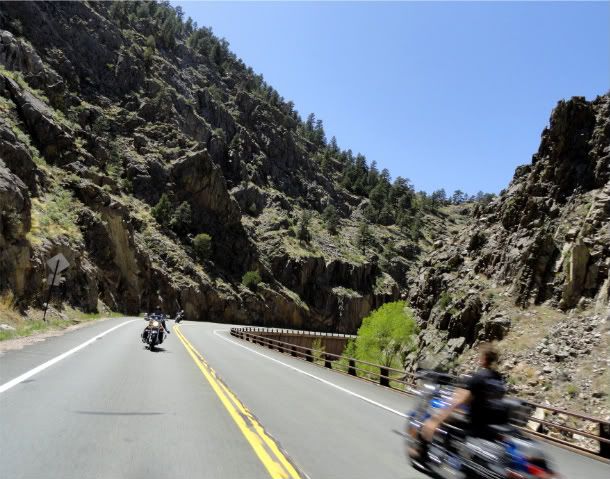 Out of the canyon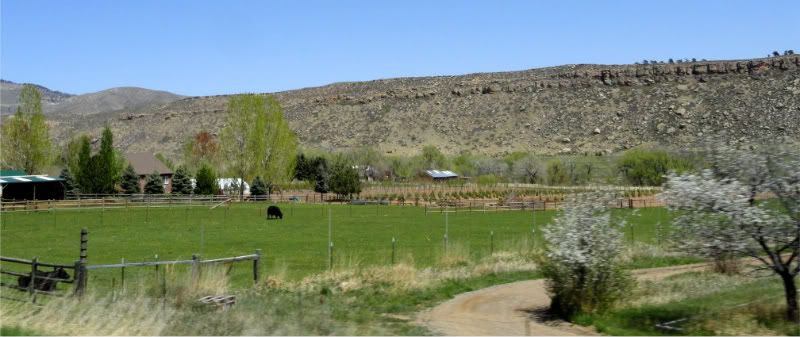 Skirting the edge of Horsetooth Reservoir taking the back way into Ft. Collins for lunch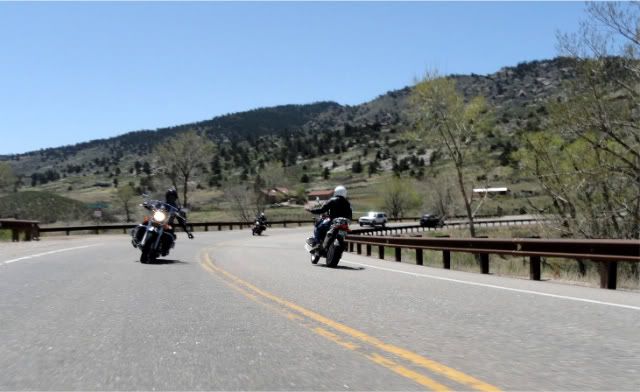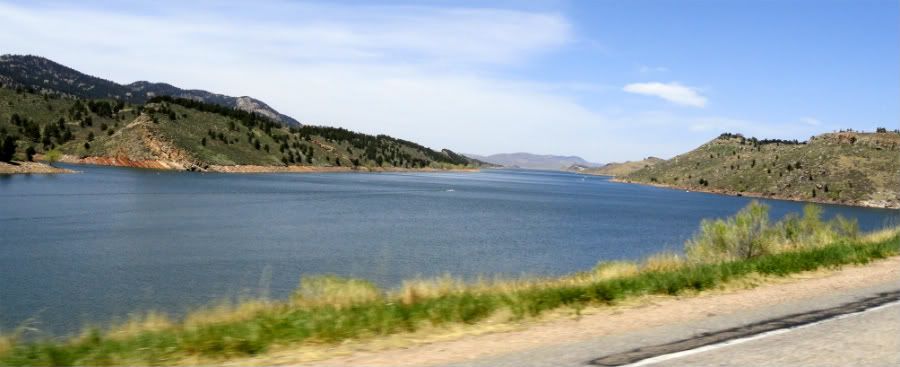 This 6.5 mile long reservoir attracts a lot of good sized boats. Outlaw hadn't seen the reservoir before and commented at lunch, "I couldn't figure out where all those big boats were going!"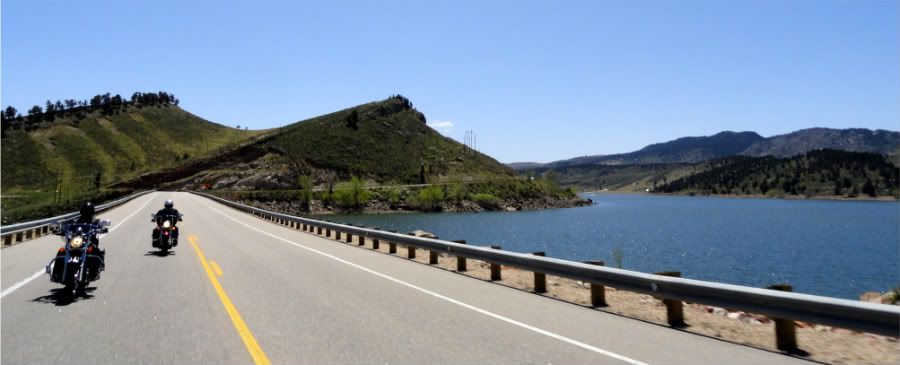 Next we turn east again, past the drive in movie theater (I miss going there) and to Jim's Wings just across from CSU for lunch. This place is a Fort Collins staple. I'm not a big wings fan, but have cravings for this place often!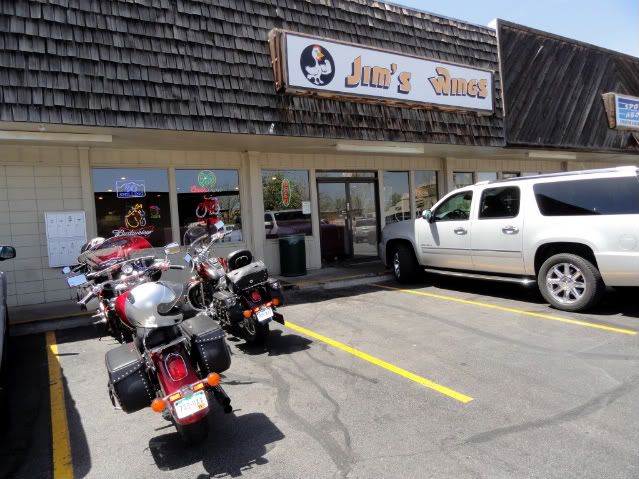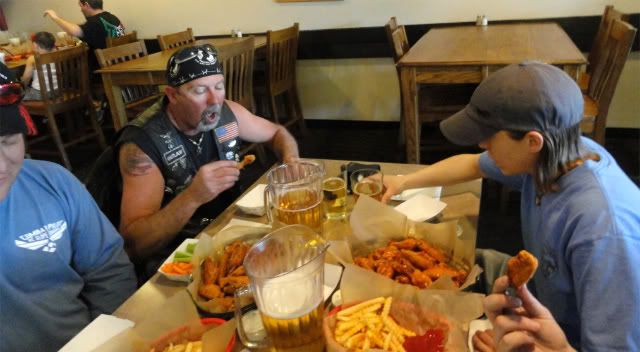 Outlaw also announced, after further pestering, that he'd spoken to his sister in Lexington, KY which had sealed the deal to make the North Carolina trip with us in July (as he would be able to go visit her in the same trip). Karla was (is) rather ecstatic, and I think Outlaw enjoyed the celebrating!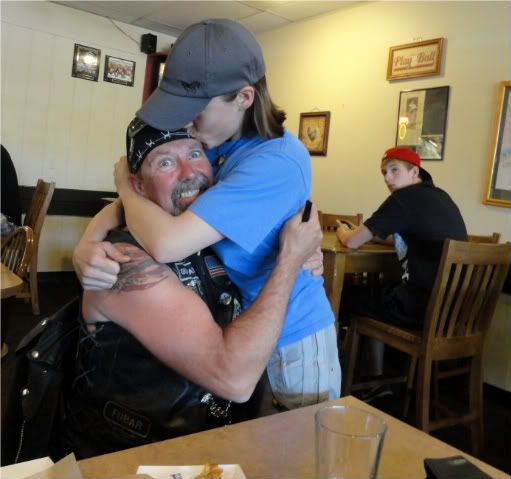 With stuffed bellies and a quick stop for red bull (full bellies + 80 degrees = nap), we parted ways. Ditch headed to his folks place, Outlaw, Karla and I buzzed home on the freeway.



It was a beautiful ride with a flexible pace and no mishaps. It was not a day of sadness, but a celebration of what two wheels brings us: friends, views, food and great memories. Here's to you Heavy.













Oh. And yes. Karla and Outlaw waived at mannequins along the side of the road, thinking they were people waiving as we rode by.