Wow what a non-stop day! A fantastic way to celebrate the end of October, fall and Halloween all in one big shot. A lot of city riding, but did over 250 miles when it was said and done, all on the bike of course!
Not too early of a start put us in Manitou Springs for the annual Emma Crawford Coffin Races. I love this and hope to never miss it! Absolutely hilarious, it's a parade/race/party based on a woman's coffin who after a torrential downpour came sliding off a nearby mountain straight through downtown in the 1890s. Strange thing to celebrate huh?! Yep... Hilarious...
Excellent view of Pikes Peak. This camera rocks!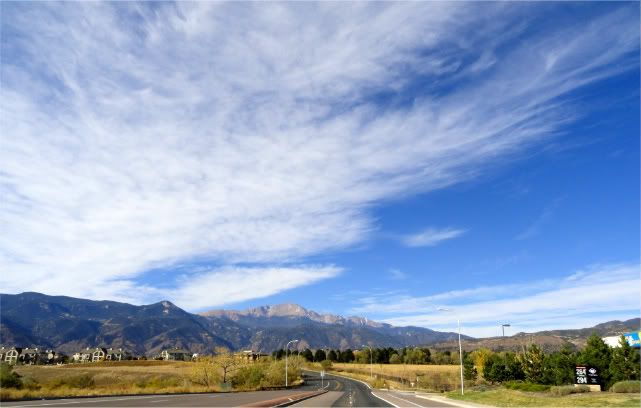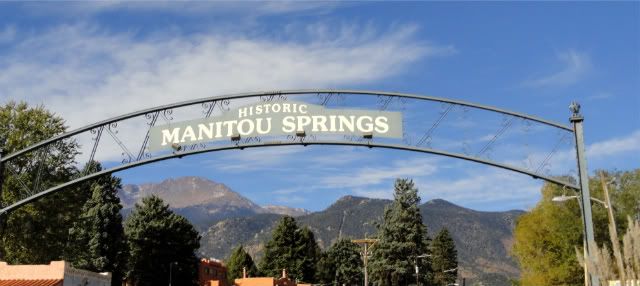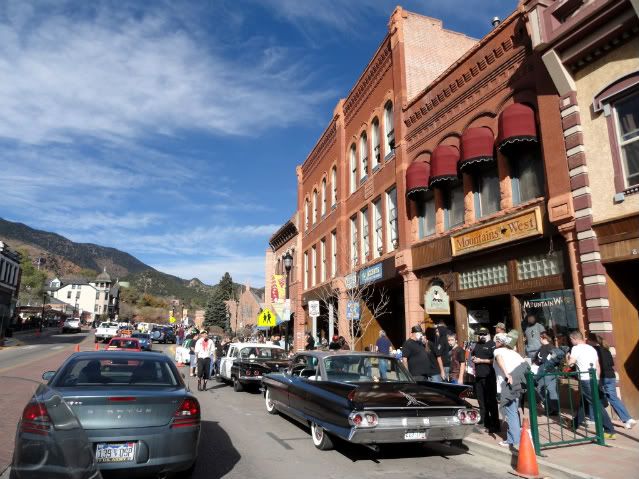 We waited at the appointed meeting time til 11:10, even though we said we'd only wait til 11. This event is insanely crowded and gets bigger every year. Be late, and you can't find a place to see a darn thing! Well, none of our friends showed....
So, we went off just the two of us to find a place to watch, betting that we could save room for those who would show up later so they could see the action as well.
Although the parade didn't even start until 12:30, there were already throngs of people there. We did manage to find a nice spot in the second/third row of people up the hill a bit. Thankfully, these throngs of people (and dogs!) provide loads of entertainment.
Me: "oh, I'd join Facebook for that!" (I have, and continue to, resist joining Facebook)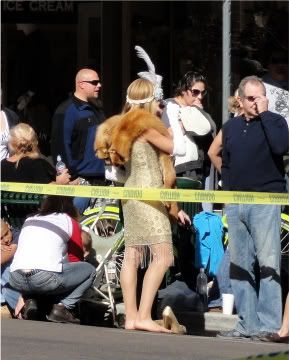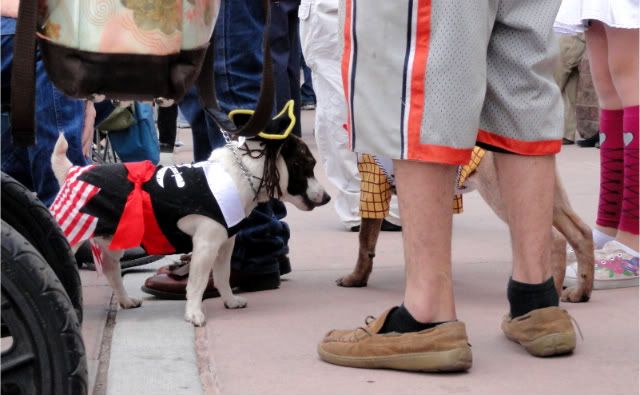 Huge military bombers doing some sort of training run
Festivities begin with a parade. First was a color guard on bikes, which was new, never before have I seen motorcycles in this parade. Second are some awesome hearses, then the racers and their entourages. Here are the best photos of the coolest stuff! Got quite a video too that I patched together, although it's rather novice. Not liking the editing software I have, will be replacing it soon!
Note the flamethrower hood... These guys are here every year.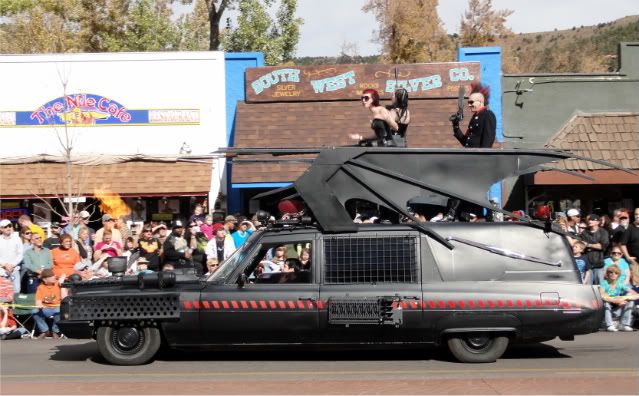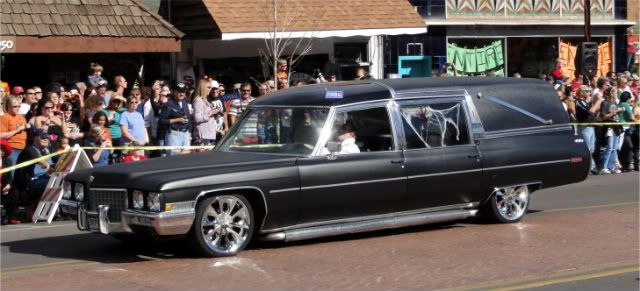 See the hand?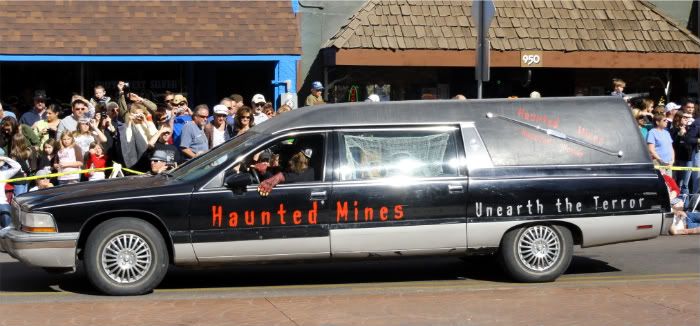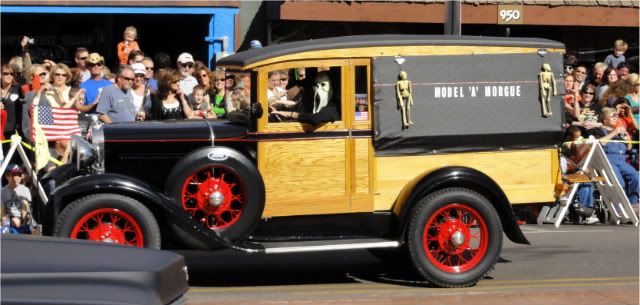 2 wheel drive.... No front driveshaft...
This crew shows up every year.... They've always been well loved for two things: 1 - hot girls, and 2 - their awesome subaru outback. Now subarus here are almost a religion... They didn't get anywhere near the cheers and applause this year when they showed up in this....
Not exactly a hearse...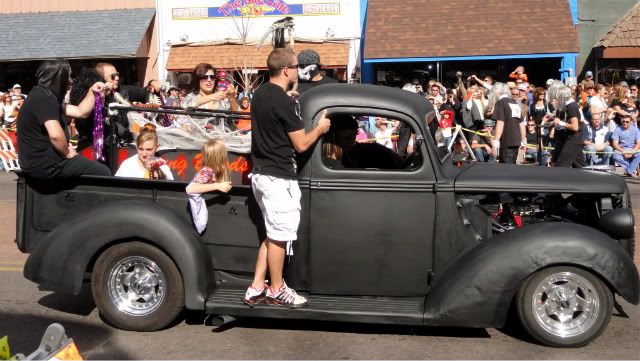 On to the racers and company! Best of photos....
This little oompa-loompa was the coolest!
Check out the crowd response she's getting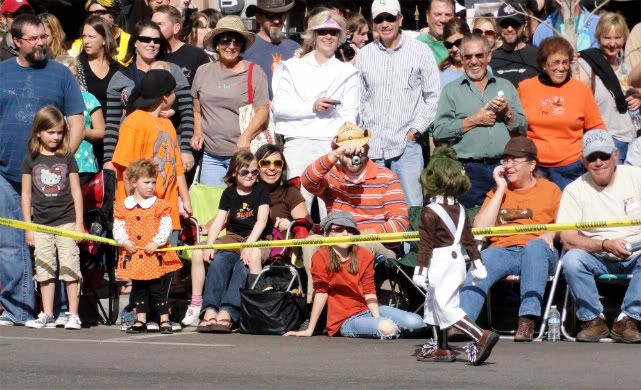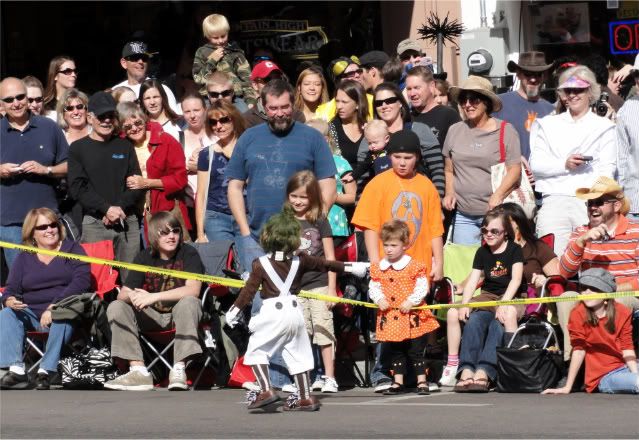 Dude... Where did you get those SHOES?!?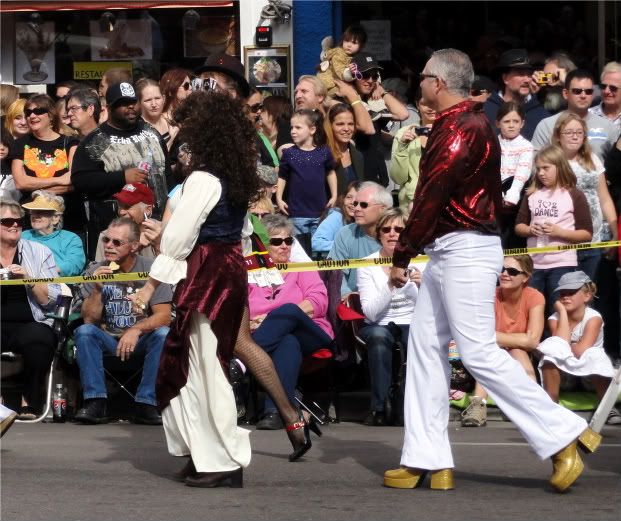 These guys always do well....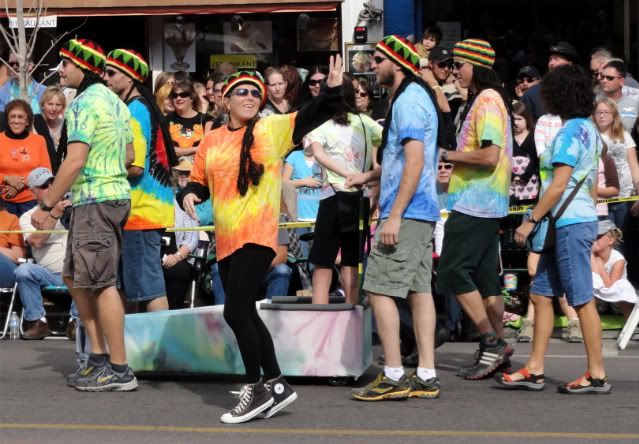 Yeoza!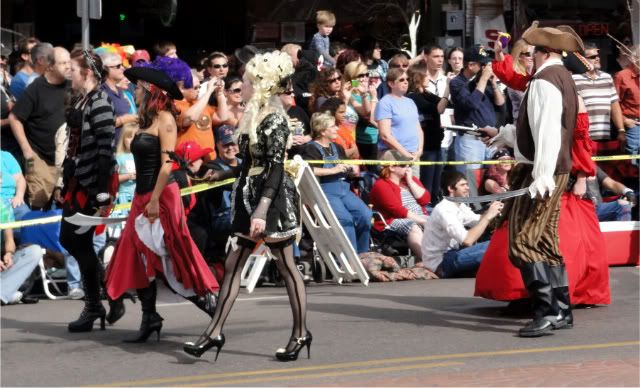 Unspoken rule is... You don't spend much time on your costumes and coffin but you win (or close to it) the race. Or, you spend loads of time on your costumes and coffin and the crowd is ok with you not running so fast. Or, often both! However, this crew failed in both respects. Costumes, fail; coffin, fail; and the race? Yeah, they hardly tried. I doubt their application will be accepted next year! We take our coffin races seriously I tell you!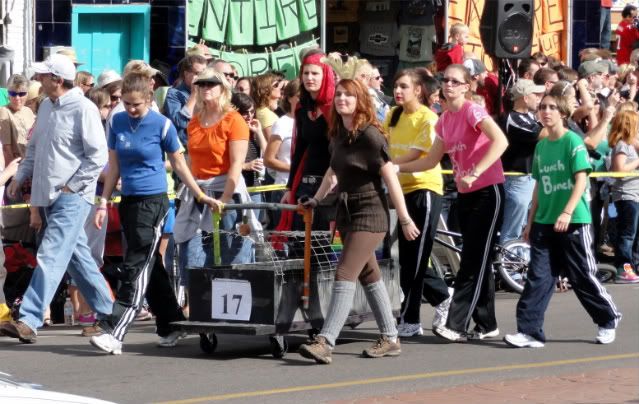 The firefighter teams show up in droves for this event, the tend to go all out in the costume, coffin and race department, absolutely earning the respect of the crowd beyond their chosen profession. And, every year, the announcer says: "I really hope there aren't any fires... Cause all the firefighters are here!"
Here's the Catamount Wildfire team. Awesome I say!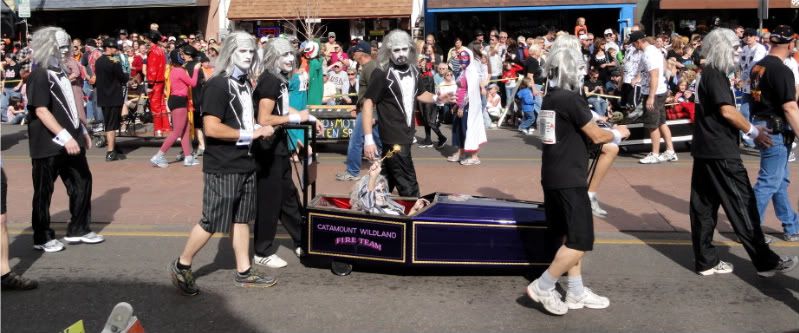 Another fire team... No idea which one...
More awesomeness...
These guys weren't as quick as some of the other firefighters... But get
for running in that long underwear! Can't imagine the chaffing!
Yes please....
Nice hats!
Willy Wonka led the band of oompa-loompas! Yep... Awesome...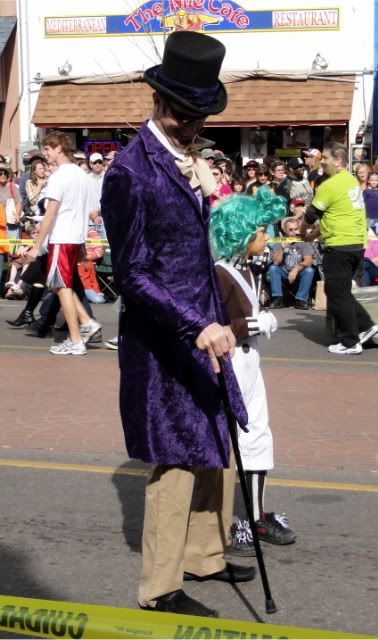 Remember the little oompa-loompa? "Candy is awesome"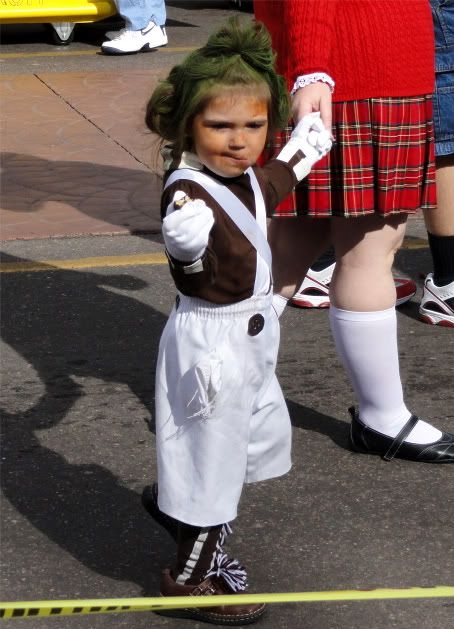 Hello!
Past two years there have been duelling elvis groups...
This year there were only 2 elvises! Elvis's? Elvisie?
Anyways, I was sad, they are always some of my favorites!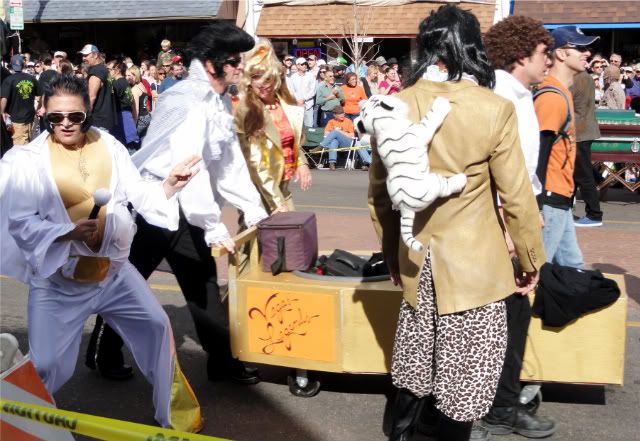 YARG!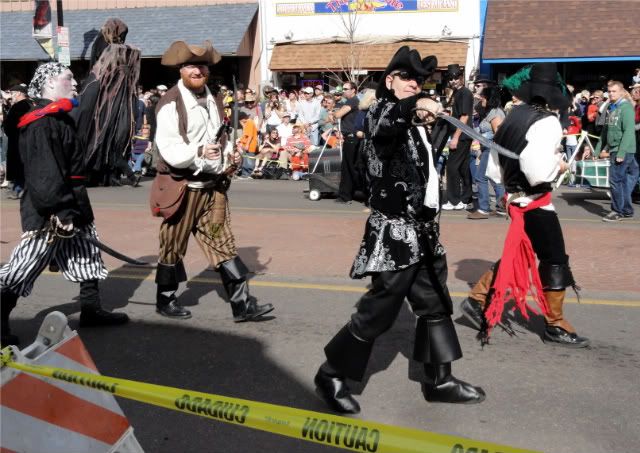 "I love being a pirate!"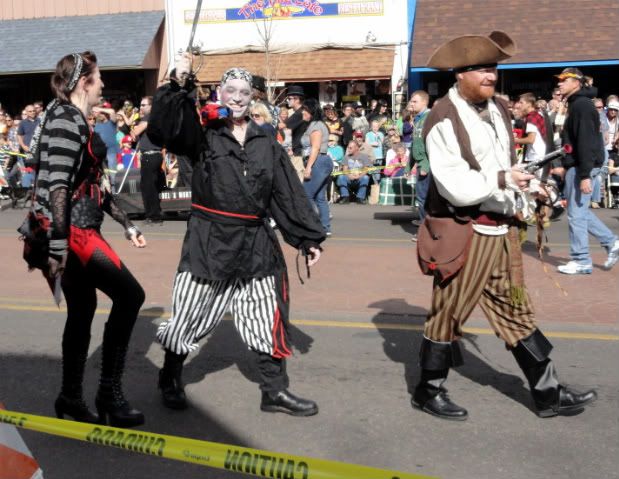 Um... Can we discuss how creepy their Emma Crawford is? *shiver
This woman was seriously tall... And that was her real hair!
I've watched these women compete a few times, they're a different breed! (Roller derby) It looks like loads of fun. Like rugby, on roller skates! I would so join...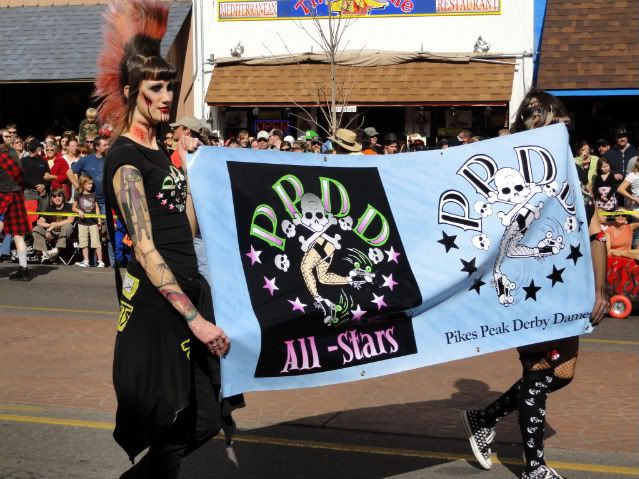 Ah yes, the famous hillbillies! These guys always always always have an awesome entourage and are fast to boot!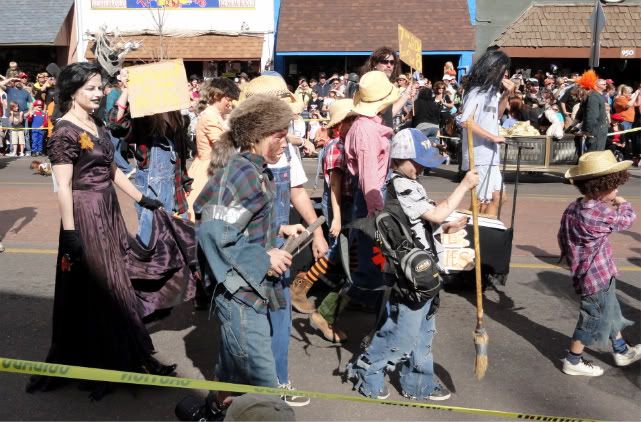 Bwahaha... One mexican wrestler was getting sassy with another one...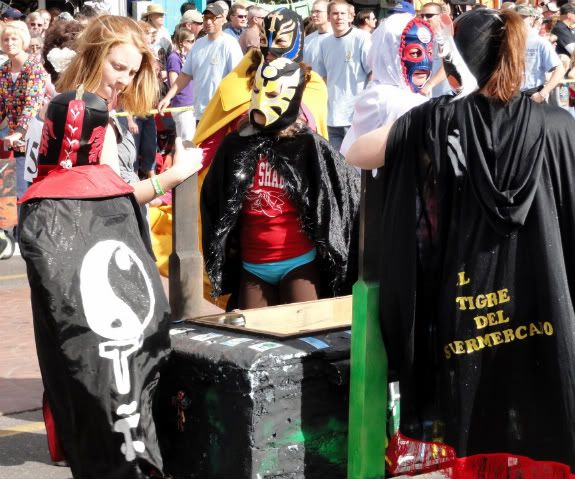 These, ahem, guys
are well known too! They're great to watch in the race as they try not to spill their beers! Yes, that is absolutely beer.
Takes a lot of liquid courage to dress like that every year!
These guys! HILARIOUS!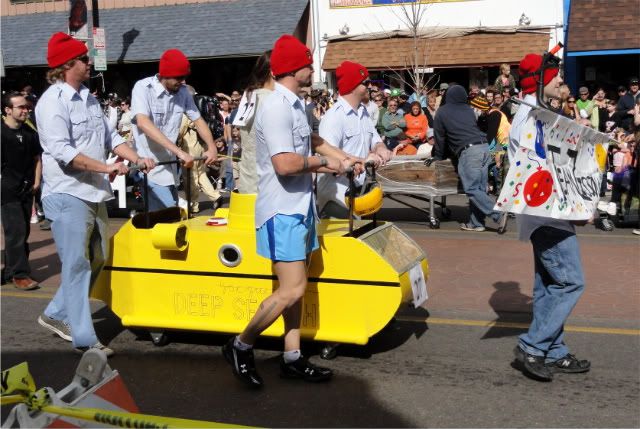 These were right behind them and just as funny! Total science geeks! They'd yell "SCIENCE!!!!" at the top of their lungs at every opportunity!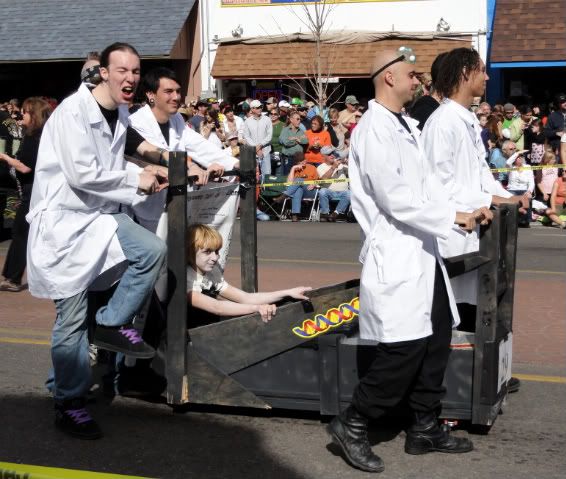 This one was seriously creepy as well... I don't think she even blinked.... She had this spin tingling look on her face too....
PS - after sorting through the photos I checked out these guys' website. Ha, they have some funny stuff!!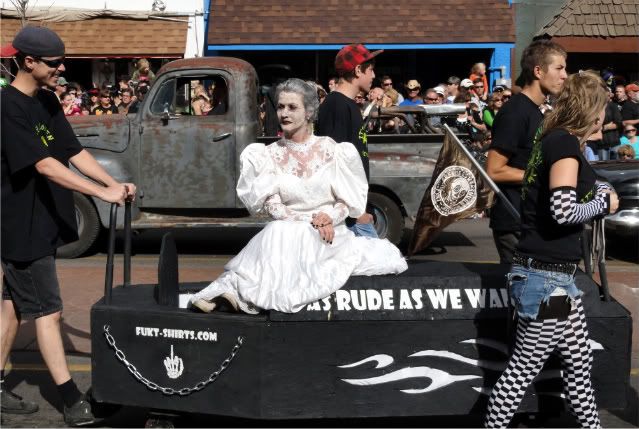 Awesome coat, and check out the skeleton costume!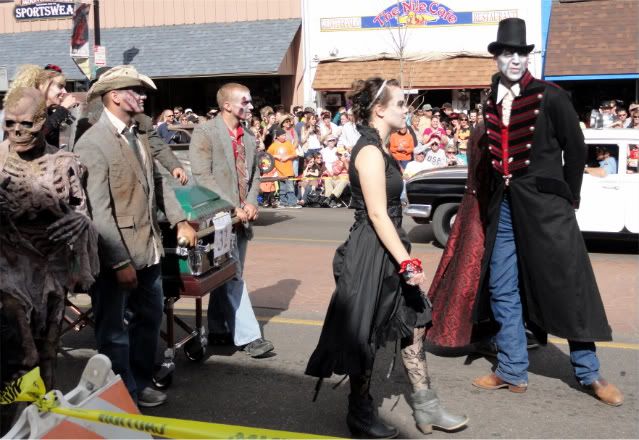 Awesomeness... Even more awesome as he came over to give this kid a high five!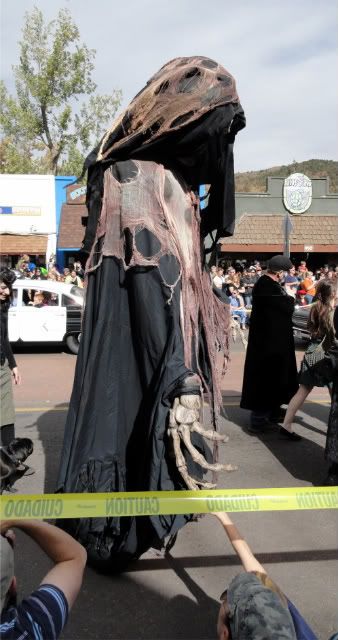 Cute pug!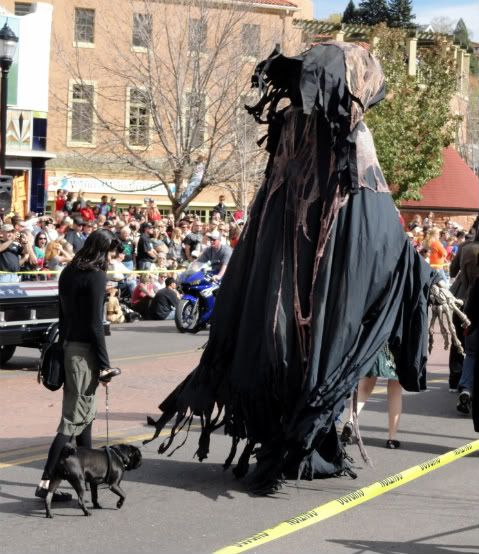 Ack! Don't look at me like that!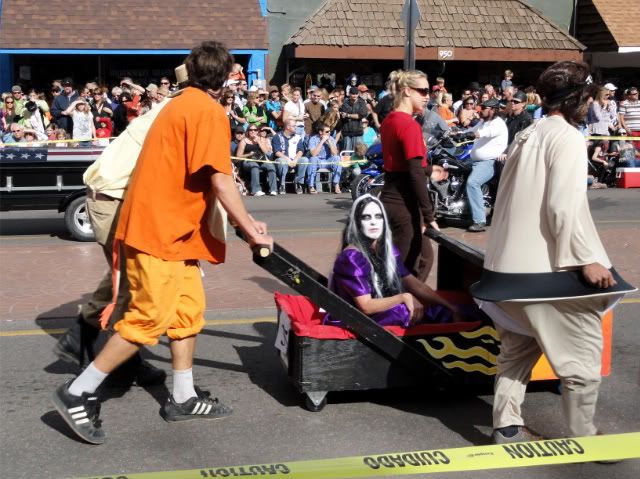 Again!!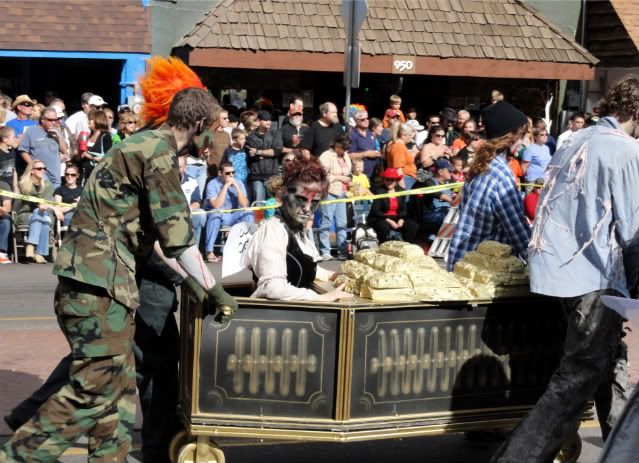 Aw see now that's better!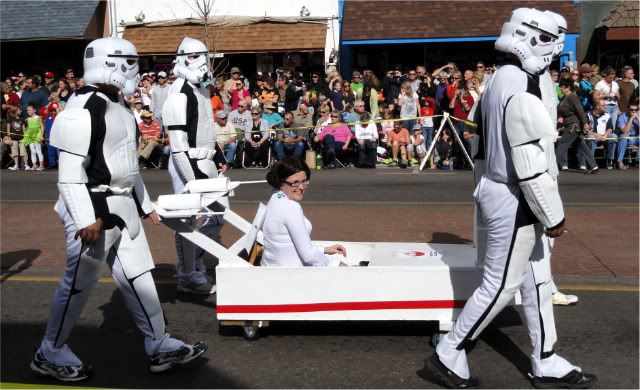 Do you see the ghost buster! Haha, our friend Dan wore that costume later that evening!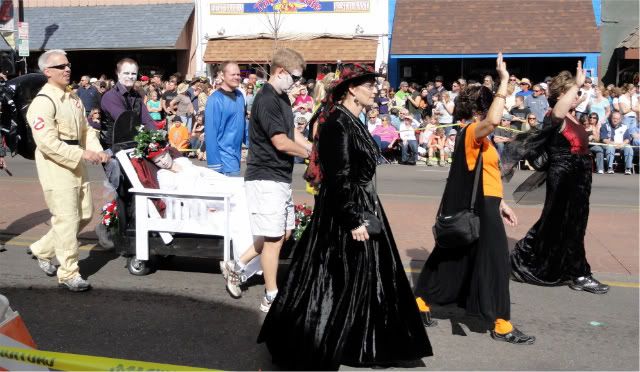 Parade finished up with some more cool cars, then this dude and his incredible trailer!
Stacy and her son Luke found us about half way through the parade, Dan and Liz joined us later.
Here's a video of some parade highlights! Pardon the terrible quality and such, I have a friend sending me a better video editing program as we speak... Til it arrives, we'll just have to deal with this poop.
On to some race highlights!
The faces on most of these runners....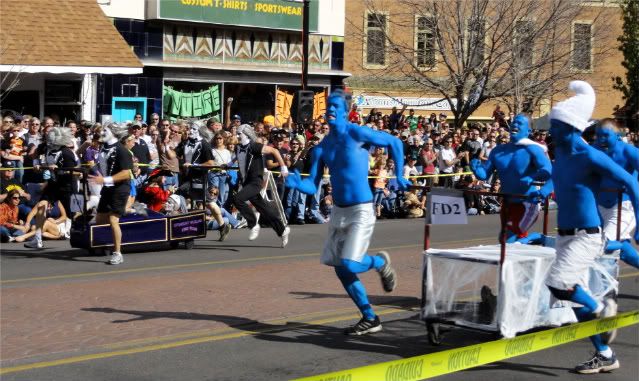 PS - snow white was a guy!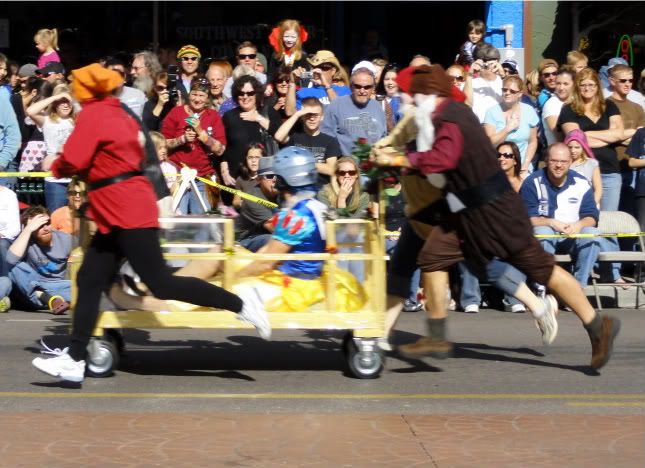 Awesome bowtie

Priceless!
The whole crowd couldn't help but laugh as these guys went by!
Elvis bodysuit awesomeness....
These guys are wicked fast!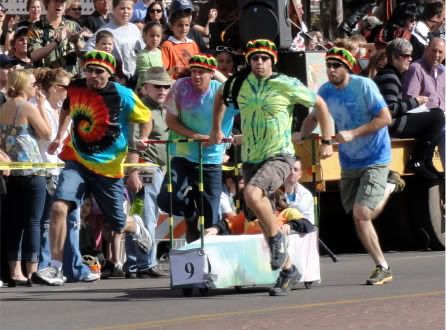 Blurry I know,
, but still worth posting between the costumes waiving and the expressions....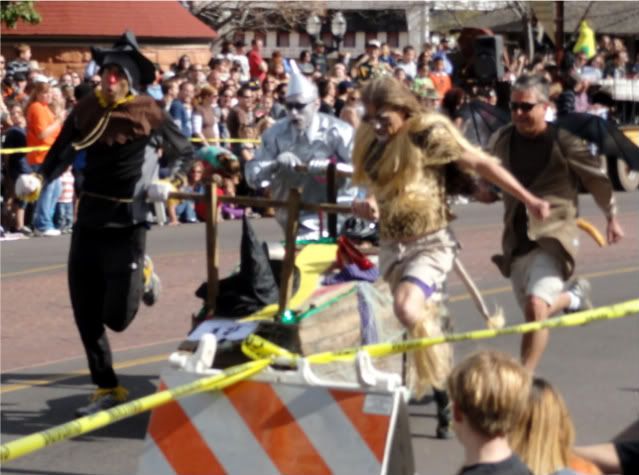 Nice.... hat?
Completely random...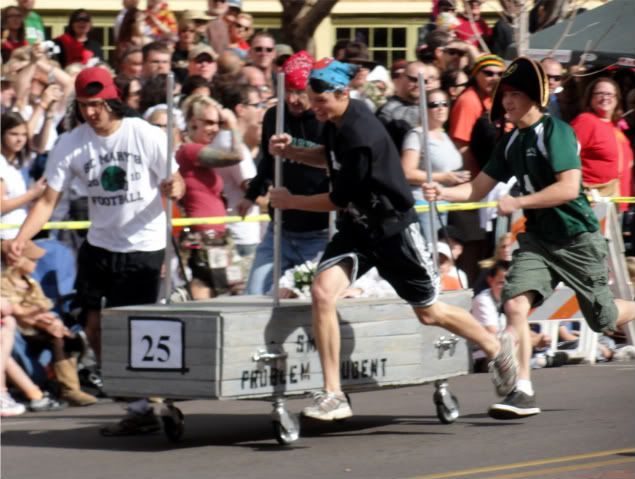 A pause in the action and I noticed this little guy's costume. Yep. Awesome!
How can you not laugh?
These guys were having a ball!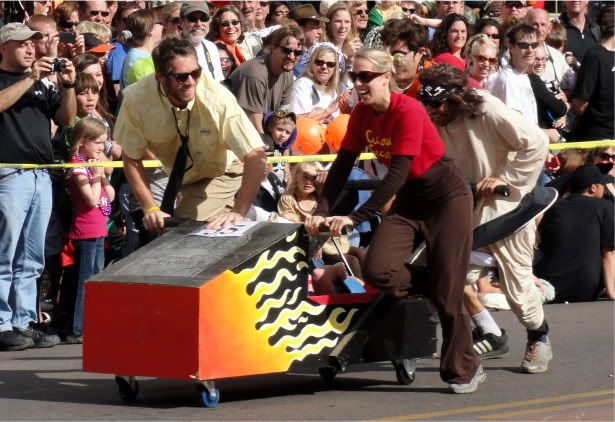 "I shouldn't have drank all that beer last niiiiiiiiiiiiiiight!"
Another pause in the action... Noticed this kid "looking" at me. I think I wet myself a little.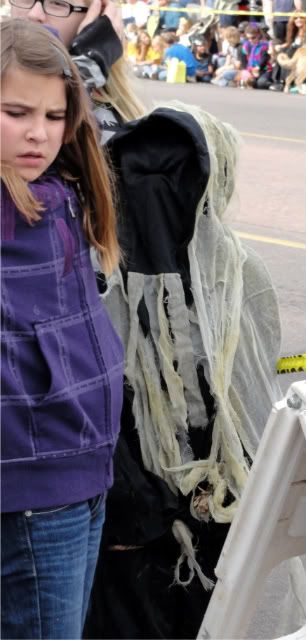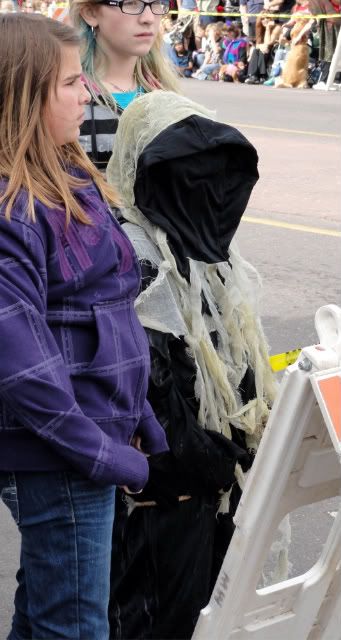 Time for some race action video!!
Got a few more shots of the racers as the walked back down the hill to the start line. Keep in mind here, this race up until last year was run downhill. There would always be ATLEAST one coffin that lost control into the crowd.
Rules state: no steering, no brakes. Well, darn thing got a smidge out of hand so now they run uphill. Still haul ass!
Awesome!
"We didn't wreck!"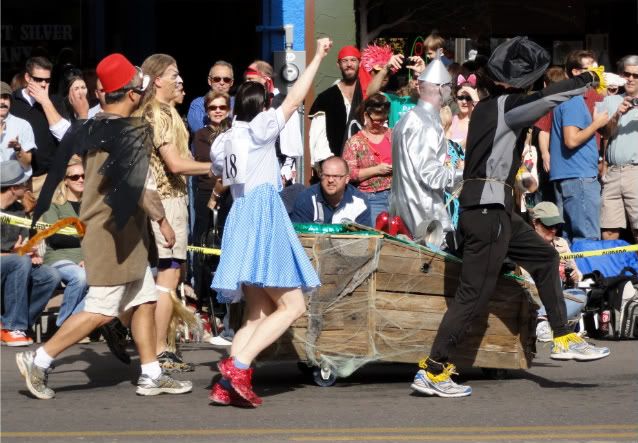 Part of the hillbilly entourage... Awesome...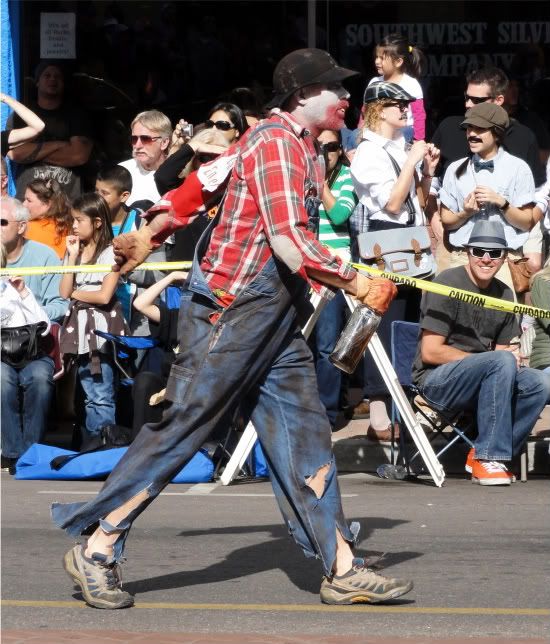 Straight boys just can't
s
t
r
u
t
...
Awesome!
This was the only coffin oriented like this... This emma crawford must have been petrified flying up the course!
The burlesque troupe did this... Hence the pasties....
More awesomeness....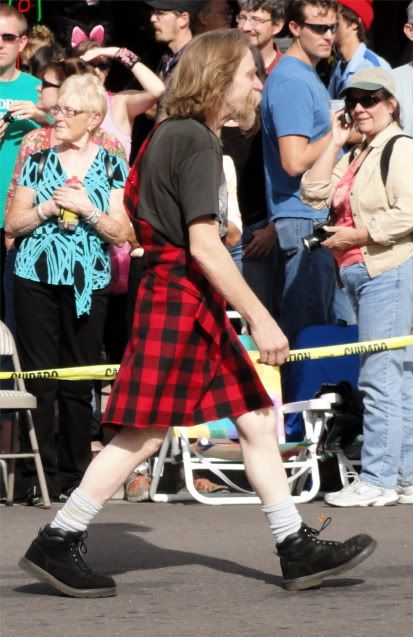 Here comes the creepy pirate Emma Crawford. No joke... She was barely gliding down the road, seemed to hardly be moving. Didn't turn her head or move her arms... I swore I would have nightmares!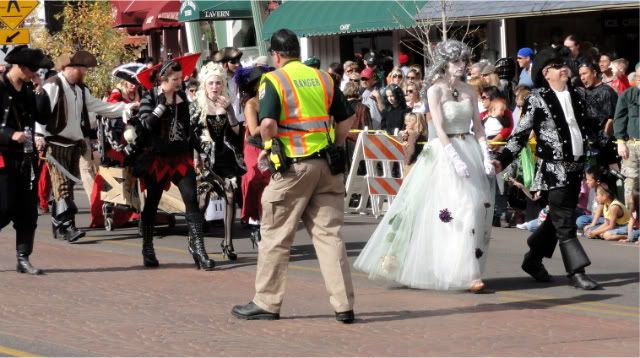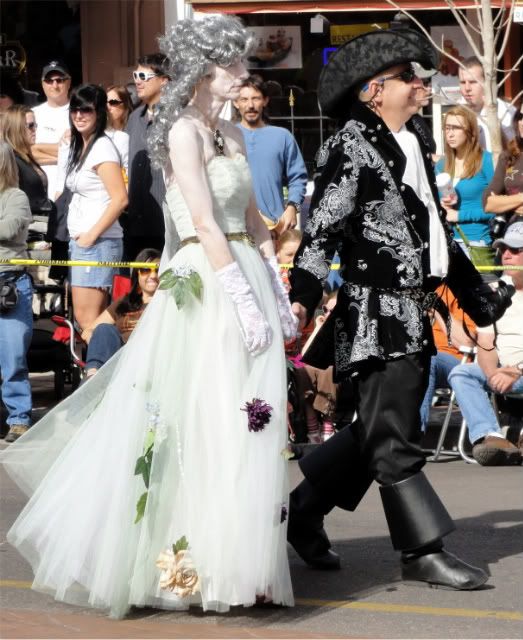 Mayor of Manitou Springs... He's been mayor since I've been coming... Always dresses up, usually as elvis! Announcer: "It's election season, so pleas come meet our mayor! He'd be happy to shake your baby and kiss your man!"
Evidently he said "kiss your hand," but I heard "kiss your man...."
That was either a fat pug, or some sort of mix. Either way, awesome costume!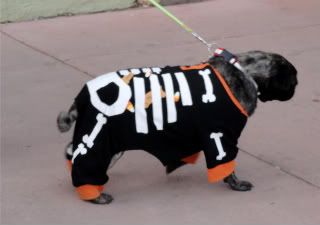 Time for us to head out.... Bathroom break before taking the scenic ride home. Got a few shots while I was waiting for Karla.
Do you see the angel in the window?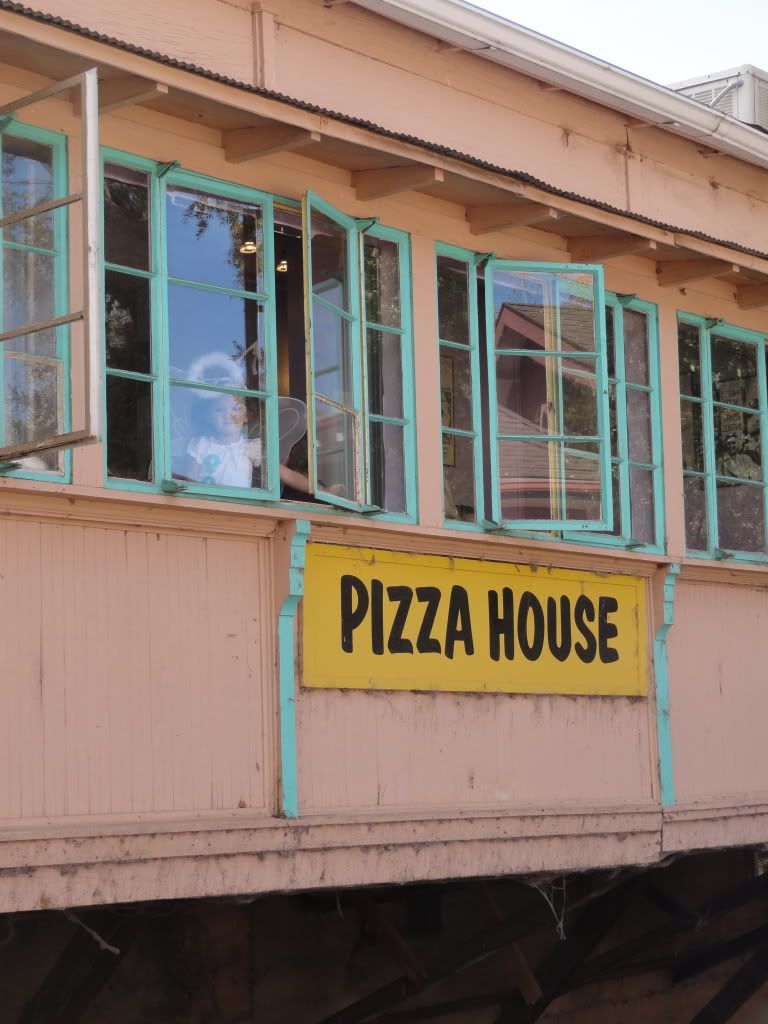 Next we were off for a scenic ride up through Woodland Park, Deckers and the Hayman Fire area, cutting over on a short dirt rode to Sedalia. Normally we go a little longer, but tonight we had a professional men's rugby match to get to!
Oh yeah baby!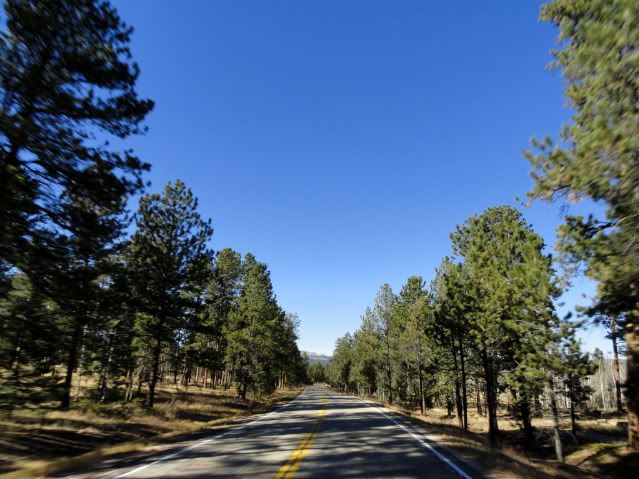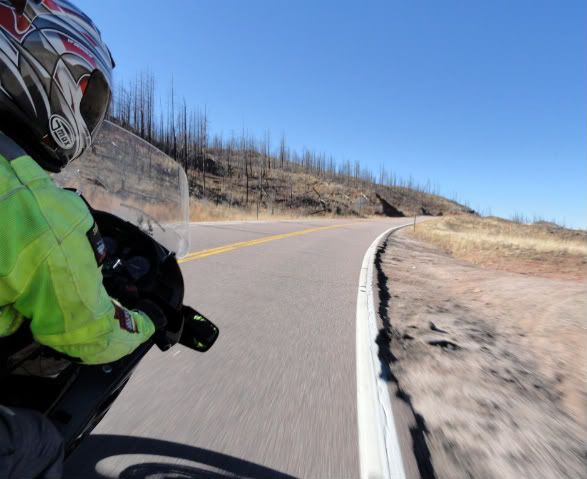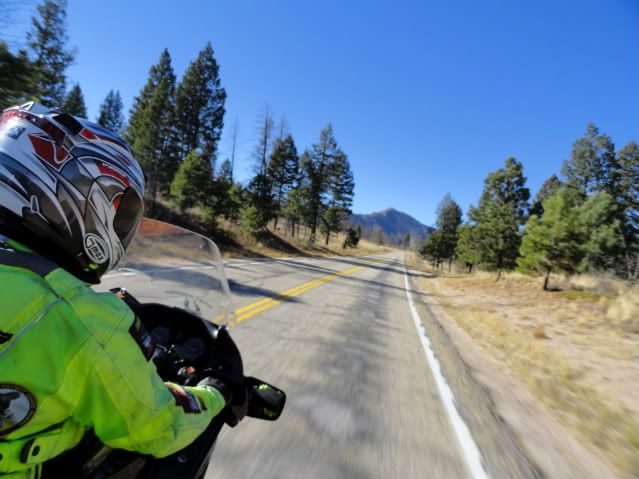 Still enjoying this as the sand hasn't taken a firm hold on the area yet... After the first snow up here and there will be spots where sand reaches across the entire road...
Can you believe it's October 30th?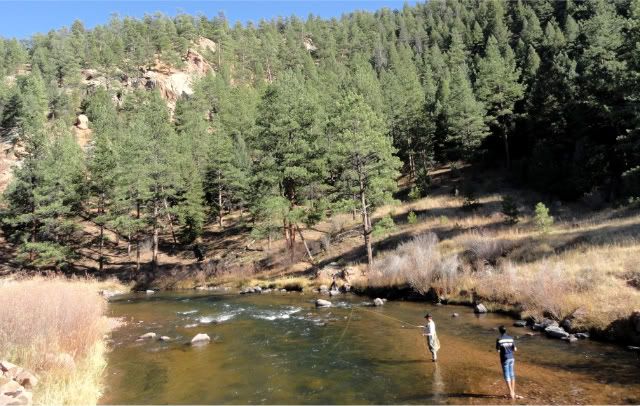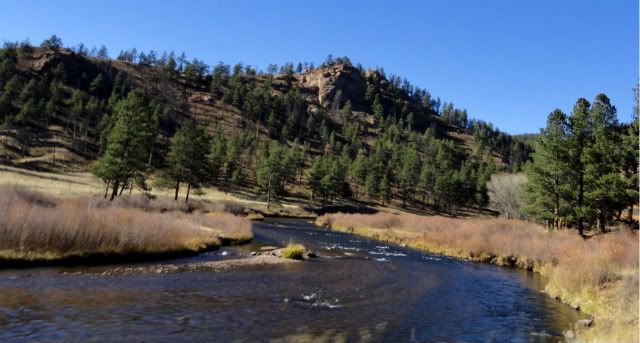 The short dirt road that cuts over to Sprucewood is still in decent shape. Washboard up the hill was the only bad spot. On 15% grade it's a bit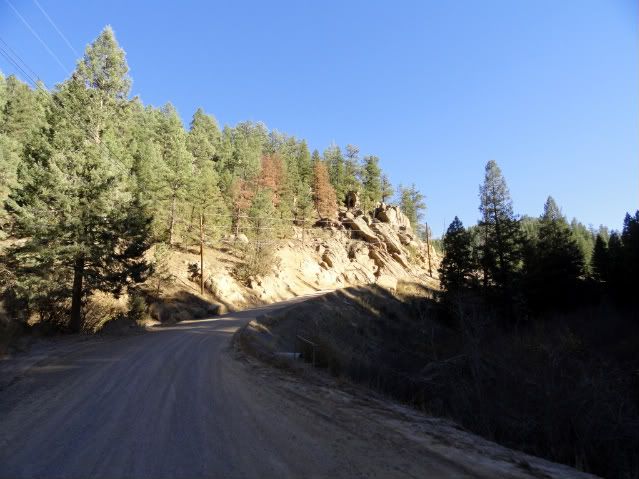 Yum.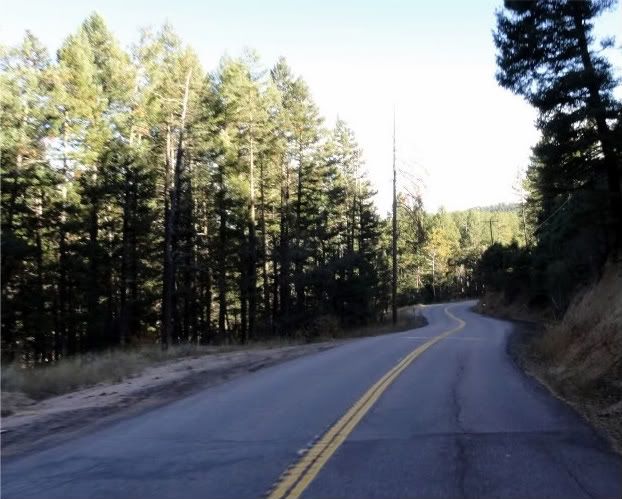 Out of the heavily wooded shade and into the sun heading into Sedalia...

A few slow paced video clips for your enjoyment! Not much excitement, we were just cruising along. Again, my apologies for the quality... I need a different video editing software that doesn't require converting and a higher class memory card!
Oh, and if you're wondering who I waive at around 3:30, it was a fly fisherman staring at us.
Grabbed a bite to eat and hung out with the dogs for a bit, next it was time for a men's professional rugby game! I played rugby in college, but Karla's never seen a game. She was very nice and humored me in all my excitement.
Check out this pitch! (Rugby field is called a pitch) It's the only dedicated rugby pitch in Denver and it was very nice!
(maximize window)

Oh yeah... Totally awesome...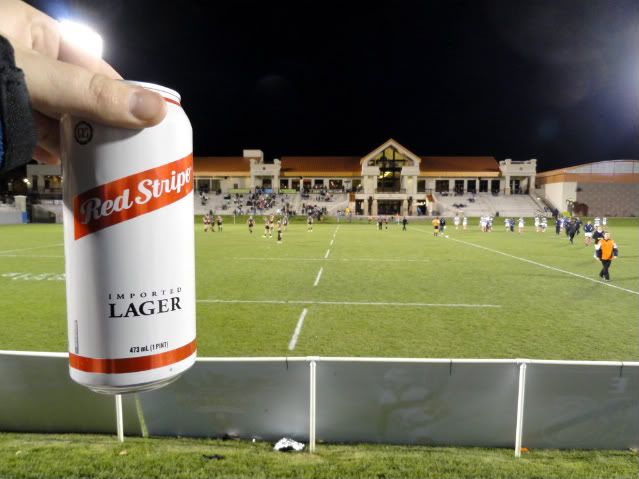 Team in the pink socks (I know right, PINK SOCKS?
) were from Denver, called the "raptors." The other team was the Albuquerque "aardvarks." (I know, also bad, they don't even have aardvarks in Albuquerque) Anyways, poor color taste and team mascot choices aside, it was a hoot! We are going again this weekend.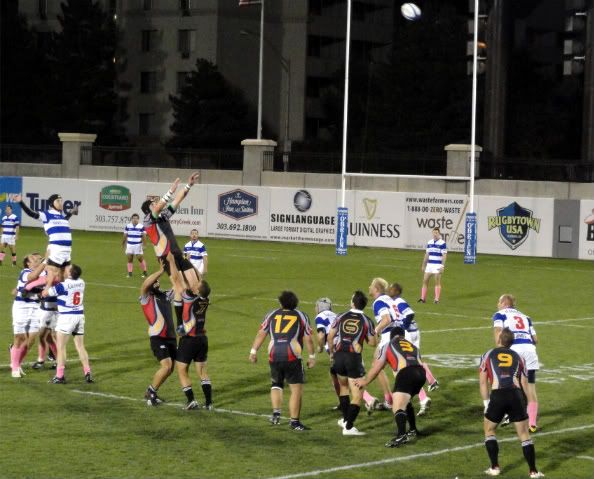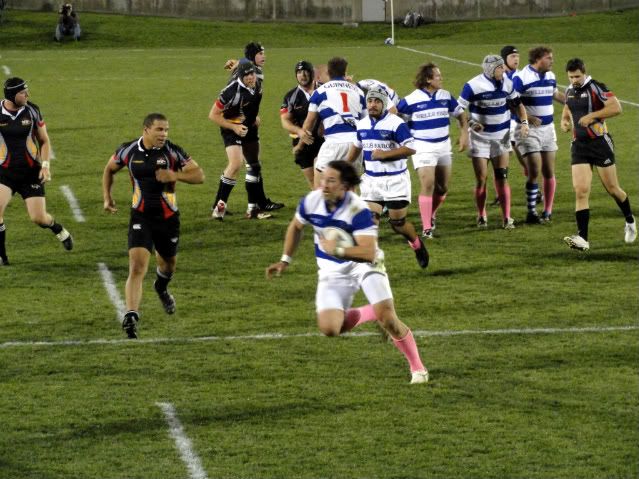 Man I miss playing. What an awesome sport.
We knew Timmy and Brandi were out at Tailgate in Parker, Dan had said they would be going as well. I was pretty beat tired at this point and so asked Karla if we could go home. She relented, but I could tell she wanted to go. Got 3/4 of the way home and pulled off the freeway. "Honey, lets call Brandi and make sure they are still there." Yep, I realized I was being a selfish twat in taking us home. We turned around and headed for Tailgate!
Tailgate is a biker friendly bar in downtown Parker.
http://www.tailgatetavern.com/
They always go ALL OUT for halloween! We had a great time.
You'll probably need to maximize your window to view all of this one....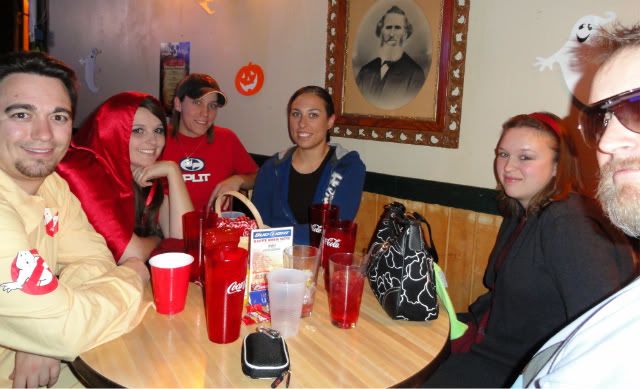 Dan's Ghostbusters backpack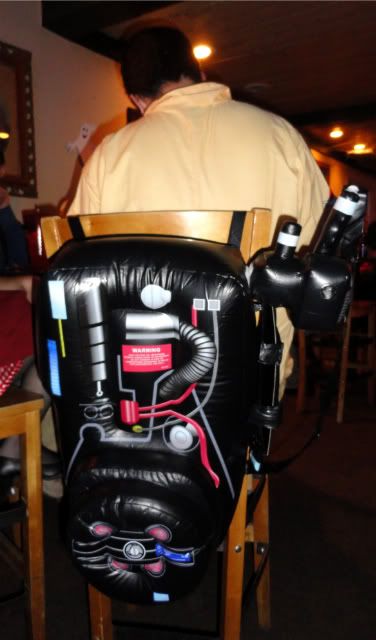 TimmyP (its scary how well he pulled this off, especially with the aviators on)
Karla hogging all of Cheffy's candy...
I remember hitting the sack and looking up at the clock to see midnight...
What a day that was!