I don't remember having weather this nice, warm and dry in the beginning of November since I've been in Colorado.... Karla's been working hard helping to get the new Murdochs store ready to open, including working 6 days this week. We had tickets for a rugby game at 6, and we agreed to be home around 4. That means I had a kitchen pass to do whatever I wanted as long as I was home by 4!
So... Here's where I went on NOVEMBER 6TH!
I opted this route as I hadn't run these passes since early Summer. They are beautiful and usually not very crowded. I miss being able to run them more often, like I did when I lived in Fort Collins and Loveland.
Keep in mind it was just me, so not as many photos as you're used to!
Official start point was at Tedd's Place north west of Fort Collins, the start of the Poudre Canyon.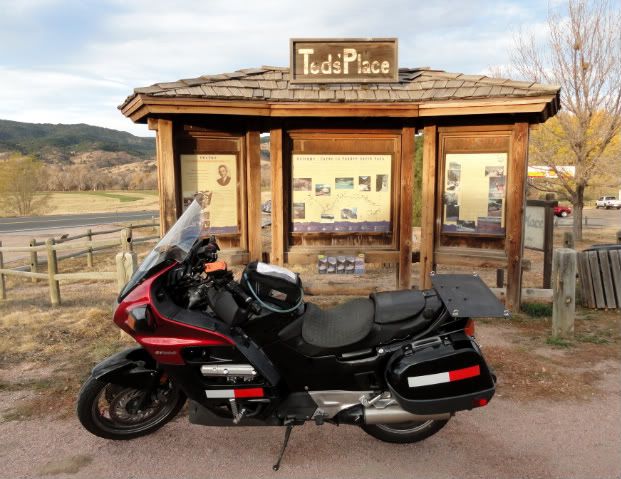 Hey look!
And what a beautiful spot for it....
I was just a bit above Poudre Falls headed towards Cameron Pass (Highway 14).
Keep on going up!
And yes... It was quite cold... Roads were dry though.

Cameron pass summit: 10, 276 feet
Check out the ski tracks on the peak behind the sign....
Hopped back on the bike, ended up stopping just a bit down the road....
For the Crags...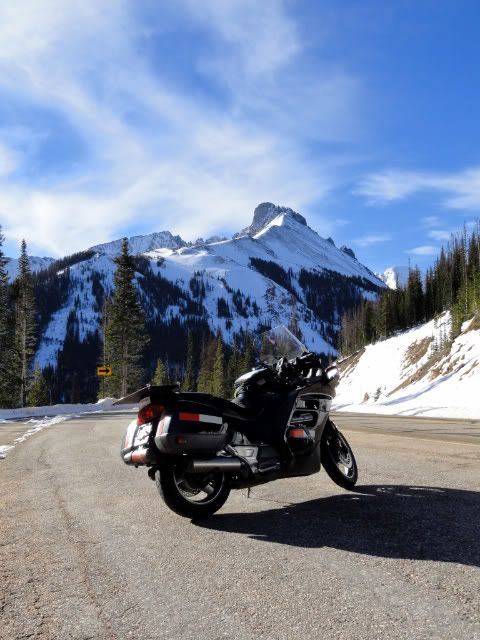 I've camped near these before.... You can also hike up to the base of them to this awesome glacier lake.
Took way too many photos.

Down the road a bit for a different view + some more peaks.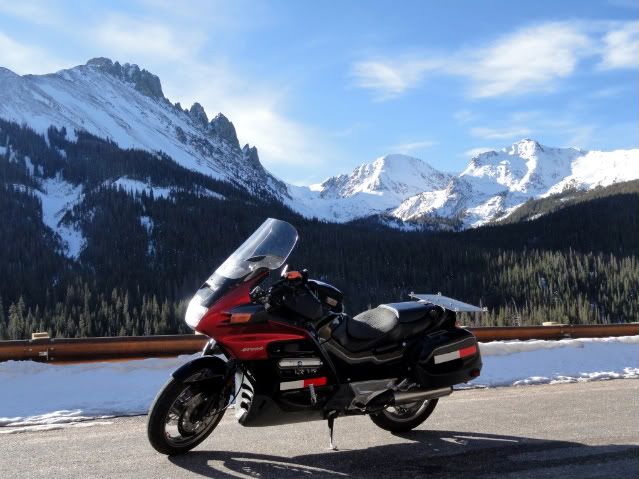 Back down in elevation through Walden. I was really hoping this would mean warmer temps...
Nope, not really. Maybe low 40s.
But soooo worth it!
Going from Cameron Pass to Rabbit Ears Pass that takes you down into Steamboat is an incredible bit of country. Almost all beef cattle farms, HUGE ones. Surround on almost all sides by snow capped mountains. Small two laner, plenty of sweepers. When it's not hunting season you'll usually see deer, elk and sometimes moose as well.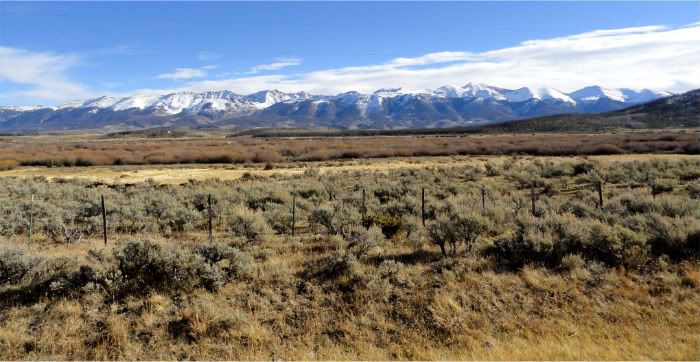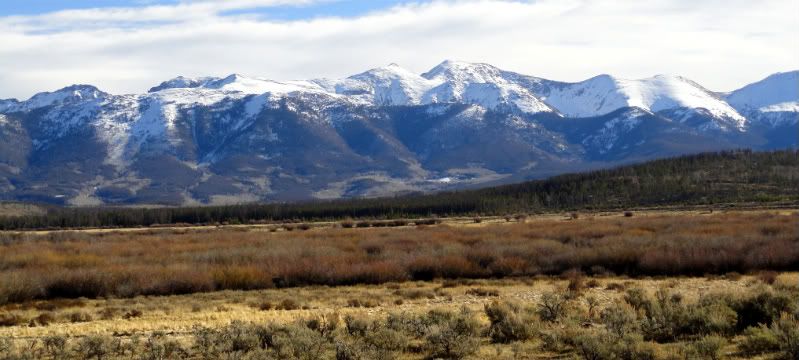 Next up to Rabbit Ears Pass, and over this!
Here's why they call it Rabbit Ears....
So... My normal lunch spot in Steamboat Springs is closed the entire month of November...
Sun Pies Bistro
Ok, time to search google... This place looked great and had excellent reviews....
Freshies
Pull up to Freshies... They are under renovation.
November is "off season" for steamboat...
Well, just headed down main street with the intention of stopping at whatever looked good cause man I was hungry!
Hmmmmm....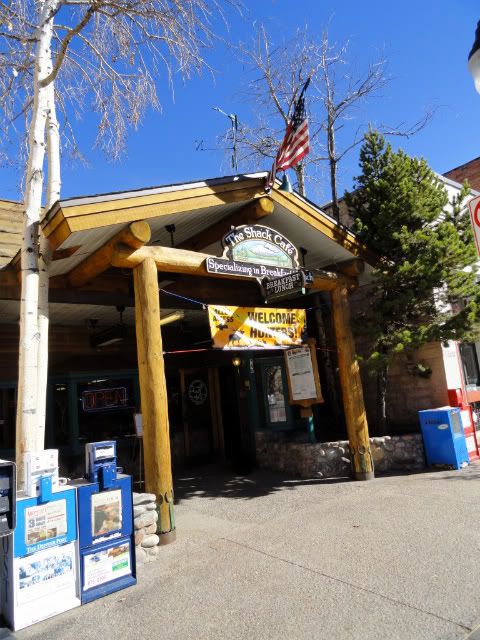 Hunters Welcome is always a good sign...
Tends to mean good, fast food that doesn't cost a load (which is relative, Steamboat is $$).
I would direct you to The Shack's website.... but it seems they don't have one!
Oh yes... This will do...
Bellied up to the "bar" facing the almost open kitchen... And ordered the special....
From sitting down to ordering to my food arriving was less than 10 minutes.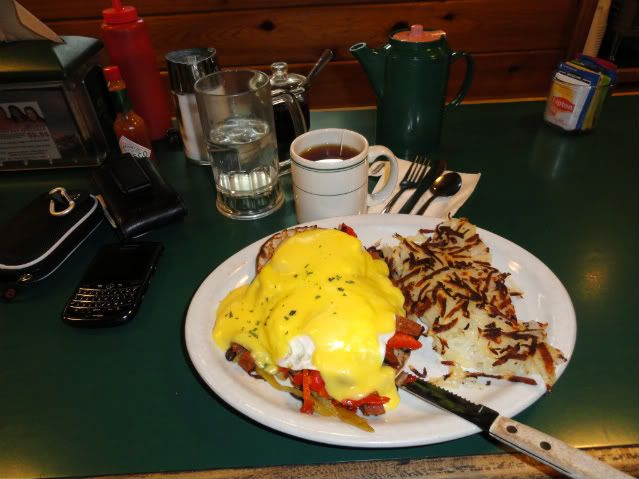 Eggs benedict with roasted red bell peppers, roasted green chili and spicy chorizo.
Can't even explain how tasty!
Kita was parked across the street
Looking up main street Steamboat to the ski area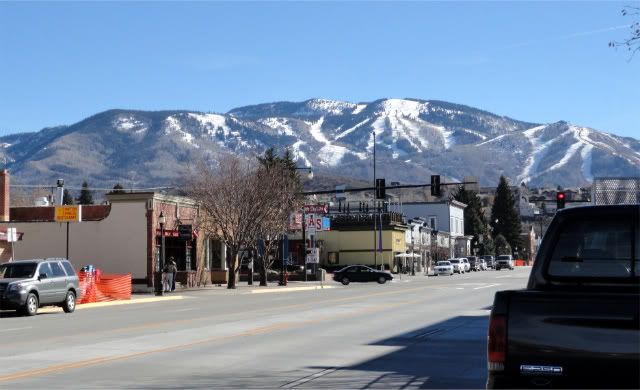 Next back over Rabbit Ears then down through Kremling. Now, normally once you get towards Kremling things warm up. Nope, still didn't! But, hey, can't complain, it's NOVEMBER. Just recognizing that I need a second helmet because my 12-vent GMAX is cold and I'm severely lacking in the lower extremity insulation... New pants of some sort in order. The winter boots + heat packs did fine for my feet.
Cold cold cold, until I hit I-70 at Silverthorne and headed down in earnest. Holy cow, riding into Denver wearing full gear + snowmobile gloves + winter boots was like riding straight into an oven. I got the weirdest looks waiving at bikers in tshirts!
Couldn't get home fast enough to get the layers off!
Anyways, all in all an incredible ride... Definitely one of the must stunning scenic rides I've ever taken. Ever! I would do it again right now if I could. Well, maybe if I could fit my snow pants over my armored riding pants (I can't, I already tried
).
I consider myself very lucky to have done that ride this time of year to see all that from a motorcycle...