I had ridden with Karla around town a few times, and she'd been riding her bike loads, almost daily to and from work. For those that don't know, it's a 1982 Yamaha XJ1100. Yes, that's only a year younger than me and a full two years older than Karla! She put a lot of work into to get it running and has been enjoying the fruits of her labor.
After a full Saturday of working on the bike, we decided to hit the mountains Sunday!
We headed up 6th through the tunnels to Black Hawk, then up Peak to Peak with a detour through Raymond to check on the flooding down in that little creek side town. There were a few flooded yards and one flooded bridge (it was concrete though, no damage and still usable) so looked like everyone was fairing ok. All the way up to Estes Park, we had lunch near the Stanley Hotel. We used to stop and have lunch on their grounds, but now they charge a parking fee, so we avoid it. Heck, who charges the same for ONE motorcycle to park as they charge ONE pickup truck?? Anyways. They do have the best view, and easy to find a spot along side the small road.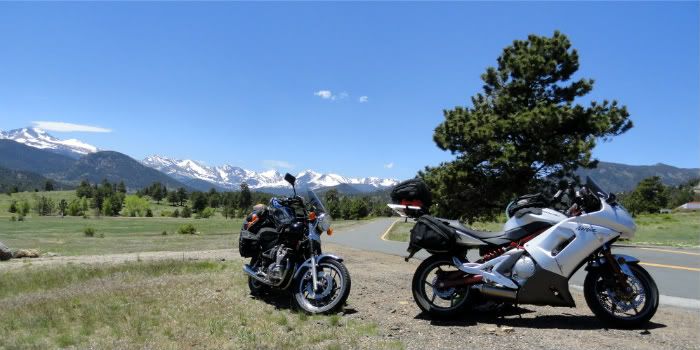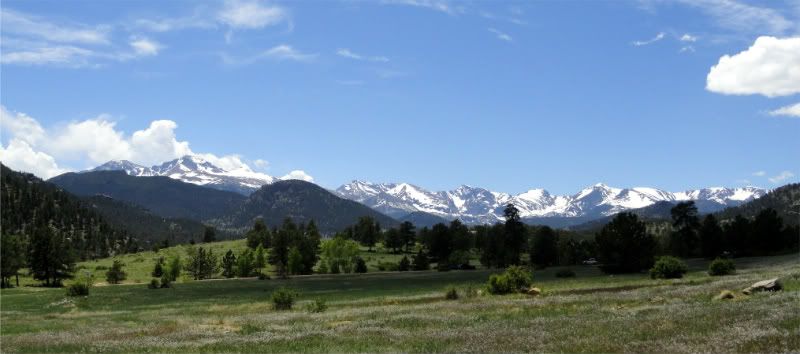 It was a bit windy (always is) and we slept in, so we opted to turn around and enjoy Peak to Peak the other way!
A stop for a photo (and an extra layer) in front of Mt. Meeker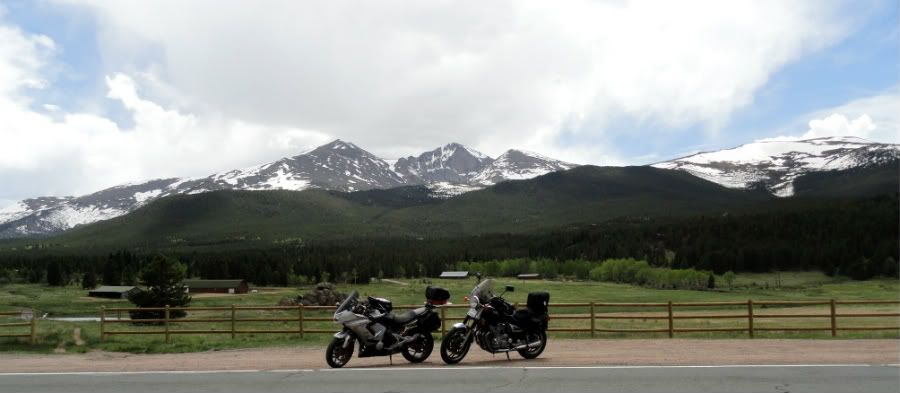 I asked Karla which road she wanted to take back down off the Peak to Peak.... "Well, lets do something a little more fun." Ok! She thoroughly enjoyed Golden Gate Canyon road! And, I can attest she wore most of the nipples off the edges of her rear tire! She said she didn't touch a peg, but thought she was going to a few times. That XJ does have some nice highly placed pegs! Another stop to shed layers...
Then we got stuck behind a group of metric cruisers, the last three in a pack of 6 were so inexperienced it was scary... 3rd from the back was on an orange Sabre and almost dumped it doing 15mph in a corner when he grabbed both his brakes hard! YIKES. I felt bad for the guys. They all had nice, customized bikes (and a few very expensive paint jobs), no paper license plates so they'd had the bikes for a while, and man they didn't look like they were having any fun. The leader dropped his '09 Vmax in the dirt waiting for his buddies to catch up. Yikes. Lets just say we gave them lots of room and were happy to pass them when they pulled over to regroup (and pick up the vmax!).

Next stop was the Buffalo Rose in Golden! Was going to buy her a beer and Rocky Mountain Oysters (yum) but the place was packed so we settled on just a beer.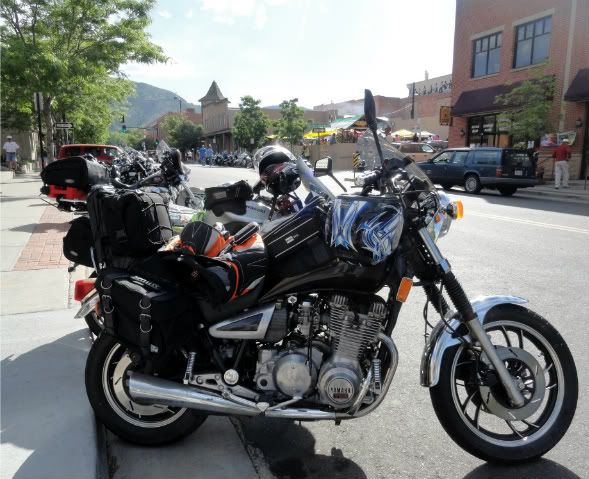 A bit of a headache with the parking.... I'm used to doing what I want, park here, park there, yada yada. Well, I wasn't communicating well and Karla got confused. We talked about it, next time I'll just let her pick the parking spot! Whoops... She did get LOTS of practice doing tight uturns though! You should see her, she doesn't even keep her feet down...


In the end did about 175 miles of twisties...
View Larger Map
She does however now want helemt communications. I agree, being able to talk would be great. "Hey I'm cold will you pull over?" "Lets stop to take a picture here." Yada yada... Thankfully she realizes we can't afford them! Put them on our "someday" list.

I'M SO PROUD OF HER! She did an excellent job. The bike ran well and got 42mpg, which according to the XJ/XS11 forum is good.
We had a wonderful time, and she clearly loves riding. Her skill level is very impressive, she's thinking ahead, driving defensively and smartly. She says she picked it up from me, which is flattering for sure. It's clear she's been paying close attention to my riding style when she's with me. I think the number of times she rides with me is going to start dropping off fast, unless I manage to get a second, bigger bike that's more comfortable for her.