On Saturday, June 25 Karla and I met up with Ethan, Jen and Mychael for Ethan's annual Steaks and Lakes ride! It was an early start at Lamar's donuts, prepping for a long day of excellent twisties, lakes and steaks of course.

We hit the nice sweepers and tunnels on 6th to get us up into the hills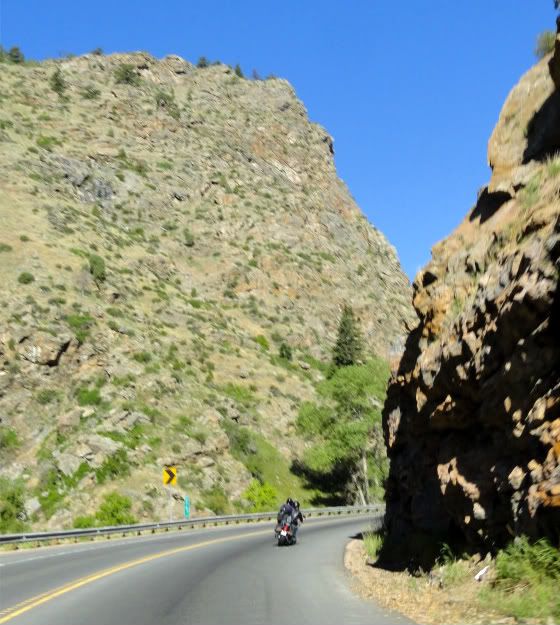 Then up and over Berthoud Pass, which has some incredible views! The pavement on the way up was dandy, on the way down?? Not so much! Man that's needed to be re-paved for years.
This road has some huge 180 degree rising (or falling, depending on which side of the pass) turns. Uber fun!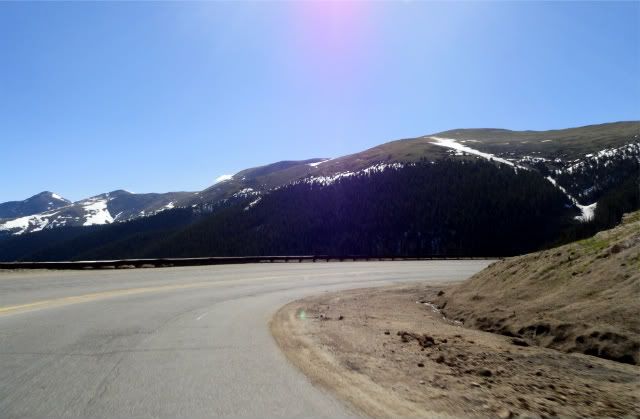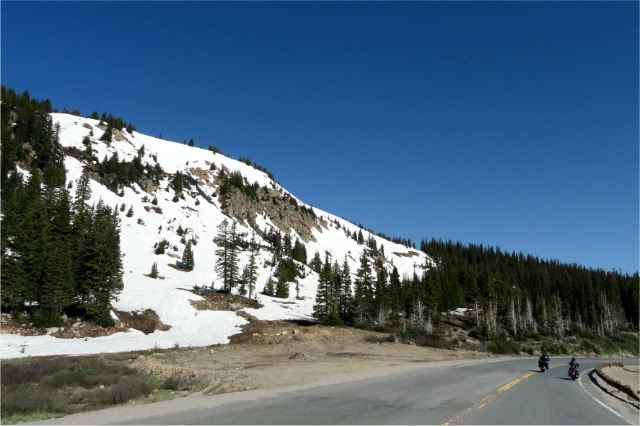 The road literally hugs the mountain side.
Look what Karla spotted rolling through Winter Park! I thought she was gonna tell me to pull over.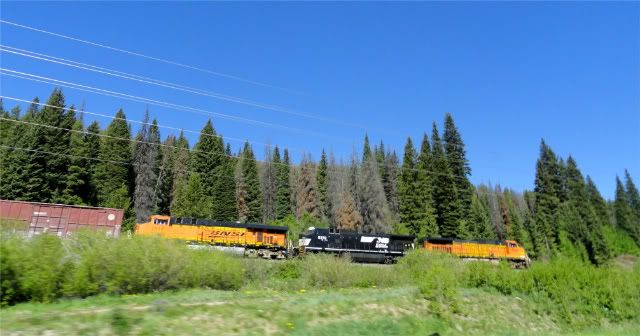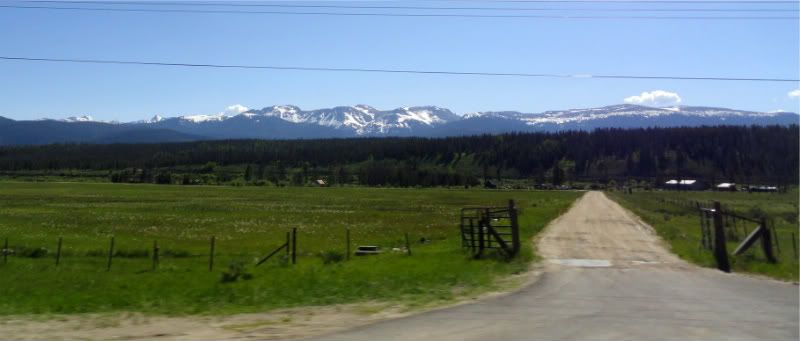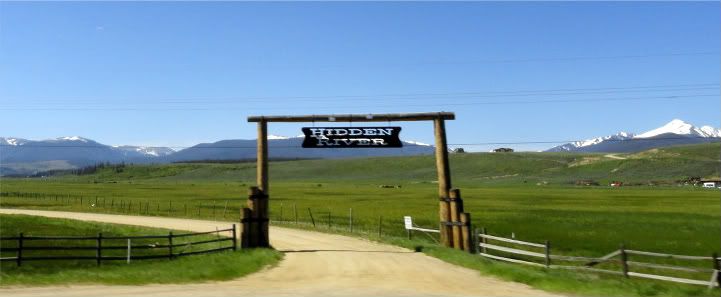 Rolling towards Granby and Grand Lake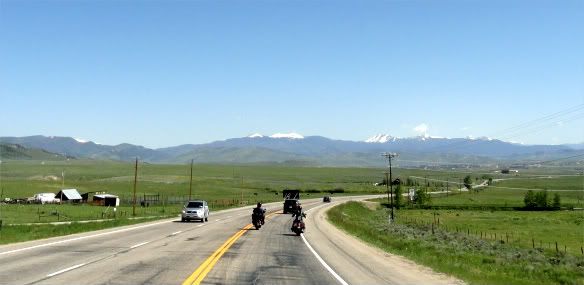 Plenty of evidence of recent and current flooding! The record snowpack up high just keeps melting and melting....

I pulled everyone over in Granby, once we caught up again. The guys had stopped atleast 3 times up on the pass for Karla and I to catch up, and had to slow up who knows how many more times. I know what it's like to have a guy in the back holding you up from the ride you want to do, and believe me, it's NO FUN to be that guy! So, Karla and I did our best to gracefully bow out from the rest of the ride and eventually the guys continued on without us.
Karla and I opted to head for Rocky Mountain National Park! We were curious to see what the flooding was doing up there.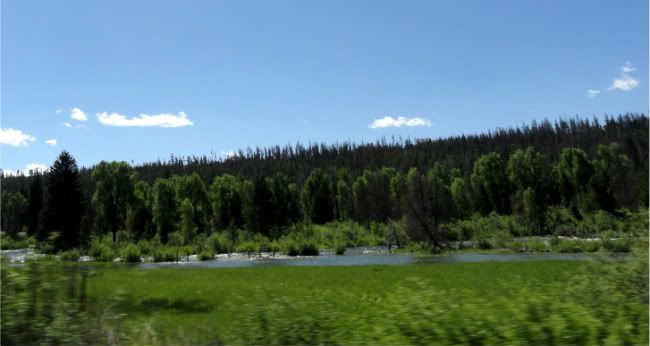 Lake Granby was still pretty low, while Grand Lake was full up to its banks. A conversation later with a park ranger later taught us this was on purpose, as there was still a lot of snow to melt.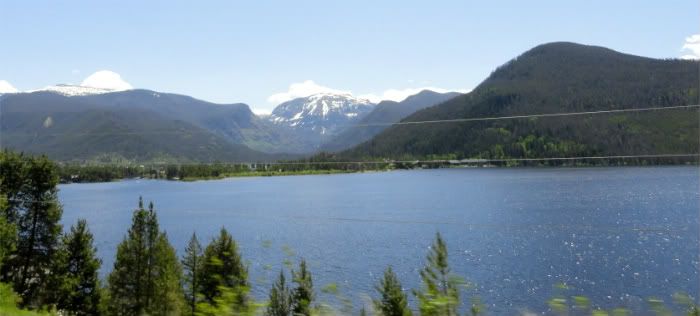 Lots of beetle kill back here, has been this way for years
oooo yeah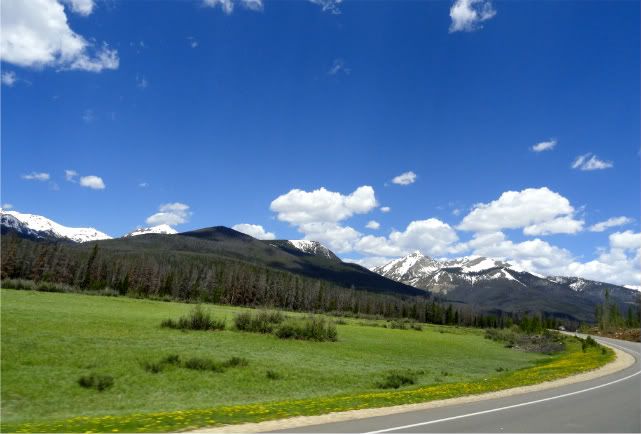 I had no idea Karla took this, I got a good laugh when I sorted through it editing. I had pulled us over to a picnic area randomly in hopes of seeing the flooding. Glad we pulled over!
Check out the flood plain! You can normally walk across this, there's even a service road! Totally underwater.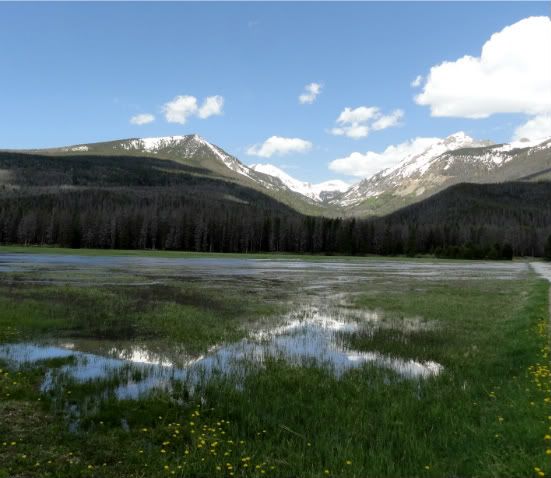 We had some company... Must have stayed watching these guys and talking to a ranger for 30minutes. I took waaaaaaaay too many photos...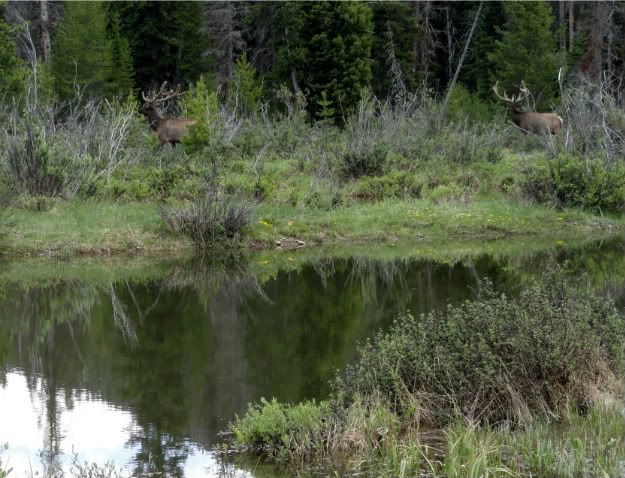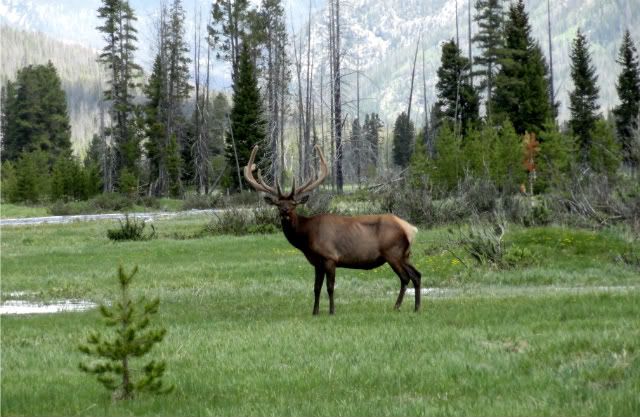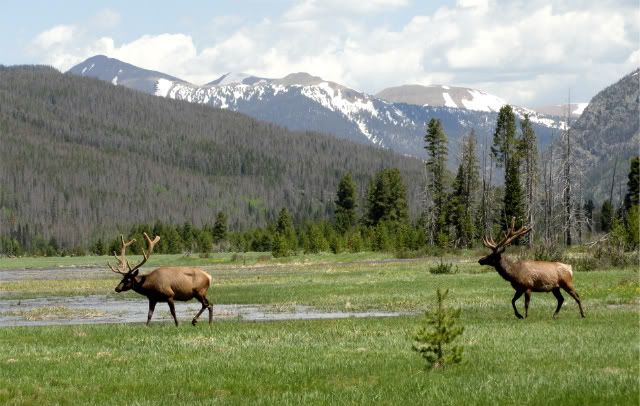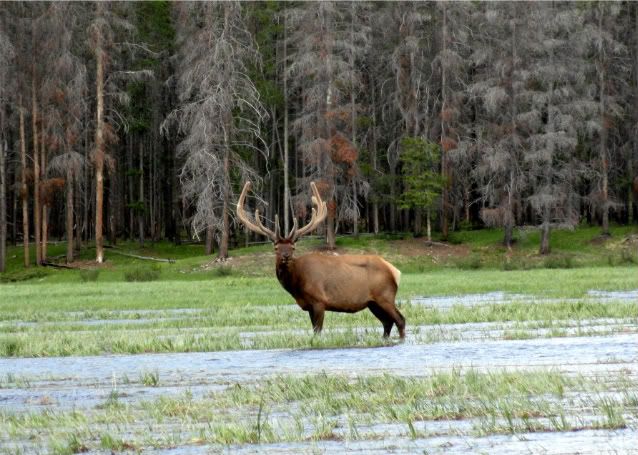 You can see them in the far left of this shot
Ok, enough elk!
Karla noted how the sun was forming these awesome shadows in the lodgepole pine... The photo just doesn't do it justice.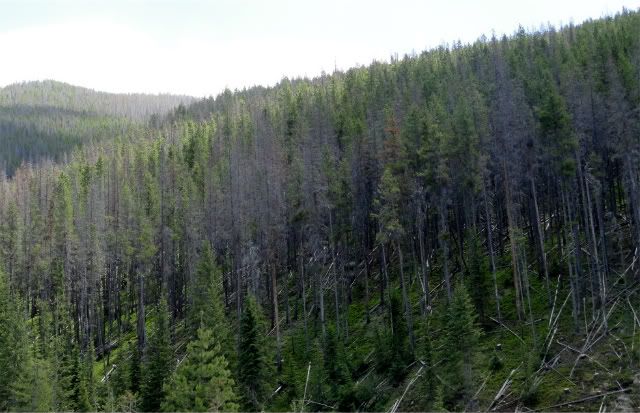 Up we go!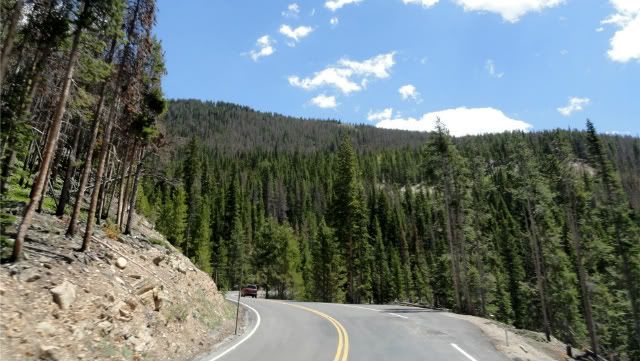 I have never seen so many waterfalls along the park road before, they were popping up everywhere!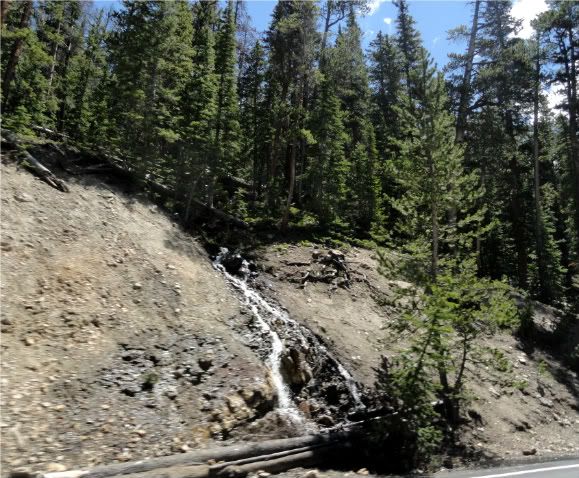 See the branches sticking out of the snowbank? We would see lots of those and they kept me laughing for miles
I've never seen ice in this lake at the continental divide so late in the year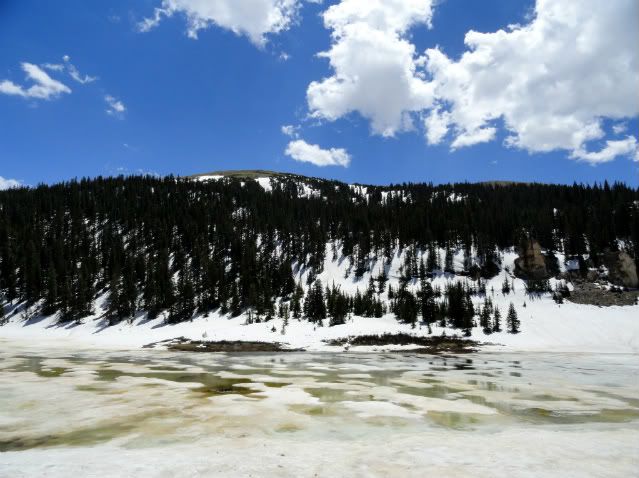 LOL
more up to go!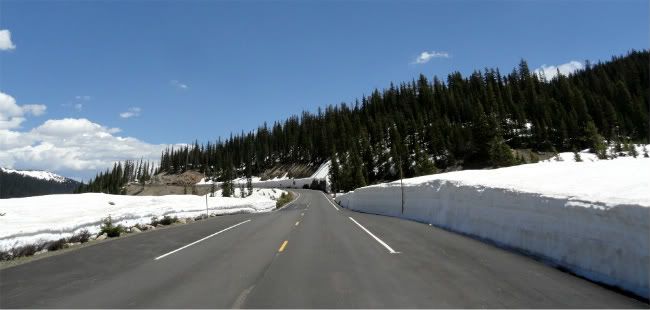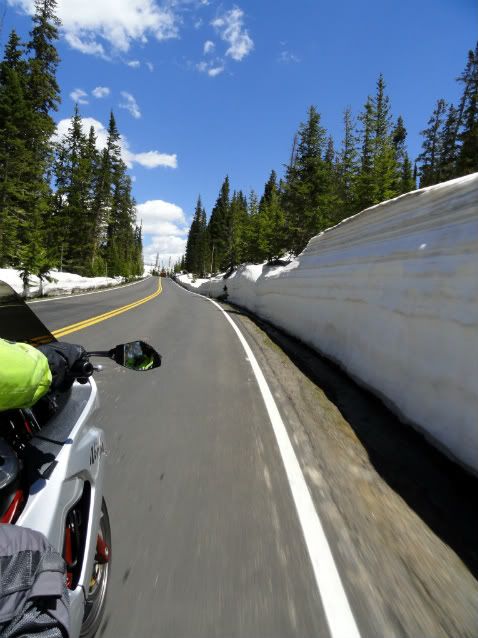 This is a LOT of snow for the end of June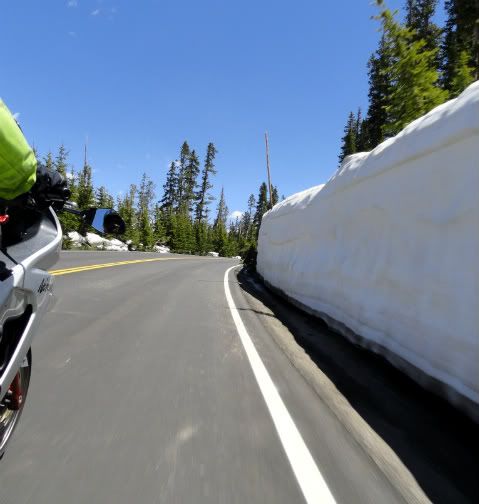 Still laughing!!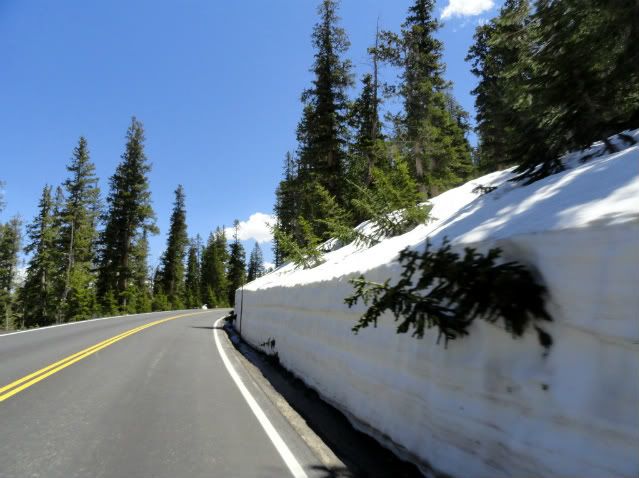 Priceless
Now my stomach is starting to hurt from laughing...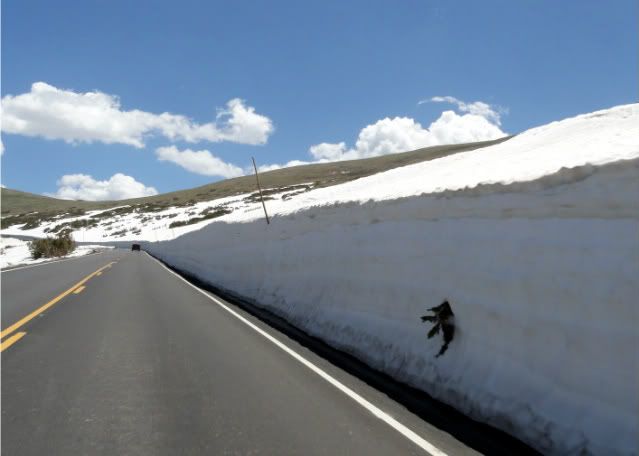 Where we came from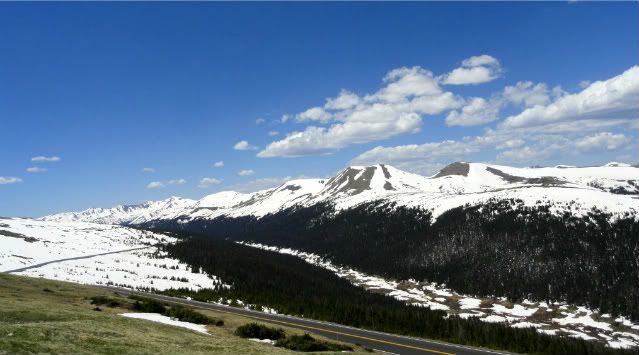 Karla managed to get some panorama shots while moving!!

I am now going to proceed to post way to many mountain photos, but I'm having a really hard time deciding which ones to cut out!!
Here's where we are going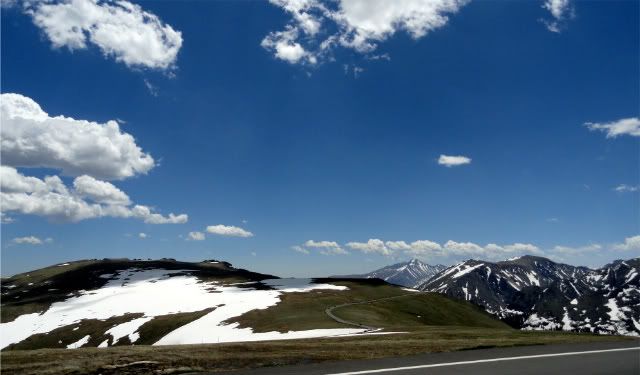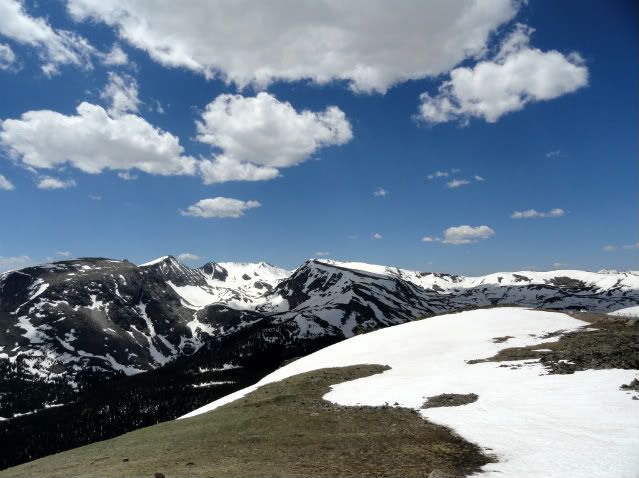 How about a pause for some awesomeness? Oh yeah, totally awesome.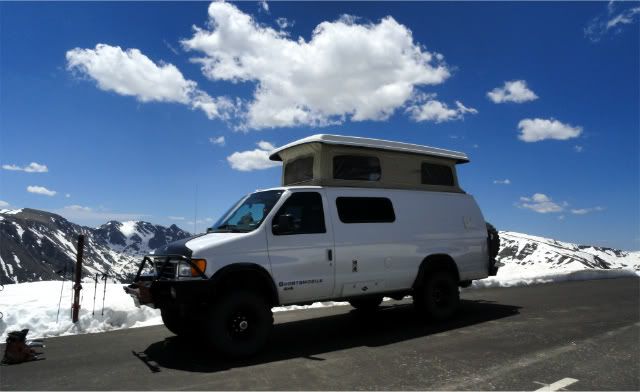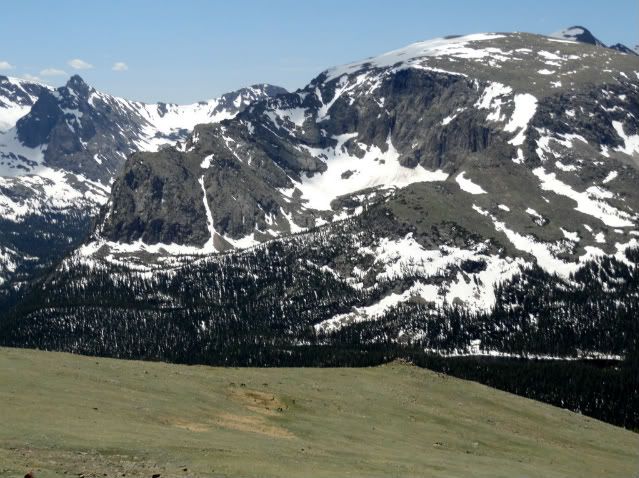 This guy had caused a rather massive backup! Everyone slowing/stopping in the middle of the road for pictures. Oh well, this is why patience is key especially in the tourist areas (MOST areas of Colorado).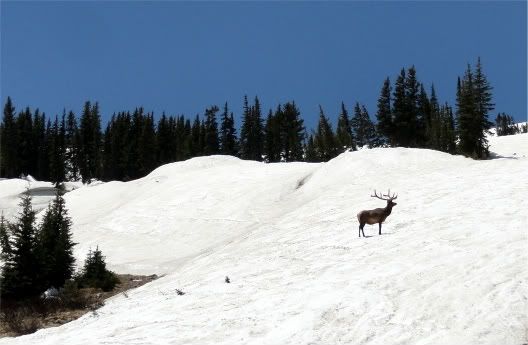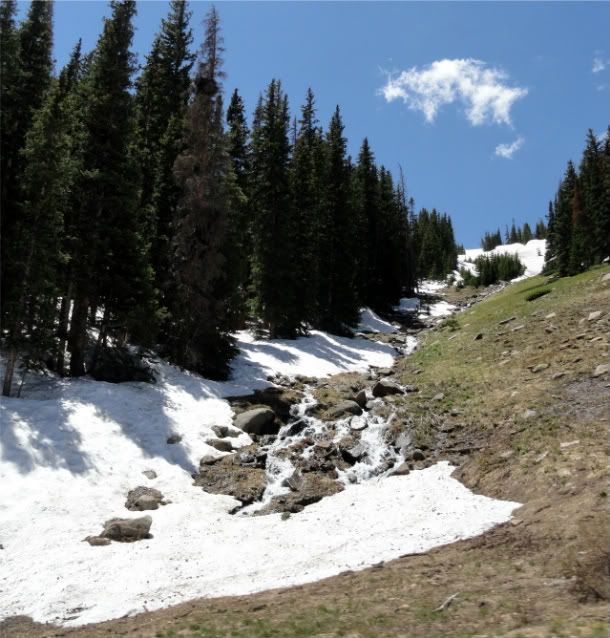 Getting the idea? LOTS of water. So strange as we got barely any snow in Denver this past winter (30" under or normal average).
Back down we go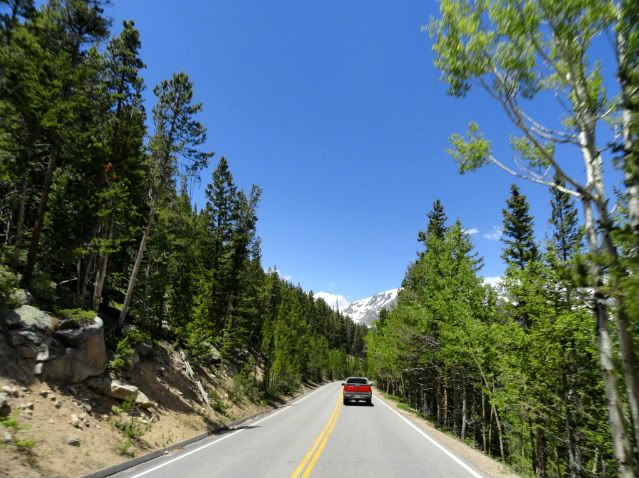 In search of a lunch spot
This will do nicely! There's a pretty sizable picnic area if you take the left fork where Trail Ridge Road starts. I never knew about it! It's right next to what is probably normally a creek, but given the conditions it was raging pretty good. And by the way, Trail Ridge is STILL closed due to snow and road conditions.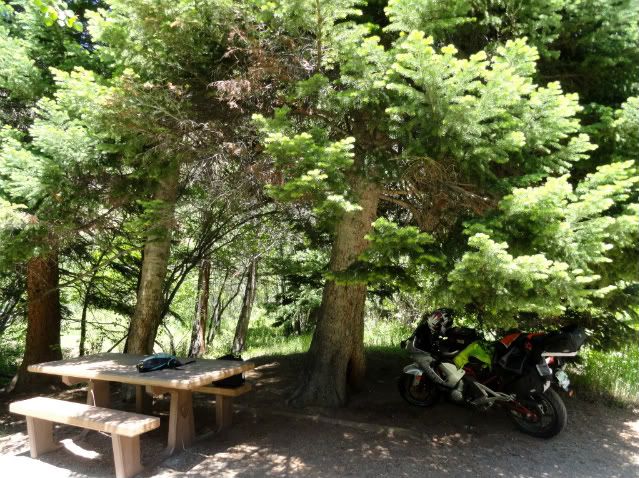 Gotta take a few bike pics, but I'll just post one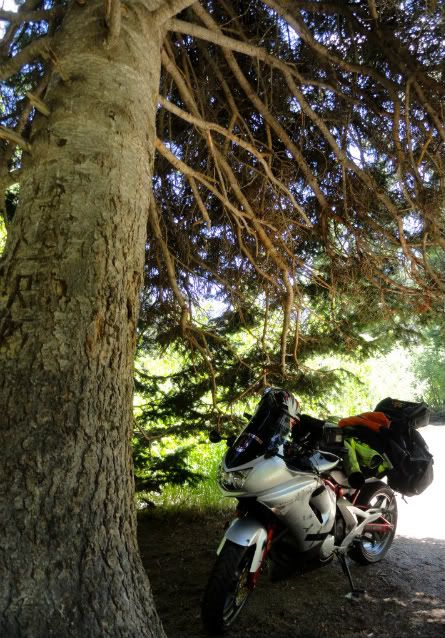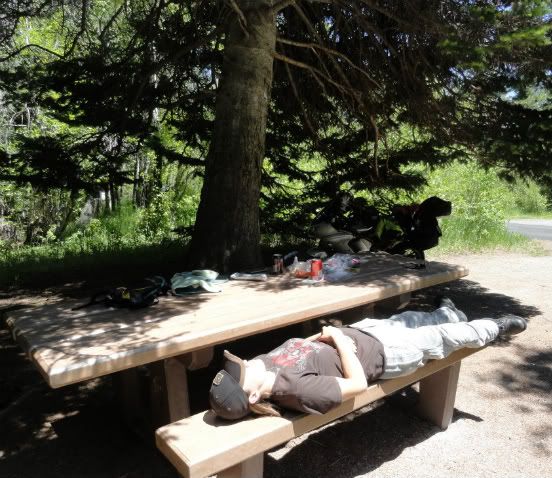 A very brave doe had made herself at home walking around the picnic area with very little fear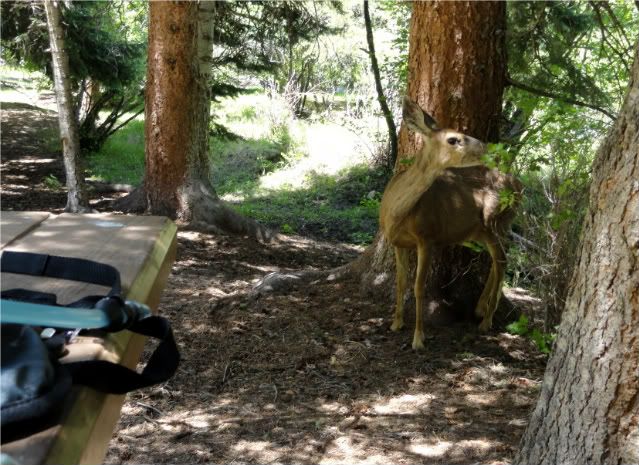 Asked Karla where she wanted to go next.... "You still owe me a Glen Haven cinnamon roll" she chides... This is true! To Glen Haven!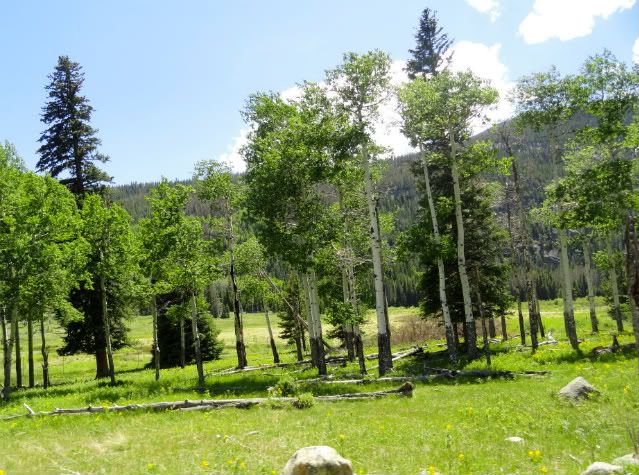 Through Estes Park and the beautiful Stanley Hotel made famous by Steven King's The Shining. *shiver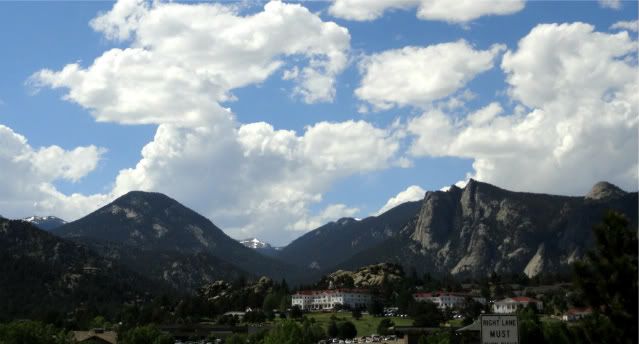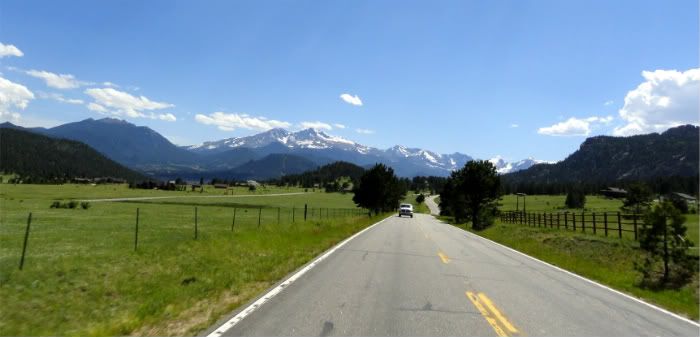 We made it!
We split one, and brought one home... I have sampled a lot of cinnamon rolls and nothing beats this place!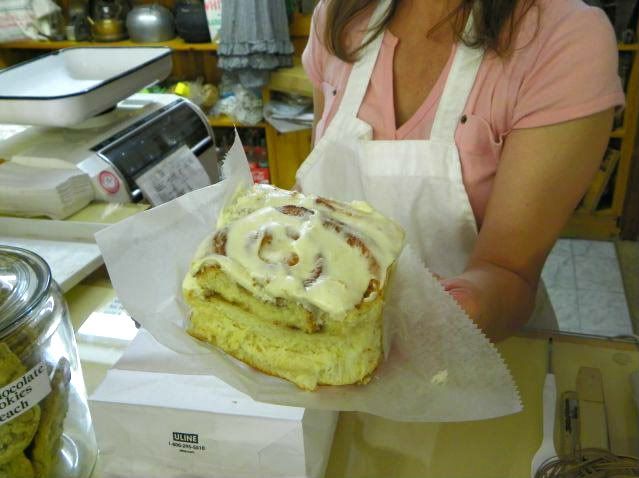 Those are the sort of things you find room in your stomach for!! YUM.

Now down this great little canyon to Drake where we will hook up with US-34/Big Thompson Canyon into Loveland where I used to live.
Total gem of a road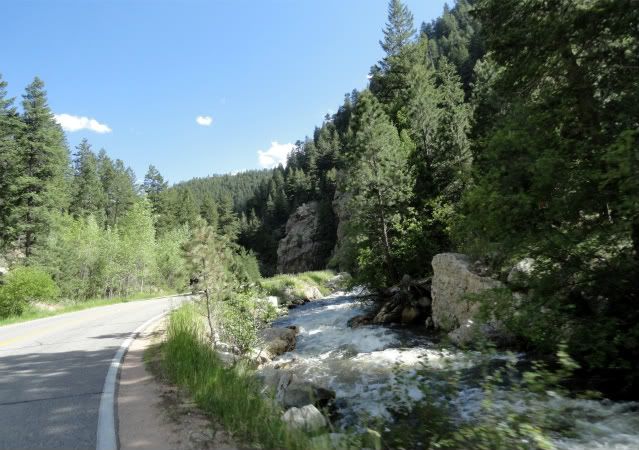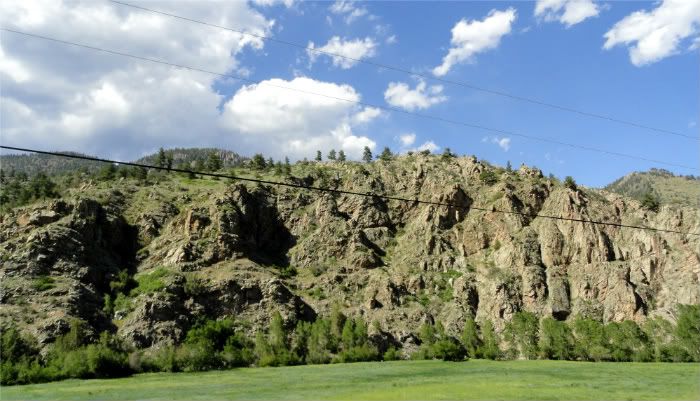 Back to US-34 and the ever-present tourist traps
Hard not to post photos of this canyon every time
And everything opens up as you get closer to town

Now, one should not pass through Loveland and NOT stop for a chat and a beer at our friend Ortanga's (Dennis)! I really miss living close to him and his family, they are a great bunch. Karla wholeheartedly agreed a stop was in order, and man a cold beer sounded awesome!

No photos, but we hung out with Jill (wife) and Ortanga for almost an hour, enjoying their fantastic lake view patio and throwing a tennis ball for their eager labradoodle. I did have to turn down a ride several times on his Suzuki M109R, that's for another time. What a great way to end the day!

From there it's about an hour to get home via freeway, so we just hopped on I-25 and buzzed home. We arrived around 5 or 6pm (memory is fuzzy), putting us at 10 or 11 hours on the road. A glance at the GPS made me laugh, we did all of 250 miles!! ROFLMAO. That must be some sort of record of a short all day ride. The garmin said we spent almost as much time stopped as we did moving. You can see why we were holding the guys up at the start of the ride, we were in full tourist mode!! LOL.

Anyways, fantastic day, fantastic ride. We enjoyed riding with the guys for a bit, seeing Rocky Mountain National Park as we'd never seen it before and of course being able to see Ortanga and Jill!
Here's a full slideshow of all 159 photos, I had a hard time cutting them down for this post!
http://s419.photobucket.com/albums/pp278/coloradosmash81/Steaks%20and%20Lakes%20June%202011/?albumview=slideshow
View Larger Map