This year, my birthday happened to land on the same day as a party I host annually called Terror in the Corn. It all started several years ago when I discovered a
haunted corn maze
at Anderson Farms near Erie, CO. It's actually scary enough that I've had a few friends escorted out of the maze, and Allison was almost one of them!
Last year unfortunately they were not able to hold the event, but this year they are back and rolling! Definitely excited, I set the planning for the party in motion. Looking at the calendar, I got a bit excited seeing the 16th pop up on the Saturday I usually host. Excellent!
The party was a success! A few friends joined me on a motorcycle ride at 1:30pm, then 18 people showed up around 5:30pm for dinner! I know, I can't believe we fit that many people in our house either! Enchiladas are always the name of the game, and good company. We were actually having so much fun, we didn't end up going to the corn maze! Have "rescheduled" that for this coming weekend, so I will have a new post for that next week.
We finished all but three of these bad boys....
Tauren/Steve (plaid) and Ditch/Pete (blue shirt) went on the ride with me while Harry (Elkhound) and Carla were the first to show up.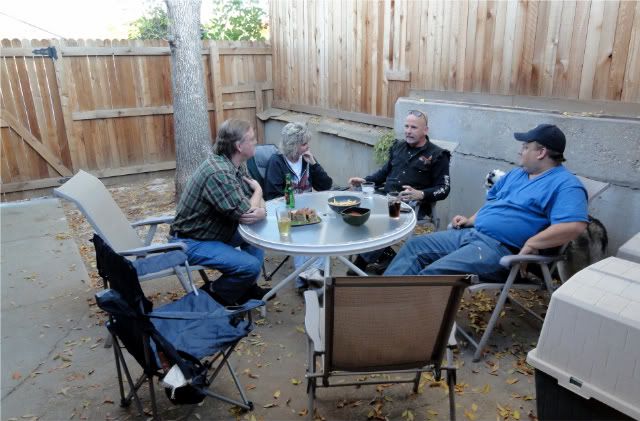 But it didn't take long for things to get rolling! Like Karla told me, this thing is gonna go from zero to 60 in about 10 minutes....
Stacy's chicken dip is always a hit (thanks for the recipe Stacy!!). From left --> right: Meg (QueenPin), Angie (Cricket), Timmy (TimmyP), my sister Allison and her boyfriend Sam.
Check out the cake Liz (Cheffy) made!!
Totally awesome. Those are states!
Cheffy: "I know they aren't all the states you've ridden through, but I stopped when I got tired of cutting them out!" And we all had a good laugh about the switched states!
Time for presents!
Which, of course, no one needed to bring... But if anyone tells you they don't like getting presents they are full of it!
John (Outlaw) bears a striking resemblance to this guy!
Mmmmmmmmmmmmmm. Homemade raspberry preservers from Michael (Swivel Hips) and Betty (Babs)!
You can tell how excited I am about this!
Whoops!
Totally awesome, thank you John (Outlaw) and Angie (Cricket)!! I've been jealous of Dank's swivel stool ever since I swapped the stator out on his bike last year.
I also got a set of flexible ratchet extensions from Dank.
You have no idea how valuable those will be trying to work around the bike! I already put two in my bike tool kit.
Now for the most embarrassing part of the evening.... Seems no matter how much you beg on your birthday, you just can't stop the singing!
Check out what happens when Swivel and Cheffy try to light the candles.... TimmyP offering up random thoughts....
Cheffy cut the cake, and we enjoyed the rest of the evening!
Actually we were having so much fun we didn't even make it to the haunted corn maze, which is supposed to be the highlight of the evening!
From left --> right: Dank, Meg (QueenPin), Brandi (Shorty), Timmy, John (Outlaw), Angie (Cricket), Allison and Sam
Angie (Cricket) in Orange, me and Tauren's son Sean in the front.
What I didn't get on camera was Angie letting one rip and about stinking everyone off of the futon....
Harry (Elkhound) about to get up close and personal with Luke....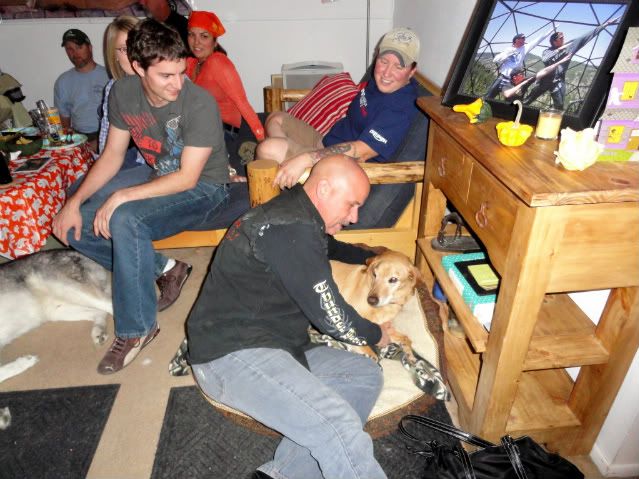 Thank god he (Luke) is rather tolerant!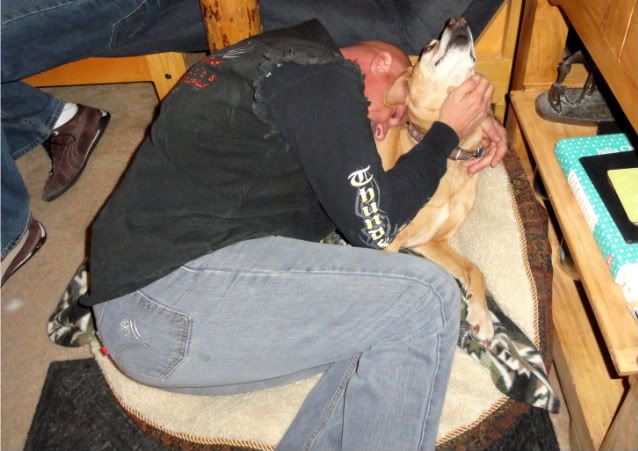 John (Outlaw) and Angie (Cricket) make quite the couple!
Hey John, how the hell did you get so lucky?
From left --> right: Jerry (KingPin), Pete (Ditch), James (Freedomrider) and me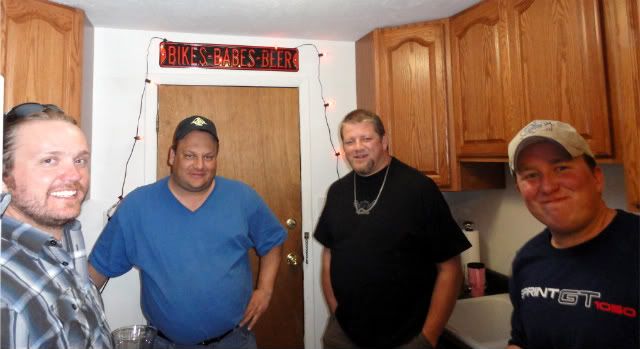 Just some of the cards I got, thanks everybody!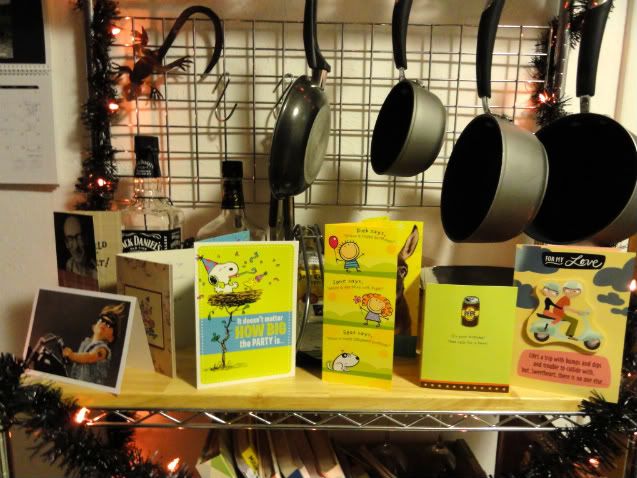 Everybody headed out by about 8:30, which was perfect.
Took a picture of the pumpkins... From left to right and front to back: the angry pussy, the re-tard, the sabrehood pirate and "ooooh nooo!"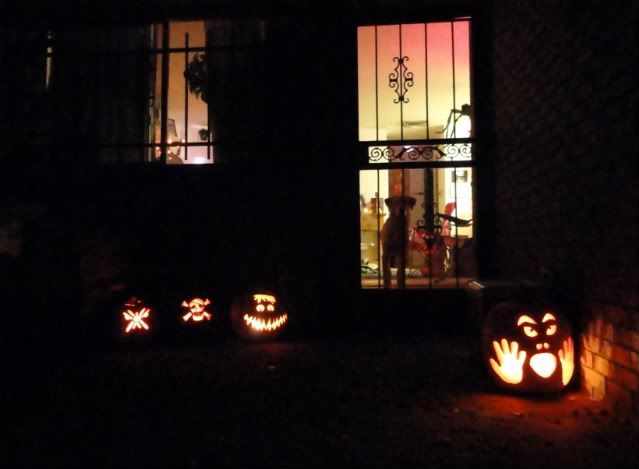 Halloween is my favorite, I love to decorate for it! Used to go all out in Loveland cause we always had loads of trick-or-treaters. Toned it down a bit here.
I got some great cards from folks too! I wanted to post up the funniest ones!
Outside:
Inside:
Outside:
Inside:
About died when I opened this up to find out it was from Uncle Pete!
Outside:
Inside: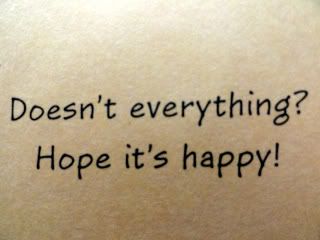 Ready for the winner for funniest card?
Outside:
Inside: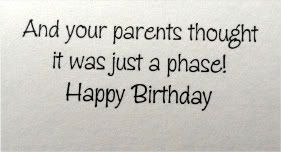 Thank you to everyone for your cards and phone calls! It was a great day.