Dates: Friday May 14 - Monday May 17, 2010
Attendees: Smash and Karla
Total Miles:1,100
Major Waypoints: Denver, La Veta Pass, Taos, Taos Ski Area, Red River, Wolf Creek Pass, Blue Mesa Reservoir, Gunnison, Buena Vista
View Larger Map
For our second anniversary, Karla and I decided to hop on the bike and head to
Taos
, NM for a long weekend.
I grew up in Albuquerque and used to ski in
Taos
as a kid, but Karla had never been.
We left on Friday, woke up really early in hopes of taking a long way down.
Well, it'd been raining off and on for a few days, and I woke up to find a layer of ice on everything.
That won't work! So, hit the snooze...
Eventually we did get up and get rolling, just as the sun was trying to bust through the cloud cover.
Of course we had to snag the old TAG (a riding game on the ST forum), as it was just minutes from the house...
It was definitely chilly, we had most of our layers on.
However, the sun won the battle just outside Castle Rock. Beautiful!
The victory proved to be fleeting, we returned to this come Monument,
and basically would not see the sun the rest of the day...
Because of the weather and late start, we chopped off a bunch of our route and
opted to take I-25 south to Walsenburg, then cut over on 160.
Headed up the mountain on 160, before hitting Fort Garland.
As we ran along 160 past the summit, we noticed we were riding just parallel to a storm on our right hand side.
Man it was a nasty one! Tons of lightening, and the wind was pretty bad.
Thankfully we were just on the edge of it,
but it was one of those big long clouds that just makes you want to run away and hide...
Well... Look down at my GPS and realize we are going to have to turn into this storm...
I let Karla know with hand signals what was going to happen,
she shrunk down in her seat a bit...
Just as we start to turn the first corner heading towards Fort Garland (and the storm),
we see an awesome new TAG! Fantastic!
Won't divulge what it is, but it was off the side of 160.
As we are both searching for a way to get off the highway and down to our new TAG,
we come around a 65mph curve and
BAM!!
Wind was HOWLING from our right side and the hail was coming down fast.
Cars were pulling off the road left and right.
Ever notice when you first hit hail you kinda duck?
Thinking it's gonna hurt? LOL, I do it every time.
And every time about 30 seconds into it I laugh, remembering that no, it really never does hurt...
Stuff got pretty deep, but I knew the worst of the storm was still coming.
Got the ok from Karla to continue on slowly (we never did stop), often dropping my feet to check the roadway.
Normally, I would've stopped and let it go by, but we knew how huge the storm was and we were just on the leading edge.
So, we continued! It was actually rather fun....
Thankfully the hail was relatively short lived, just a few minutes.
We quickly realized while the storm was very long, it was really narrow too!
Great news for us.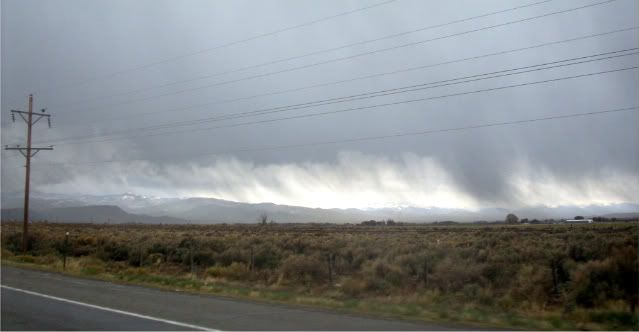 Run towards the liiiiiiiiiiiiiiiiiiiiiiiiight!!!
Rain continued off and on, as well as the chilly wind, but atleast we were out of the hail!
Want to make an allergic man sneeze and wheeze like crazy?
Well, put him on a motorcycle in May with a bad sinus infection/head cold and
make him ride behind this:
Couldn't get around that dang truck fast enough!!!
We decided it was time to stop for a bit to eat a few hours outside of
Taos
, just a bit before the NM border.
We were running 285 at this point, just making nice time through the not-so-nice weather.
found a little town with a gas station, look what ran right behind it!
Wow that was loud...
After hanging out and chatting with a friendly group of locals, mostly farmers in their late 40s, we hit the road again.
Wind was still whipping something nasty, can you see the dust storm ahead?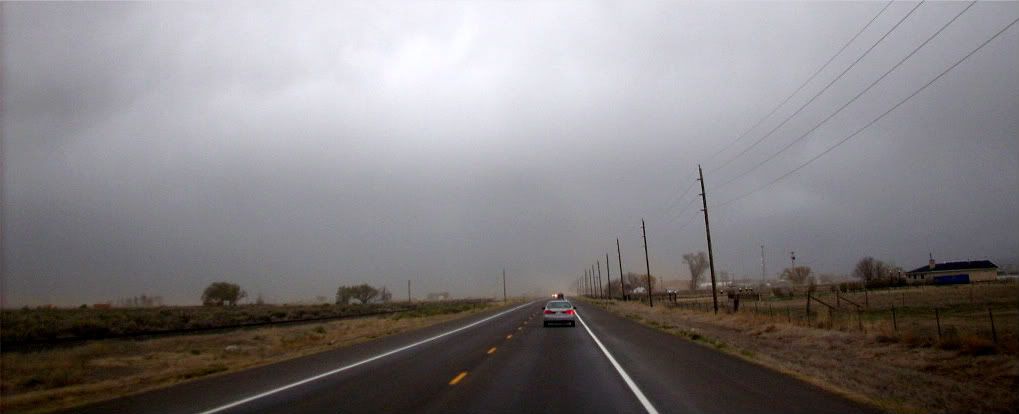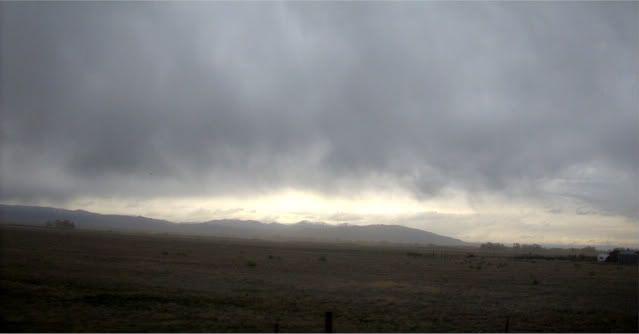 Not much later, we flew past a sign that said "oldest church in colorado."
Knowing we were getting closer and closer to the NM border and still had the TAG,
we pulled a u turn to check it out. Not a bad spot!
Still raining, still windy, but we were having a great time.
The right gear makes all the difference! (altho towards the end of the day we were once again yearning for heated electric gear)
We were only able to snap 2 more shots as we passed the border, beyond that it got too wet and the camera had to be put away.
We continued down 285 to 64 straight into
Taos
, ixnaying all of our intended detours due to weather and time.
We rolled into
Taos
just after sunset, happy to locate our warm, dry motel instead of setting up our usual tent!

Man we both passed out hard!
It's one of the very few times we've actually stayed in a hotel/motel (Super 8, $40/night) together,
we are used to sharing a tent. It was a nice change!
Woke up Saturday morning to a beautiful day! Man did we get lucky.
On the menu was a very relaxed tour of
Taos
and dinner at what I consider to be the best restaurant in town: Graham's Grill.
I'll let the pics do the talking.
Look, it's a ghost! Now you see her:
Now you don't!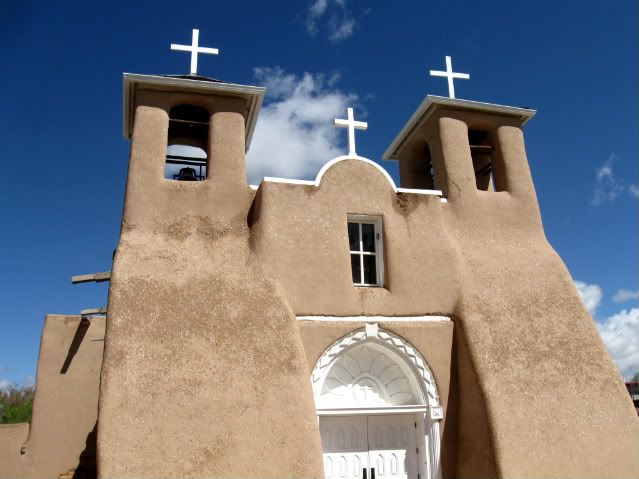 There's that ghost again...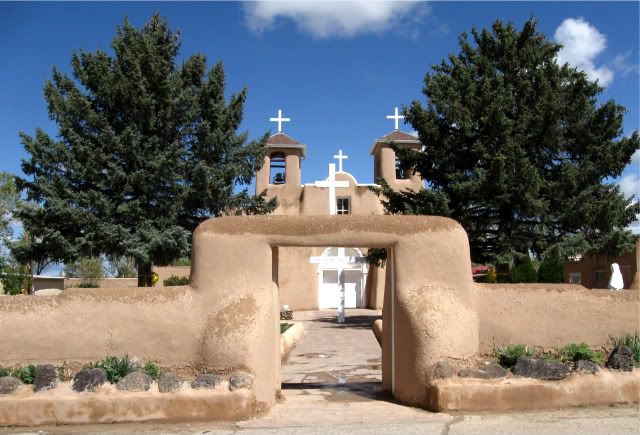 Amazing how quickly a more native style structure of adobe
returns so quickly to it's natural state without diligent maintenance.
Off we went towards the plaza, the nice receptionist at the hotel had told us where to find free parking.
Good thing she did! From the parking lot we spotted a farmer's market. We love farmer's markets!!
Well timed, as we were a bit hungry.
Local honey sticks and fresh baked honey wheat bread...
Total score!
Exploring the outskirts of the plaza...
Karla needed more coffee.... Served here by a fantastic (and rather hot) lesbian!
Always happy to support the community. ;)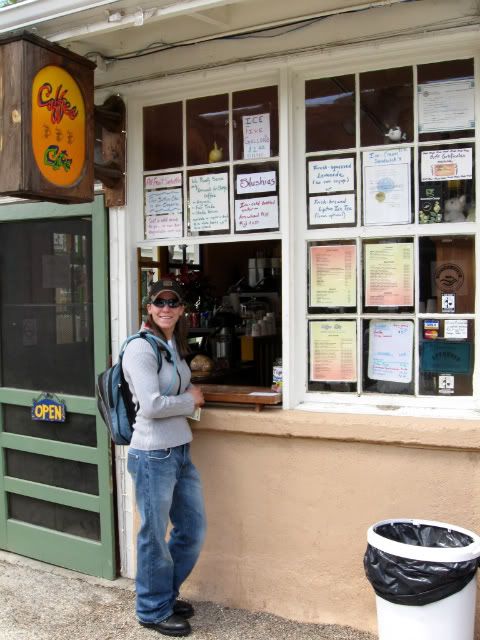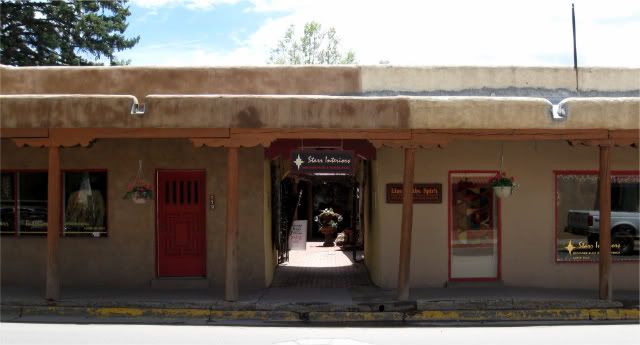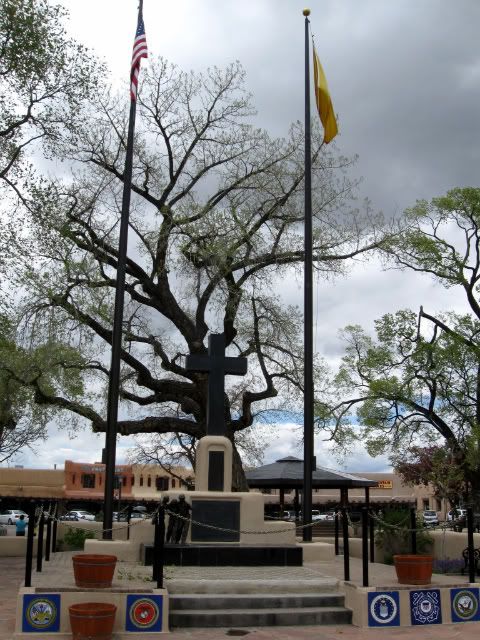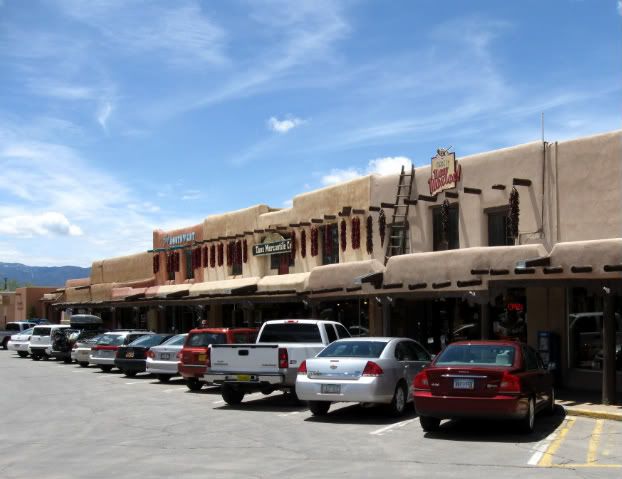 Funny how you can get some great shots while waiting for your girlfriend to go to the bathroom...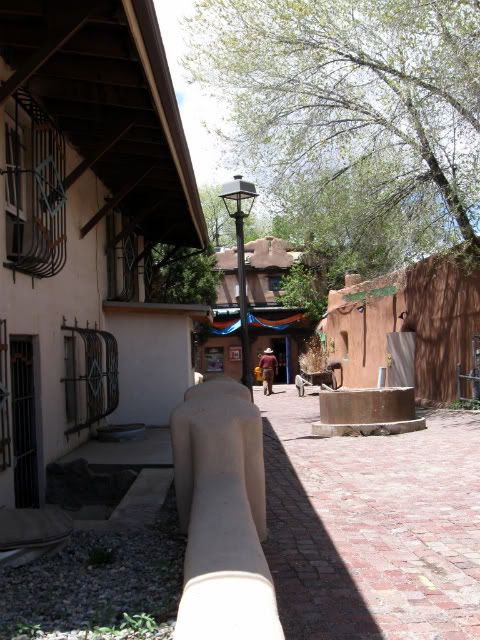 Look what we stumbled on!
Man, these guys had some great margaritas and orgasmic homemade fries (there green chili stew was good too!) and were just off the plaza.
Not bad prices either, which allowed us to stop in for lunch.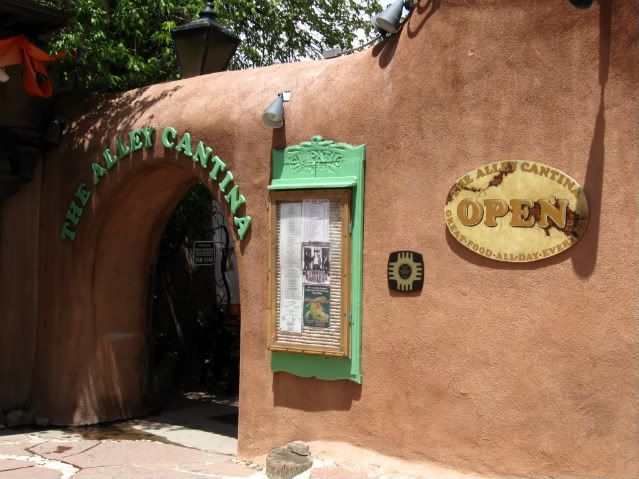 My green chili stew,
great stuff when you're sick and have been sucking on cough drops non stop for over a week.
Karla's green chili hamburger
We couldn't help but notice these two.
Seemed to be on a first date? Maybe a blind one?
Conversation was strained and awkward, covering such forced topics as the war, taxes and gay rights.
Didn't seem like a good fit.
She was definitely the Barbie type, while Mr. Hawaiian Shirt seemed more the nerd.
We had a great time eavesdropping.... O:- )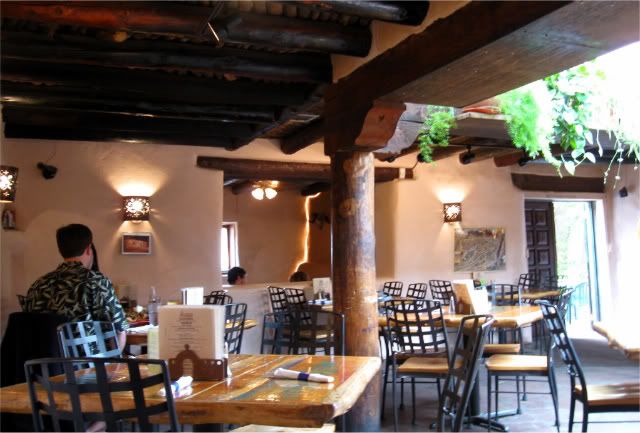 Check out what Karla found just outside the restaurant? ROFLMAO.
It was my desktop background for quite a while!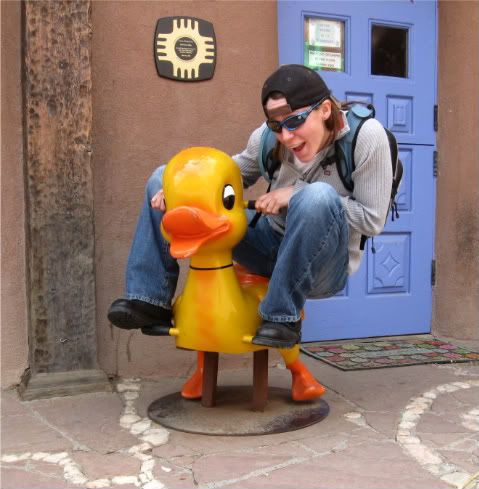 At this point, Mr Sicky (aka me) was feeling like a used wad of toilet paper,
so we agreed to retreat to the room for a nap so we could fully enjoy our much anticipated dinner.
Views did not disappoint.
I was grateful for the rest!
About 2 hours later we hopped up, showered, and headed back towards the plaza.
Tada! Man I couldn't wait to see what this place had in store.
I'm a bit of a foodie, as I'm sure pictures of me show!
We were promptly seated by the owner of the place, a gray haired friendly and courteous man in his mid 50s.
He seemed to personally know 3/4 of his clientele!
Definitely a favorite local spot for the more affluent.
Because of the lighting, it was nearly impossible to get pics of the inside, but check out their website.
The atmosphere was perfect!
Absolutely got photos of the food...
OMG. Nothing disappointed. It was worth every hard-earned penny!
Green chili chicken pasole.
Very refreshing, loved it!
I'm used to pasole in a heavier, cream based soup, this was definitely a light chicken stock.
Delicious.
We had asked our waitress what she recommended, and
ordered two of her favorites.
Mine: beef tenderloin fettuccine in a creamy chipotle tomato sauce.
Once again, the sauce was very light (everything here is homemade),
allowing the flavor of the homemade pasta and
brilliantly seasoned tender beef to come through.
I'm drooling....
Karla had the grilled flatiron steak with cilantro butter, topped with buttermilk onion rings with green chili cheese mashed potatoes.
The carrots were incredibly fresh, infused with what tasted like orange peel and lightly steamed.
The asparagus was perfectly done, maintaining just enough crunch!
I can't even describe how that steak melted in your mouth either...
Stuffed full of good food and excellent brew
(Sierra Nevada for Karla, Red Stripe for me, excellent light compliments that didn't overpower the food and were light on the wallet),
we slowly made our way back to the center plaza and the motorcycle.
But hey, what's that on the other side still open?
Oh yeah baby.
We got some extra goodies too to supplement our Graham's leftovers for a planned picnic lunch tomorrow.
Once again, off to our warm, comfortable bed!
Man having a hotel was awesome, very much a luxury for us.
Sunday dawned bright and early, I couldn't wait to get moving.
It was the most anticipated day for me.
With the help of a few bike magazines and folks on the forums,
I'd put together a 130 mile loop that include some of the best roads and scenery in the area that I knew of.
And what a day for it! Warm, light breeze, not a cloud!
First stop? Michael's Kitchen, a well-known local hangout.

Avoid the bakery! Avoid the bakery!
Thankfully we checked this out after we ate...
Cinnamon rolls the size of babies...
"That was just one big mess of heaven..." -Karla
I sprung for the Atole-Pinion Bluecorn Pancakes. OMG...
And don't you even DARE put syrup on those!
Couldn't help but think Kita was jealous out there.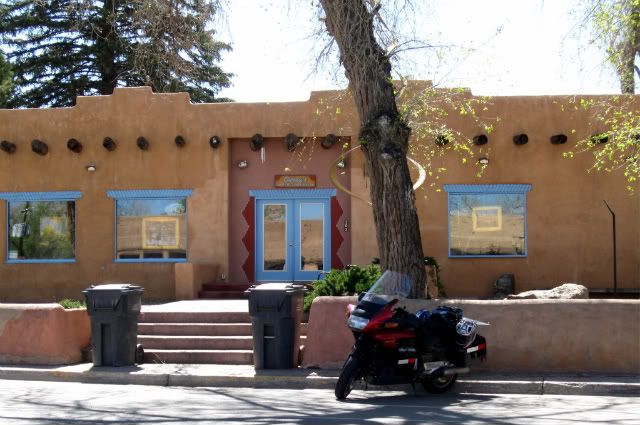 Stuffed, again, off we went!
First we headed up to the ski area. What a great bit of road!
Ran through a tiny little village too (Arroyo Seco), if you blinked you would have missed it.
Curve after curve after curve...
No traffic, no cops, nice speed limit.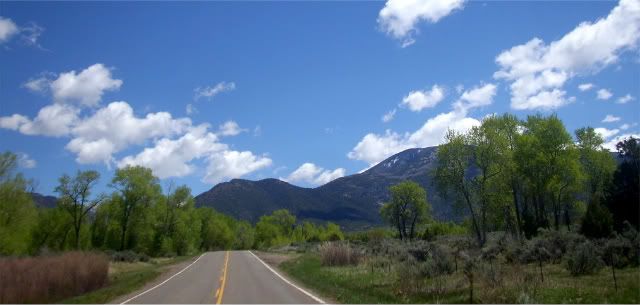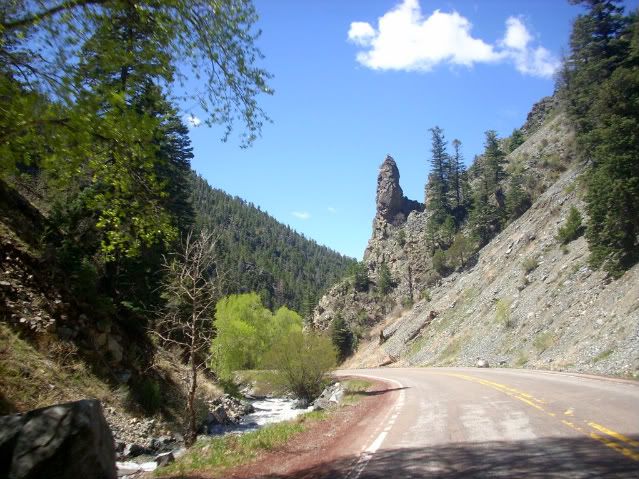 Check this place out! It was pretty close to the ski area.
Next bit of road was just as incredible.
Parts of it were barely 2 lanes, through residential areas, with no lines.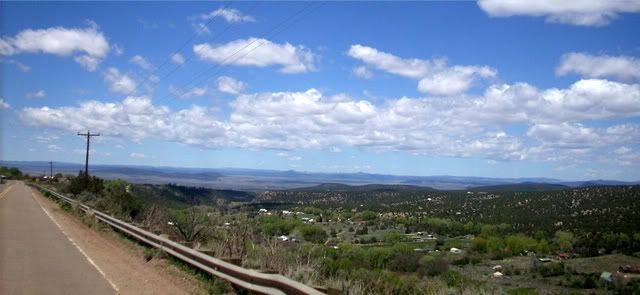 Out of the residential areas, we headed towards Red River.
"Honey if you love me you'll buy me that lake...." -Karla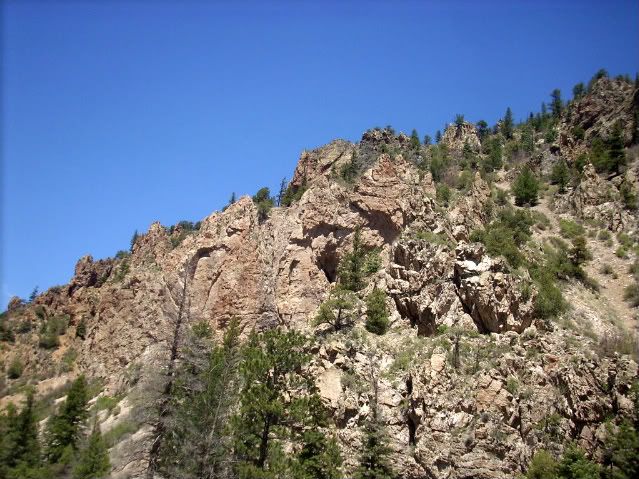 Holy mine!! It was huge.
Don't know what they were mining, didn't see any signs.
Of course, plenty of curves to go around...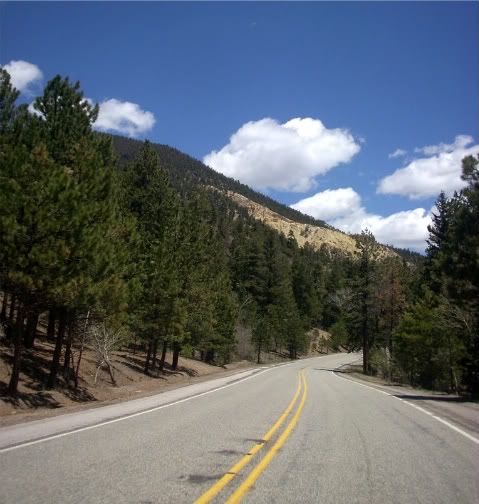 Red River was cute, very touristy, a little tacky.
Tons of lodging options, mostly motels and a few small resort looking places.
Basically all western style, like out of a western movie.
Plenty of self proclaimed "saloons" complete with swinging wood doors.
I can see why this is a popular spot for the big motorcycle gathering!
Definitely can accommodate plenty of folks, the roads were nice,
and all the locals waved as we road by!
Quick glance down a side road showed me this out of the corner of my eye.
Slammed on my brakes to make the right turn,
not realizing Karla was standing up on the pegs taking pictures (we were barely going 25mph).
SLAM! Haha, she rammed right into the back of me.
I got a good whap on the helmet for that...
Lots of little motels
Ooo, can we borrow it?
Back on the main road, Karla snapped this picture.
I think it took me several minutes of staring at it while editing the 380+ photos she took to figure out what she was looking at...
Oh! The van!
We wheel a very large, modified 1988 Chevy Suburban,
and have a big soft spot for large, old school 4x4 vans and Suburbans...
Bye bye Red River! Time to loop around to Eagle Nest Lake,
making a left turn on highway 64 to enjoy our lunch down by the river
in Cimarron Canyon State Park.
mmm yes MOAR CURVES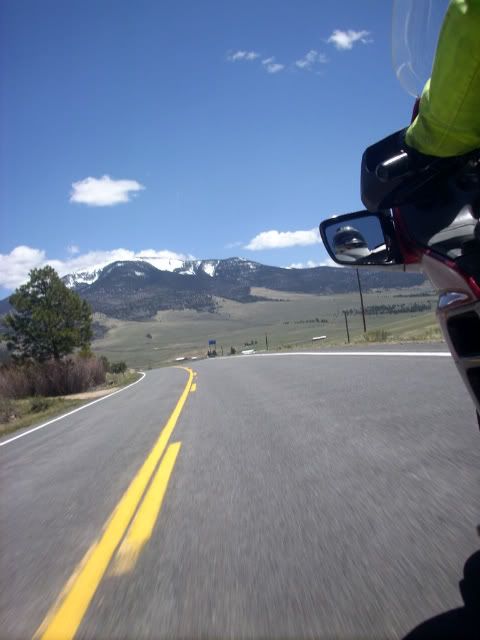 Headed down to Eagle Nest Lake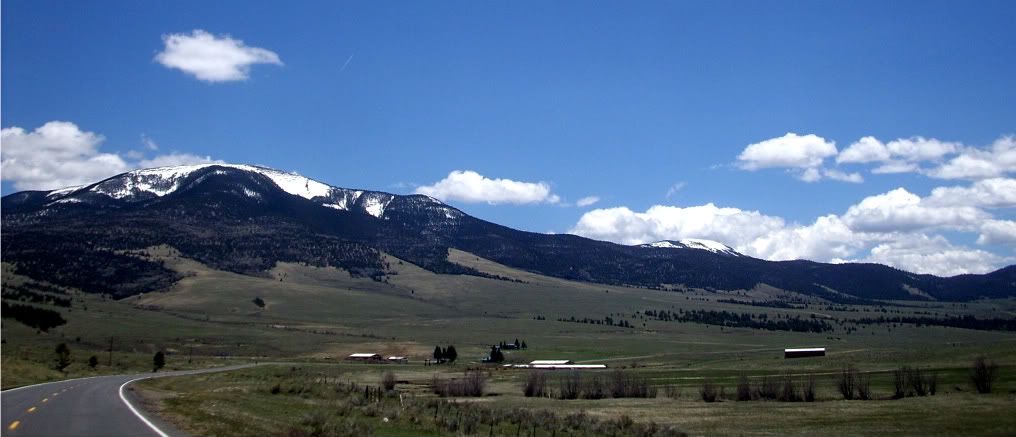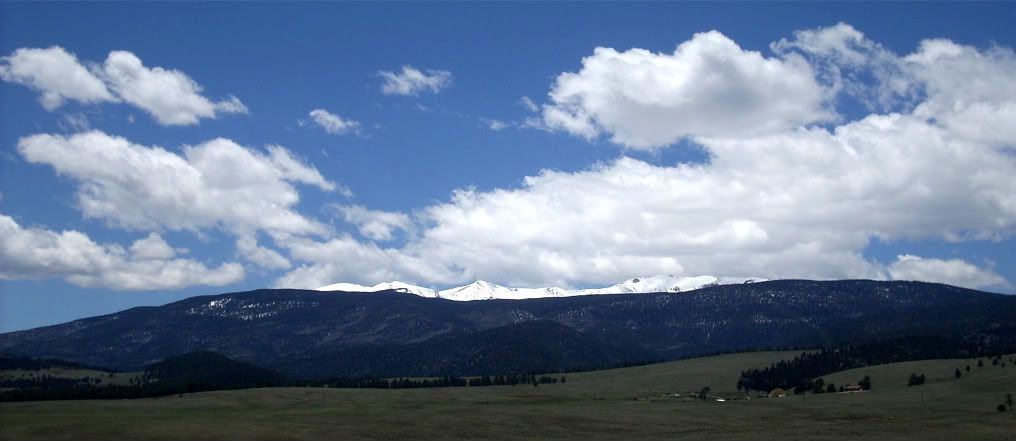 What do bored farm boys do? Build strange loch ness bridges.... WTF?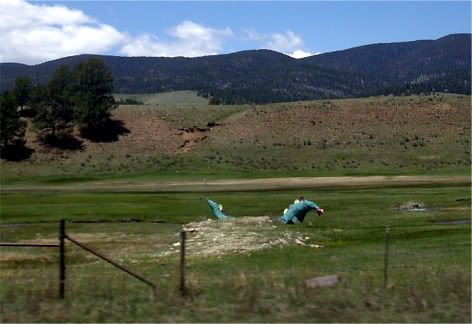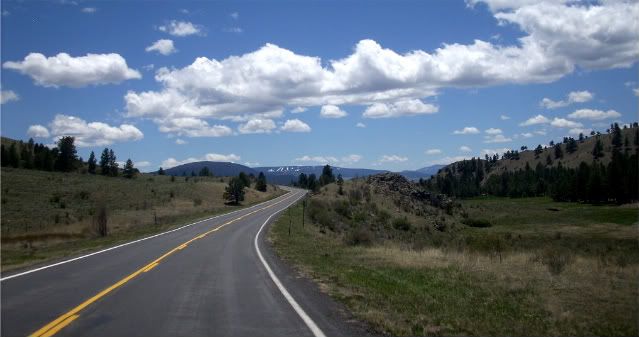 Abandoned, burned out and vandalized building... Sad...
Do you think they'd give it to us for free?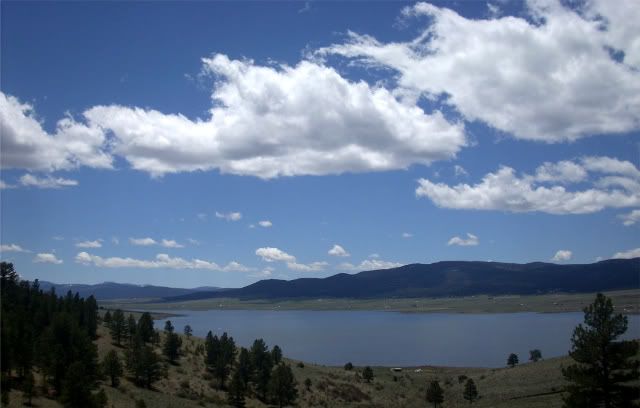 Into the state park to find a lunch spot...
"OK!" -Karla
Graham's Grill leftovers, cold
+ the remaining sweet bread from the farmer's market
+ Rocky Mountain Chocolate Factory goodness
= TOTALLY AWESOME!
And all the more entertaining without plates or silverware...
Oh yea, I was lovin' it.
Back through Eagle Nest to head south to the Vietnam Memorial.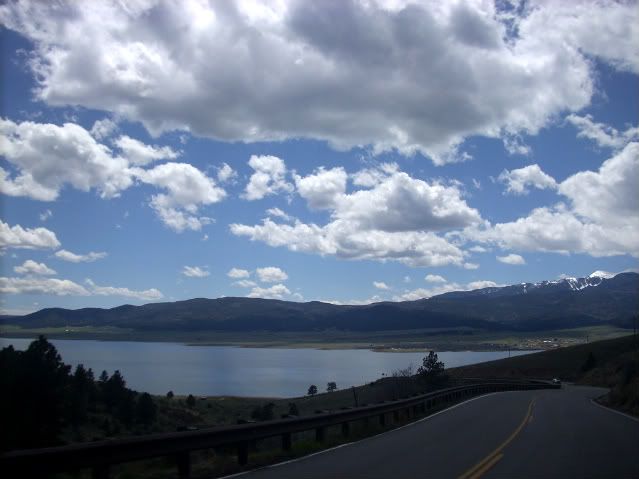 Creepy crow of death!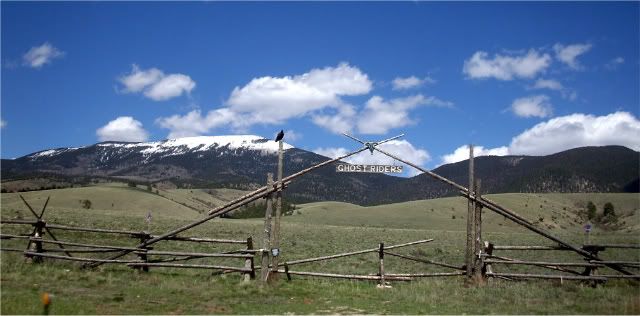 It's mine! ALL MINE!
Stopped to pay our respects... What a beautiful place!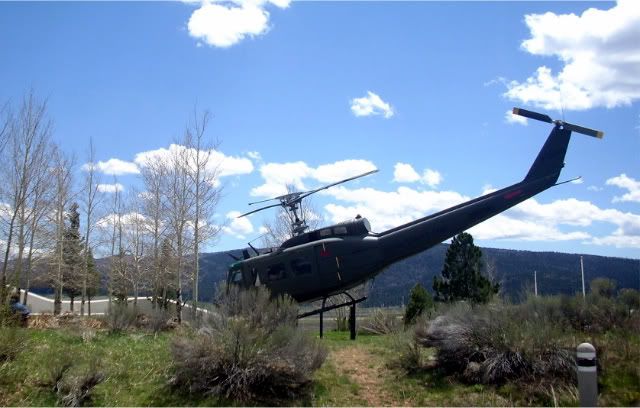 Check out the Angel Fire airport! Holy **** I'd love to fly into that.
Single engine would be sweet. Ooooo or an ultralight....
Next we stayed on 64 to hit some more nice curves heading back into
Taos
.
Unfortunately, the best curves were slowed to 15 mph below the posted speed limit by a vulcan (motorcycle) rider one car ahead of us.
NM plates, riding by himself, thankfully with good gear.
Holy cow he could hardly handle his bike at all, making me crazy nervous.
He refused to slow down and pull over too, which was incredibly irritating...
This is the only pic Karla took, and it was after the good twisties and after we finally got past the extremely inexperienced lone rider. I think she was as nervous as I was about that situation...
Back into the
Taos
valley.
"I don't know why I need a pic of that store. It just had a lot of crap! New Mexico crap!"-Karla
And here I thought she was taking a picture of the scenery... LOL
What a horse sculpture looks like on LSD....
Cool mural just outside the plaza
Next we headed up to the pueblo.
There was an entrance fee, plus an additional fee if you wanted to take your camera in.
Budget being what it was, we opted to skip the camera.
Some info on the pueblo and photos here, if you're interested.
http://www.taospueblo.com/
We took the tour, very happy we did, I hadn't been there since I was a kid.
What a beautiful place. We left just as they were closing to visitors.
Next we had hoped to have time to catch the last Earthship tour (
http://www.taosearthships.com/
) but we had slept in too late.
No biggie, we were on vacation and loving not having a schedule.
So, we decided to go check out the gorge bridge.
We had driven over it on the way in, but it was dark, rainy and pretty much freezing cold so we didn't take a huge notice.
Well, we noticed this time!
There's that pesky ghost again....
Parked on the
Taos
side of the bridge, planning on taking pics and walking across...
Check this bus out!
Man that bridge would shake pretty good with traffic...
We have the tallest bridge in the United States here in Colorado (Royal Gorge),
but this one was also a spectacle at the 5th tallest.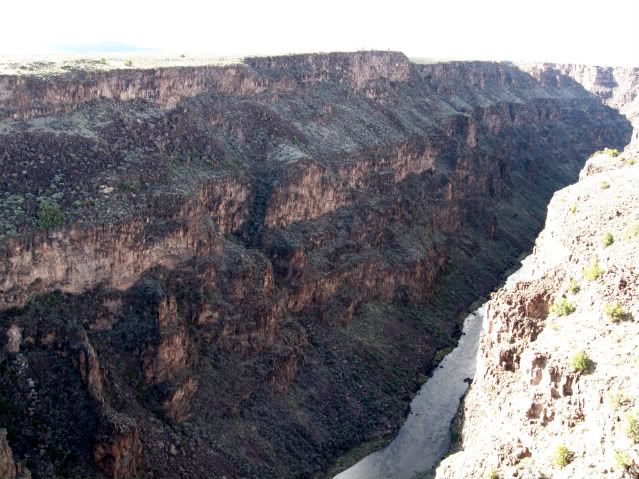 On the other side, we found this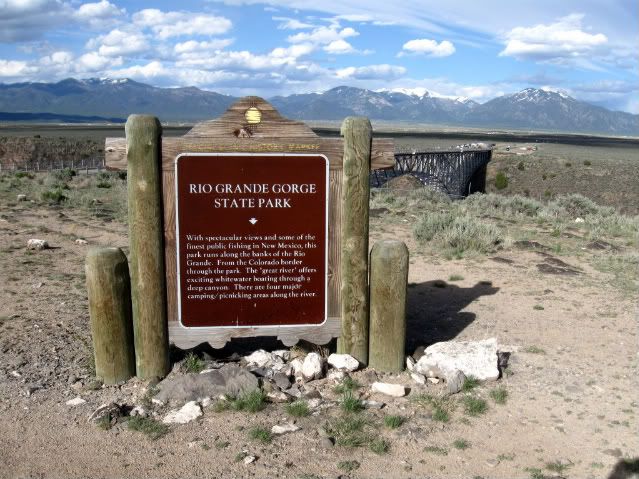 Karla and I went over the pics after we got home to make sure I had my stories straight.
We got to the next photo and she said, "wait, what in the world was I doing?"
She was posing to frame a shot with the bike, which was still on the other side of the bridge.
Or, her explanation, "I'm sitting on my dream bike [SV650] that I don't have yet that I'll ride to
Taos
next time!"
Lol.
So, we headed back to the bike, and found this sign
firmly planted in the ground about halfway down the gorge.
WTF??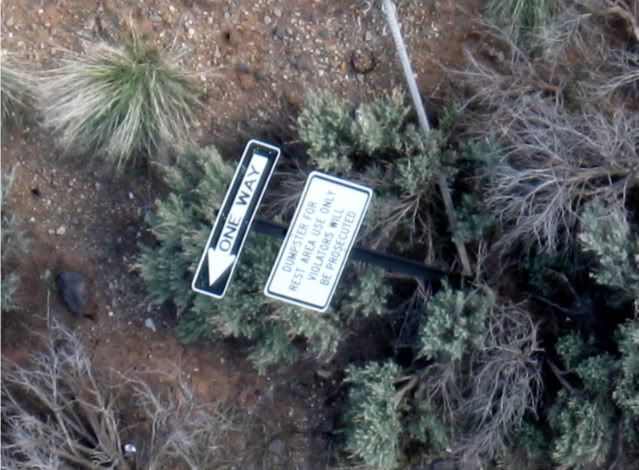 Take #1...
There we go!
Got the bike, shot turned out great!
Once we waited for the sun to show up again...
"I was trying to do that sexy girl pose that women do..." -Karla
"Honey, they are in string bikinis, not full gear." -Me
"Oh, so that's why it looks funny." -Karla
"You're much sexier than those poser girls!" -Me
Think I saved it? LOL
Heading back to the hotel, taking our time, we were blessed with an incredible sunset!
A delicious dinner back at the Alley Cantina,
sitting outside listening to some local gay teenagers chatter on animatedly was a perfect way to end the day.
What memories from our last day in
Taos
.
We did actually haul our butts out of bed early on Monday,
we had a 500 mile, zero freeway, 10 hours + stops ride home.
And this time, we woke to another bluebird day,
so we didn't have to change our route at all!
Excellent sentiment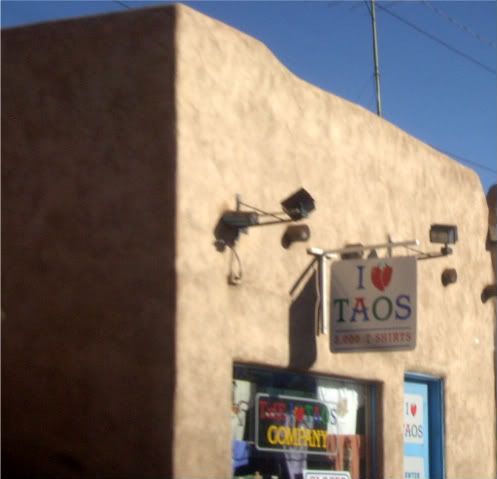 A New Mexico staple, locally owned, available statewide.
Man, I remember begging to go there as a kid.
Balloons greeted us outside of
Taos
Rode past the Earthships

Lots of creepy tiny shacks and old rusted and inhabited RVs outside of
Taos
, past the Earthships.
Can't tell you how unsettled Karla was riding past these on the way in, in the dark gloomy cold weather.
She said when we got to the hotel the first night, she was wondering where I was taking her!

An old pink schoolhouse...
This would be the last civilization we would see for quite a while.
The next stretch of road...
Took our breathe away.
No traffic, no people, no inhabited buildings, high speed limit, lots of curves, beautiful views...
"Honey if you love me you'll buy me that lake...." -Karla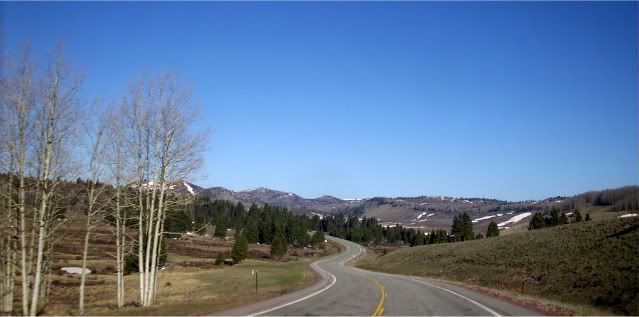 Came upon this ridge with an incredible view, and there was a rest stop right there!
Excellent. Pulled off to checkout the view.
We are on vacation after all, and were in no hurry.
Well, we could only pull into the rest stop so far... It was snowed in!
Can you see Kita? She's way back there.
Singing, "aaaall byyyy myyyyseeeeeelf....." LOL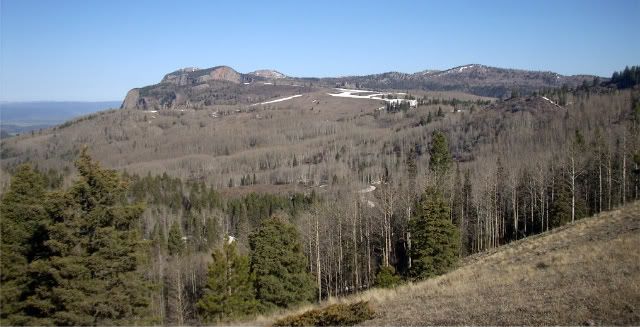 "Honey look! If you love me you'll buy me this mountain." -Karla
ROFLMAO
Here's what Kita looks like loaded with clothes for all types of weather, plus a cooler for food for the trip.
Nice to not camp, really do need a trailer for that.
Back on the road!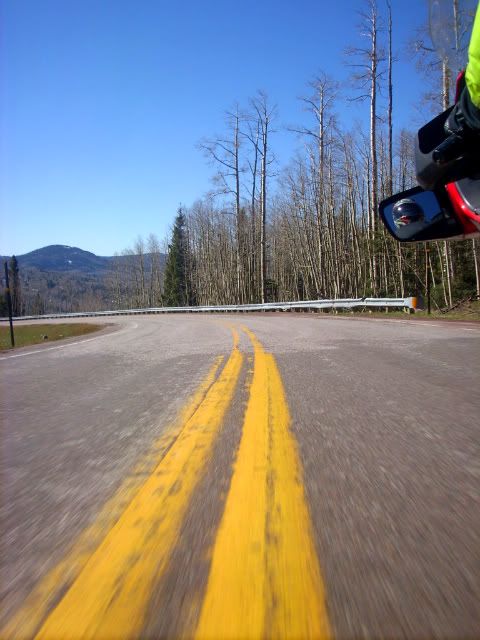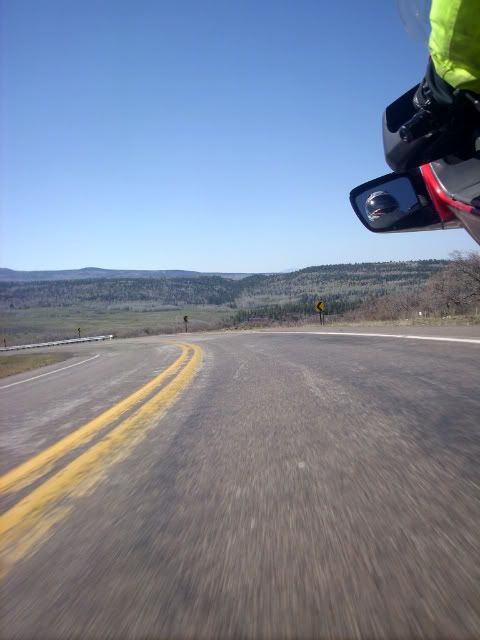 Getting the idea? Yep! Lots and lots and lots of curves.... No other cars... Heaven...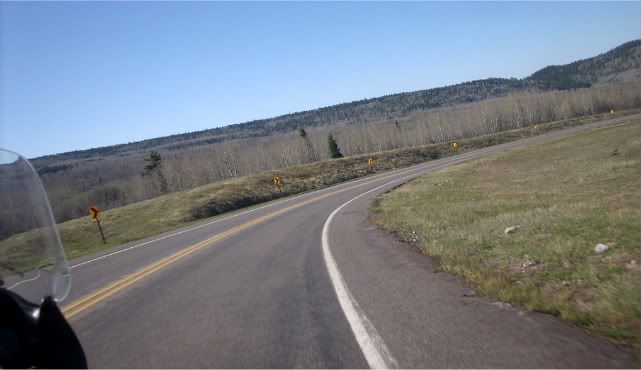 Finally came upon our first obviously inhabited ranch.
Holy cow it was huge and incredibly beautiful! I almost pulled over to gawk.

Getting closer to Colorado and Wolf Creek Pass...
Alrighty, 'bout time for breakfast.
We pull into the only gas station in Chama, NM; Karla hops off and runs inside to ask about a place to eat.
She's directed just a bit down the road to a small diner.
She hops back on, we putter down the road.
"This one?" -Me
"Yeah, that's it!" -Karla
"Is it even open?" -Me
"No idea....." -Karla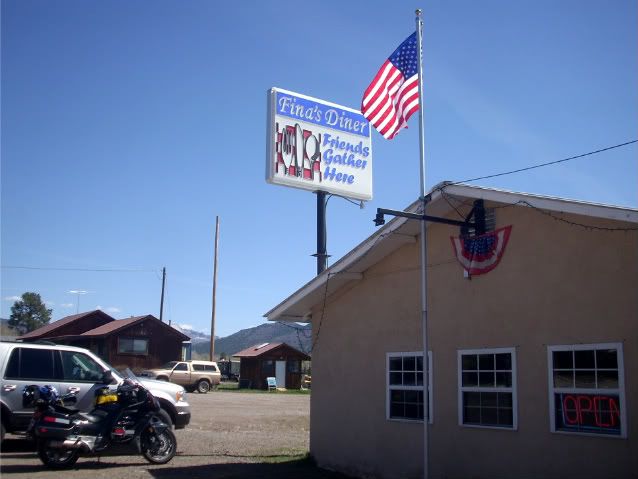 Always ALWAYS ask the locals where to eat!
We tentatively stepped in, and were immediately welcomed by a table full of local ranchers.
Very friendly, chatted us up and told some good stories.
We quickly realized the diner was chocked full of vintage coke items.
It was AWESOME!
My grandpap used to drive a Coke delivery truck waaaaaaaaay back in the day in rural Pennsylvania, so I've always been a Coke fan.
Those were real plants too running throughout the diner, hanging from the ceiling.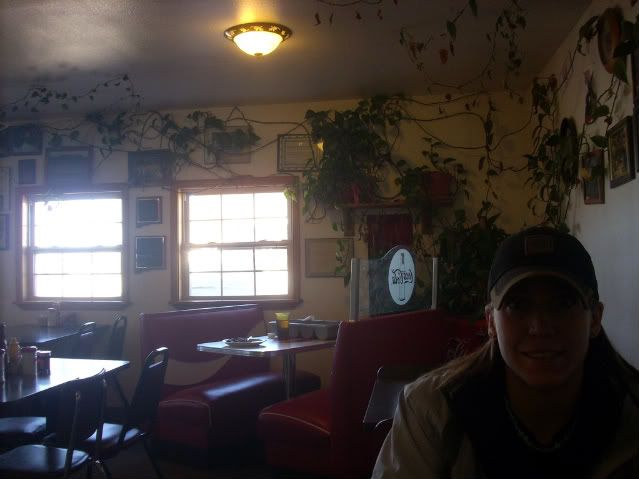 Hanging on the wall next to our table were pictures of the "sheriff's posse."
Pretty neat! That's old school.
Then I realized the picture I was looking at was taken in 2009... Not 1950...
Holy cow!
$12, including tax and tip, bought each of us one of these plates and a Coke.
A goodbye to the locals and thank you to the staff and we were off!
Next goal was Wolf Creek Pass.

Check out this fancy place!! Well maintained too.
"Honey if you love me you'll....." LOL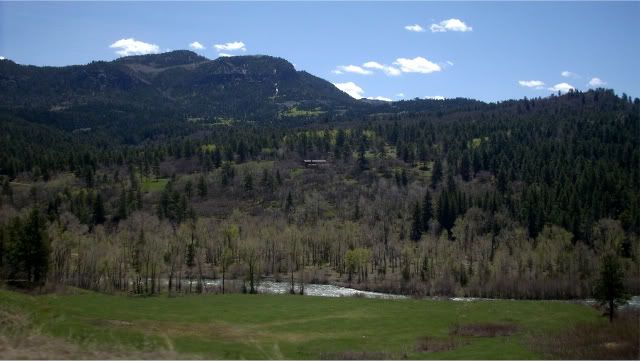 HUGE LOGS!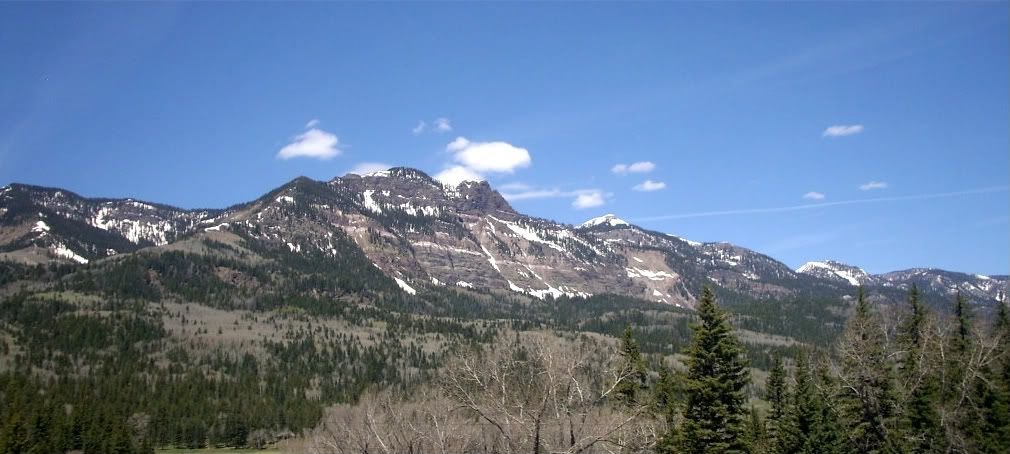 Could you imagine waking up every morning to that view?
We could...
"...Honey...." ROFLMAO
I knew to watch my speed up here, but as soon as I saw this I stuck right to the limit.
There's a notorious state trouper around here that just loves to ticket.
And with a 25mph speed limit, I'm sure he makes plenty of revenue.
Detour! Just off the road...
Saw a sign pointing to it and threw my blinker on.
Yep, we look good with that view! Lol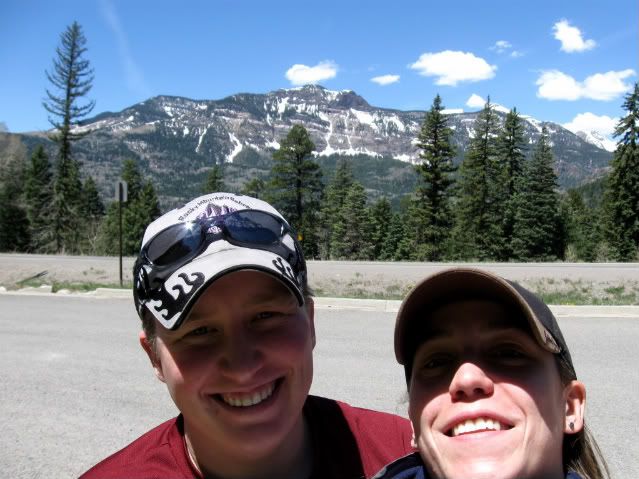 Got some awesome bicyclists to take our picture.
Up we go! Lots of waterfalls along the road.
Snow tunnel... Very cool
Heading back down, it warmed up fast and the heat was making us pretty groggy.
Not a bad point to snag some gas and hit the head, so I started looking for a place to stop.
And got completely distracted by the road and view!
Hurray, relief is in sight! We had a bunch of layers on, it'd been a chilly ride so far.
I went down to mesh, which later would prove to be a mistake...
ROFLMAO (that's Karla's helmet)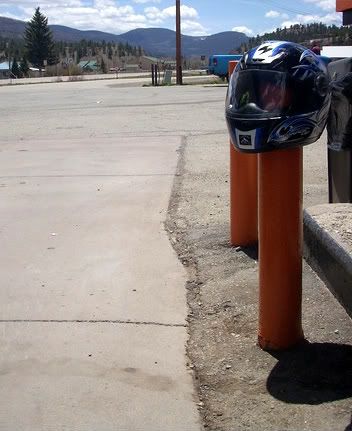 Old railroad stop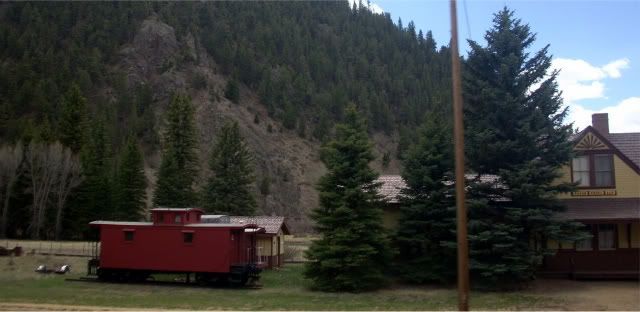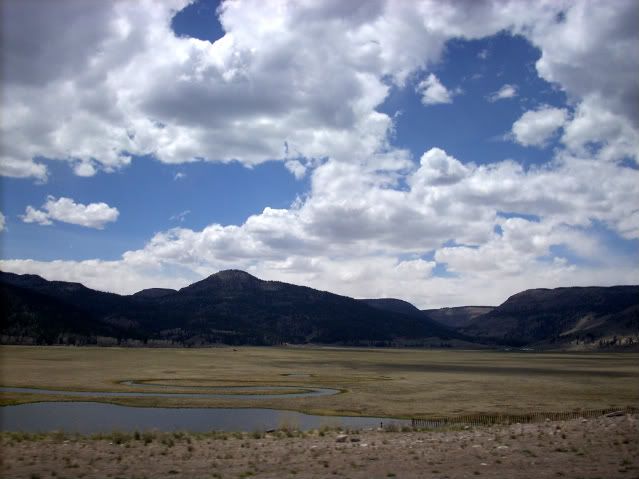 Remember I mentioned I was down to mesh? Pants and jacket.
Yeah, this was a chilly one! Sun ran away on me...
Ok, ok, who lost the bet and had to name it this???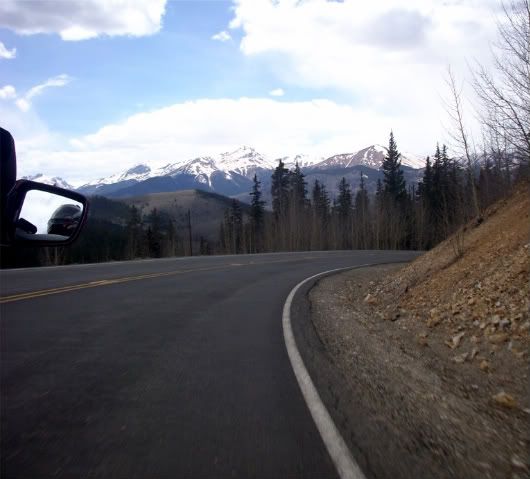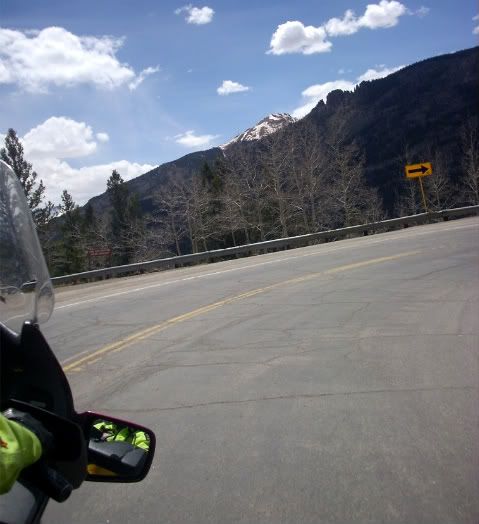 See the frozen waterfall from the cave under the house??
"It's like a tonka truck! Think we could borrow it?" -Karla
Blue Mesa Reservoir
Heading into Gunnison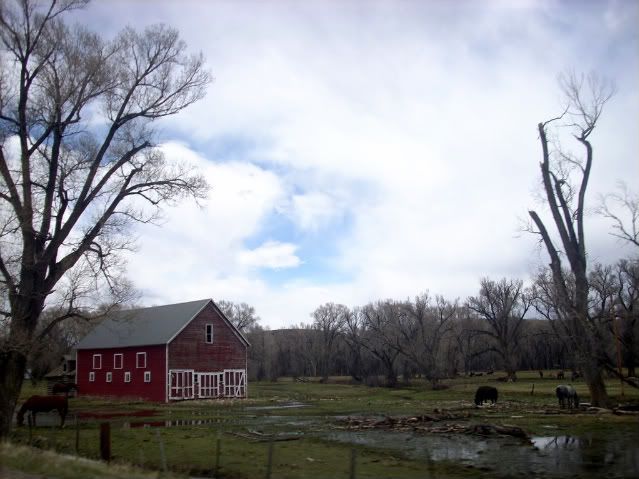 Hold on now, there's no "W" in Gunnison!
We both agreed it was time for some food.
Was about to stop at a gas station to ask where to eat when we passed this joint.
Looked good! Plus we could park out front.
Beware fat people! You will get stuck!
Thankfully, I was on the cusp, and could exit the booth (albeit with very little grace or style).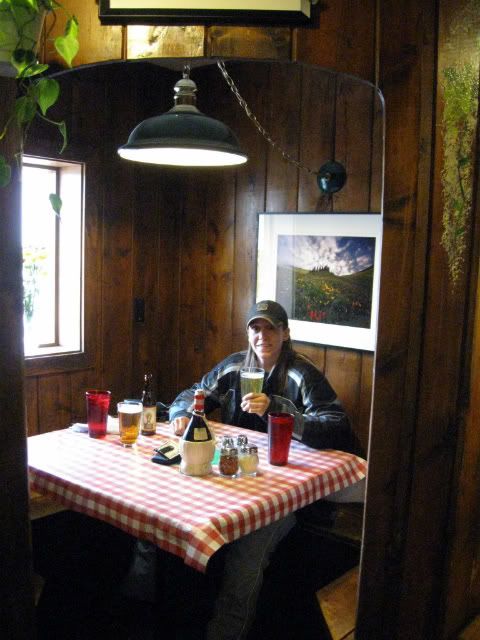 View to the bike
Waitress said the carnivore (or something like that) calzone was her favorite, and we could easily split it.
That kept the bill down, so we splurged on a beer each! Yum!
Man that was delicious. Back on the road!
Heading for 285, which would lead us back home.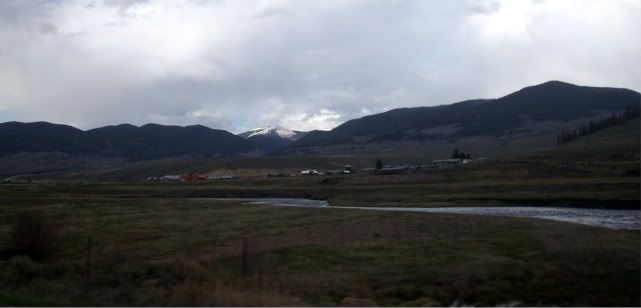 Monarch pass next!
I know it's blurry, but I just love how this one turned out.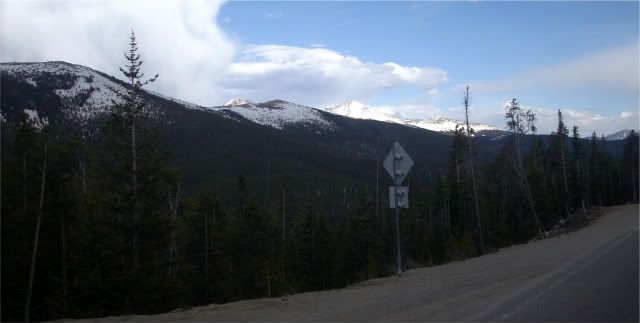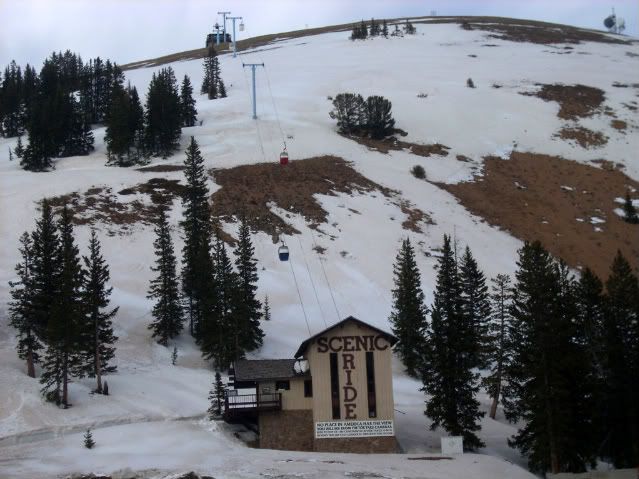 I love this mine, so neat!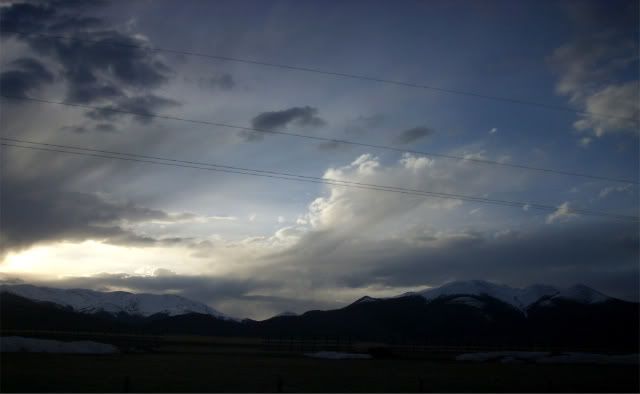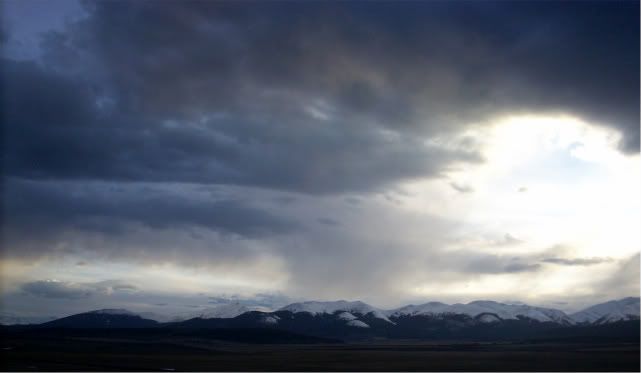 Arrived home safe and sound around 9pm.
Biggest thing learned from the trip? Karla is way past ready for her own bike. I think it was harder for her than she'll admit to have to be a passenger on all these incredible roads. That being said, she was a trooper and never complained.
Next year, whether riding together or on separate bikes, I hope we celebrate our third anniversary with another trip!